30-Minute Piano Practice: Practice With A Teacher!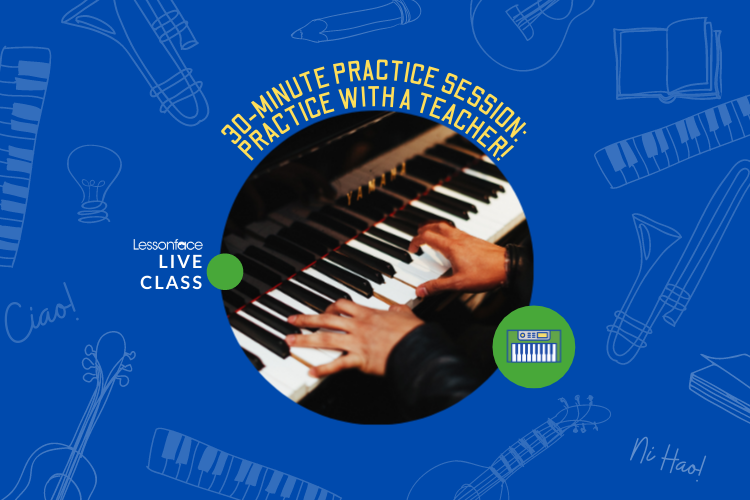 About 30-Minute Practice Session: Practice With A Teacher!
Never finding the time to practice? These sessions give students a chance to purposefully schedule a focused practice session with the bonus of a teacher on standby for questions. Make room in your schedule for practice, and get your questions answered!
Class Goals
- A focused practice time for you!
- Consult with a teacher on difficult passages 
- Get feedback on your playing
---
Age Range
All Ages
---
Skill Level
All - A focused practice for you with a teacher on hand to answer questions
---
Enroll for the Lessonface Pass to gain access to this live online class and hundreds of others, or use the dropdown menu to enroll in only this class.
You can also enroll for just this class session by using the drop-down menu above.
---
When
See below the schedule of warm-ups and 30-min practice sessions offered through Lessonface passes.
Enrolled students receive lifetime access to the video recordings of the classes.
Reading Music: How to Improve Your Sightreading
Spanish Fingerstyle Guitar with Leah Kruszewski
Flamenco Guitar with Calvin Hazen
---
How It Works
Enroll from this page and we will send you the Zoom link to join. Students can connect to the live session using a tablet or computer with reliable internet. To actively participate online students also need a webcam with microphone. The class recording will be available to enrolled students within 48 hours of the live session. The class is covered by the Lessonface Guarantee.
Join the Lessonface Master Pass for access to over 300 live interactive group online classes a month! Enroll for your trial month from this page for $10, then it's $35/month. It's easy to cancel anytime. Find more Lessonface Pass benefits and pricing options >>
---
Signed up already? Click here.
---
Related

All about the Piano Pass, a new program option for piano learners from Lessonface


Find your ideal piano teacher for live lessons online


How Lessonface works


Contact Lessonface