Great Sheep! Spinning Columbia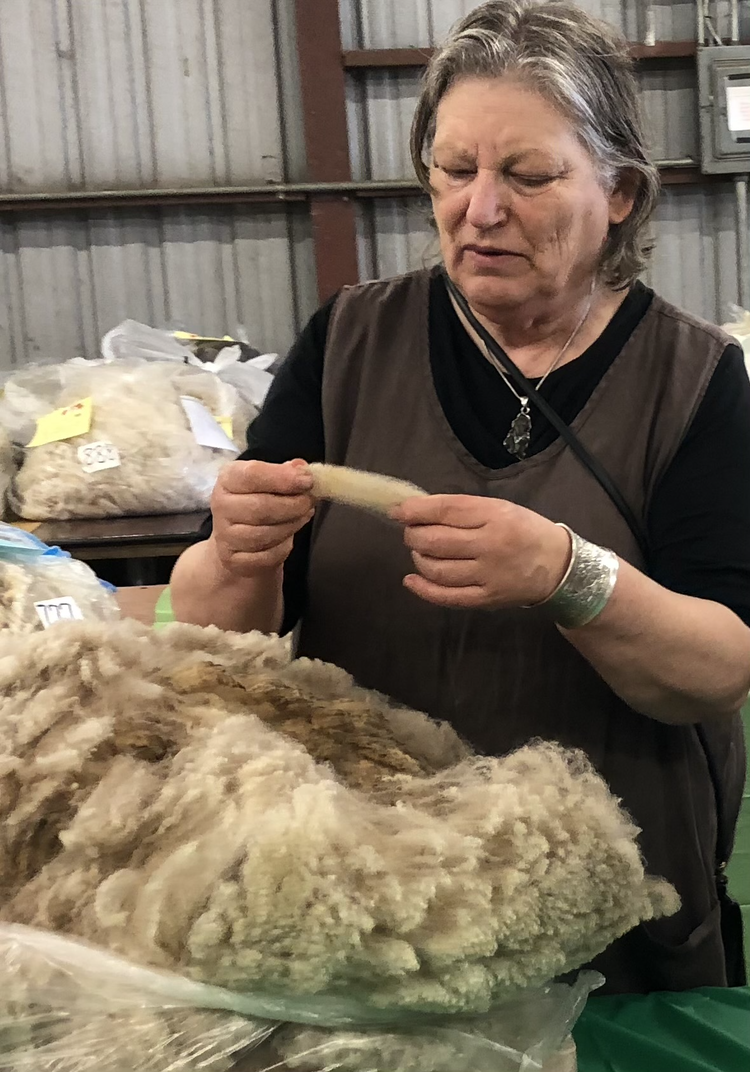 About Great Sheep! Spinning Columbia with Judith MacKenzie
This amazing sheep is one of the backbones of the wool industry in America and a positive joy for any handspinner. It is truly an American sheep, bred for the harsh weather of the western range lands. The Columbia is one of the first domestic sheep breeds developed in the United States. A very successful cross between a Rambouillet ewe and a Lincoln ram, the fleece is medium- fine, with an amazing unforgettable hand. This is one of my own personal favorites to spin.
This Fiber Arts Seminar is offered as part of the 2021 Maryland Sheep and Wool Festival and is limited to 20 students.
---
Class Materials Needed
Working spinning wheel and all of its parts, even the ones you've never used. Extra bobbins, niddy noddy, lazy kate handcards. Knitting needles in a range that you like to knit with. Materials kit purchased directly from instructor. Included in kit: washed raw fleece, roving, and top. Materials kit will be an additional $25, and can be purchased directly from instructor. Ordering instructions for the materials kit will be available in Lessonface once you have enrolled. To allow enough time for the kit to arrive prior to the start of class, registration for this class will close on April 3.
Skill Level
Advanced beginner, intermediate and expert

---
When
Single session on Wednesday, April 28, at 7 pm ET | 4 pm PT | 23:00 UTC.
Enrolled students receive 30-day access to the video recordings of the class.
Great Sheep! Spinning Columbia
Judith MacKenzie is the ultimate textile artist and teacher. She has an in-depth understanding of every aspect of spinning, weaving, knitting, and dyeing. Her teaching career spans the globe from such fascinating places as above the Arctic Circle all the way to Turkey. Judith is the author of Teach Yourself Visually: Handspinning and The International Spinner. She often writes for Ply, Spin-Off, Knits, and Handwoven. She lives in Forks, WA
How It Works
Register and enroll above. Enrollment is not complete until payment is made on the next page, by credit card or Paypal via our secure platform. Enrolled students will receive an immediate email confirmation of enrollment, and on the day before the seminar, a reminder with Zoom link to join the class via email. Students will also be able to join the Zoom sessions from their Lessonface dashboard. Students can connect to Zoom using a tablet or computer with reliable internet. To actively participate online students also need a webcam with microphone. The class is covered by the Lessonface Guarantee.
---
About Lessonface, PBC
Since 2013, Lessonface has connected more than 10,000 students with over 2,000 great teachers for live music & language, and arts lessons online, delivering on our mission to help students achieve their goals while treating teachers equitably. We are thrilled to be delivering the Fiber Arts Seminars for the Maryland Sheep and Wool Festival.