Treasures from Glass and Fire
About Treasures from Glass and Fire
Take your current glass beadmaking skills to the next level. This class, led by two instructors, will cover mastering heat control, consistent bead shaping, using silver glass, numerous surface decoration techniques, glass sculpting and much more. This class will be taught from the Folk School Campus, offering an opportunity for an immersive folk school experience.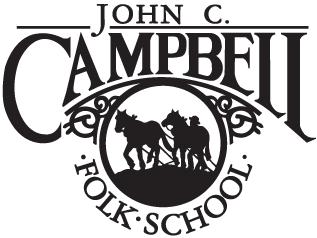 Students will receive a complimentary copy of the technical instruction book Just Plain Beads, co-authored by Marjorie Langston. Note: Instructors will try to ship books prior to class but later delivery may be necessary.
This class is presented in collaboration with the John C. Campbell Folk School & is limited to 24 students. There will be an optional Orientation and Closing Ceremony hosted from the Folk School campus that students can attend online.
---
Class Materials Needed
Students should have, at minimum, a good basic lampwork setup with a dual fuel torch. Tools and supplies for class include didymium eyewear or shield, marver, needle nose pliers, bead release, at least 24 3/32" mandrels, and a variety of 104 COE glass. Students will receive an email prior to class regarding any specific glass colors or other supplies needed (frits, foils, etc.)
Skill Level
Intermediate to Advanced (some torch experience preferred).

---
When
The class will meet for five days on the dates below. Each day starts with a 120-minute live demonstration session at 10 am ET | 7 am PT | 15:00 UTC and meets again for a 30-min check in at 6 pm ET | 3 pm PT | 23:00 UTC. The first session is on March 29th. Students will be able to meet privately with instructors between 1:30-4:30pm, for questions or extra help.
(Convert to my time zone)
Enrolled students receive 30-day access to the video recordings of the classes.
Treasures from Glass and Fire
How It Works
Students can connect to the online platform using a tablet or computer with reliable internet. To actively participate online students also need a webcam with microphone. Class enrollments may be cancelled for full refund up to five days before the class start date.
In 2003, I took my first glass beadmaking class with Marjorie Langston, having no idea that it would change my life. I fell in love with the art form immediately, both the beauty of the work as well as the technical aspects. I was fortunate to be introduced to a huge circle of amazing glass artists and to have the chance to learn with them. In 2004 I was invited to assist Marjorie in teaching at John C. Campbell Folk School, later teach my own classes there, and eventually Marjorie and I began co-teaching regular classes. Since then, we've taught several times during the Craftsummer program at Miami University in Ohio, hosted bi-annual glass artist retreats, and have taught many times at E...
I am a long time educator with more than 40 years of teaching experience including  21 years teaching glass beadmaking.  The process of creating glass beads is magical and even after all these years, it is so satisfying to witness a student's "got it" moment.  After working with stained glass, some furnace glass blowing and years of creating handcrafted kaleidoscopes, I stumbled upon glass beadmaking in the early 1990's and have been addicted ever since.
I have taught more than 40 classes, on all skill levels, at the John C. Campbell Folk School.  In addition to teaching many classes in my private studio I have also taught for credit classes at Miami University in Ohio, the Appalac...
About the John C. Campbell Folk School & Lessonface
For 95 years, the Folk School has transformed lives, and brought people together in a nurturing environment for experiences in learning and community life that spark self-discovery. Since 2013, Lessonface has connected more than 10,000 students with over 1800 great teachers for live music, language, and arts lessons online, delivering on our mission to help students achieve their goals while treating teachers equitably.