Beginning Knitting: Cast-On Today
About Beginning Knitting: Cast-On Today
Jump into the art of knitting with a second-generation knitwear designer and instructor. Explore different methods of casting-on as well as when and why to use each. Build your vocabulary by learning different stitches and combinations that help you "read your knitting."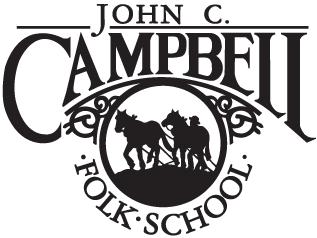 Discover how to create textures and patterns, then start a project of your choice. You'll have everything you need to finish, along with tips and tricks to build your confidence and become a lifelong knitter. Class registration for this class ends on February 17th, 2021.
This class is presented in collaboration with the John C. Campbell Folk School & is limited to 12 students. There will be an optional Orientation and Closing Ceremony hosted from the Folk School campus that students can attend online.
---
Class Materials Needed
High quality wooden, bamboo or metal knitting needles (stay away from plastic knitting needles), size 8-10, double-pointed or straight, up to 12inches in length.
One skein (100g or 4oz) of worsted weight (medium weight) natural fiber yarn (stay away from acrylic yarn). Choose light colors! Single-ply is best, double-ply is okay, too.
Other supplies include: Needle gauge and/or measuring tape. Scissors and sewing up needle (large eye needle.) A note on choosing yarn and needle size: The label of yarn often recommends a needle size. Also you can put the needle next to the yarn. The needle should be around the same size as TWO strands of yarn side by side.
You can reach out to the instructor with questions about supplies.
Worksheets and additional information will be provided to registered students.
When
The class will meet for four weekly 120-min live online sessions at 6 pm ET | 3 pm PT | 23:00 UTC on the schedule below. The first session is on March 1.
(Convert to my time zone)
Enrolled students receive 30-day access to the video recordings of the classes.
Beginning Knitting: Cast-On Today
How It Works
Students can connect to the online platform using a tablet or computer with reliable internet. To actively participate online students also need a webcam with microphone. Class enrollments may be cancelled for full refund up to five days before the class start date.
Emolyn learned to knit at a young age without patterns which led her to also spin and dye yarn and wool. She has developed a line of handknits and yarns, and designs knitwear inspired by the yarn. She manages her business, The Roving Knitter, teaches people of all ages to knit and shows her work at craft shows and exhibits. See more of her work at therovingknitter.com or on instagram @rovingknitter. Her other interests are Appalachian music and dance. Exposed constantly to traditional music and dance, she started clogging and contra dancing at a very young age and has not stopped pursuing her love of different forms of dance. She has danced with the Cane Creek Cloggers of Chapel Hill; the Gr...
About the John C. Campbell Folk School & Lessonface
For 95 years, the Folk School has transformed lives, and brought people together in a nurturing environment for experiences in learning and community life that spark self-discovery. Since 2013, Lessonface has connected more than 10,000 students with over 1800 great teachers for live music, language, and arts lessons online, delivering on our mission to help students achieve their goals while treating teachers equitably.