Keith Underwood Flute Classes Fall 2017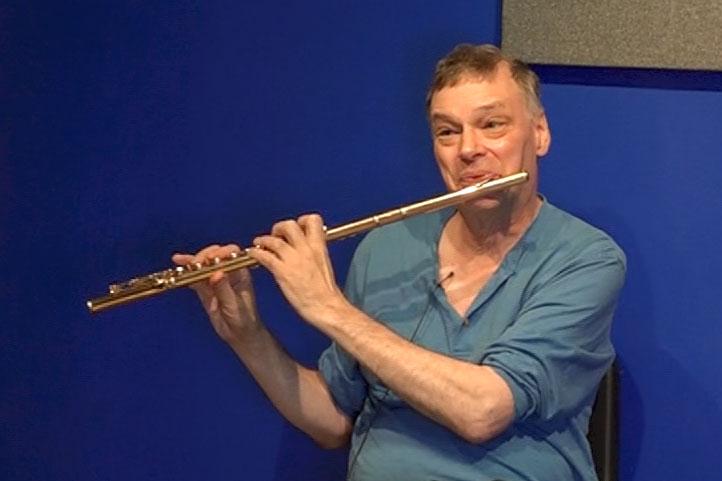 COURSE DESCRIPTION
Three flute classes are offered for fall 2017 with Keith Underwood. Sign up to attend online or in-studio from Lessonface. All classes will be recorded for viewing by enrolled students.
---
ABOUT KEITH UNDERWOOD
​Renowned flutist and educator Keith Underwood has been an active flutist in New York musical life for three decades. Underwood serves on the faculties of Mannes School of Music, New York University and Queens College. Each year he travels internationally to Japan, Mexico, Italy, Brazil and London to teach workshops and perform.
Underwood's students hold positions with America's major orchestras including the the Boston Symphony, the Cleveland Orchestra and the Metropolitan Opera Orchestra, to name just a few. Globally, his students are members of orchestras in Italy, Japan, Canada, Mexico and  Brazil. Students from all over the world travel to Keith's studio on the Upper West Side of Manhattan for lessons, especially when an important audition is pending.
As a performer, Underwood has appeared with New York's most prominent musical organizations including the New York Philharmonic, New York Chamber Symphony, the Orpheus Ensemble, the Orchestra of St. Luke's. He is solo flutist with the Parnassus and Musical Elements, Jazz Antiqu, the Arcadia Baroque Ensemble, Ufonia and  the Riverside Symphony. Underwood has recorded with such diverse artists as Benjamin Verdery, Celine Dion, Kathleen Battle, Rod Stewart, Bobby McFerrin, and Anthony Newman.  
---
Click here to enroll for the past Lessonface classes with Keith.
For more NYC flute master class events:
 
Enrollment has finished for this class.
Interested in signing up for the next series?
---
WHEN
Fall 2017 Series: Live classes held on October 4, October 19, November 15, 2017, from 6:30-7:30 pm ET.
---
WHERE
Attend online OR at the Lessonface Studios, at 451 West St, NY, NY 10014. You can combine in-studio and online attendance. Please be in touch to let us know which dates to expect you in person.
---
LEVEL
Advanced beginners to advanced students ages 14 and up.
---
HOW IT WORKS
These are live classes that are taught from the Lessonface Studios in the West Village. Students can attend by physically coming into the studio (in-studio) OR joining over the Lessonface high performing video conference platform. Students can connect to the online platform using a tablet or computer with reliable internet. To actively participate online students also need a webcam with microphone. The live sessions are recorded so that all enrolled students and auditors can review the class sessions following the live class. Class recordings will be available for viewing within 48 hours of the live class.
---
CONTACT
If you have questions or concerns, don't hesitate to be in touch by chatting at us within 
our office hours
, calling 1-800-211-7058, or emailing
jess@lessonface.com
. 
---
STUDENTS REACT
If there was a 'Hall of Fame' for music teachers, Keith Underwood would take first prize. 
--Lee Grant, review of previous Lessonface sessions with Keith Underwood