Paint Two, Beam One: Painting Two Warps and Weaving Them as One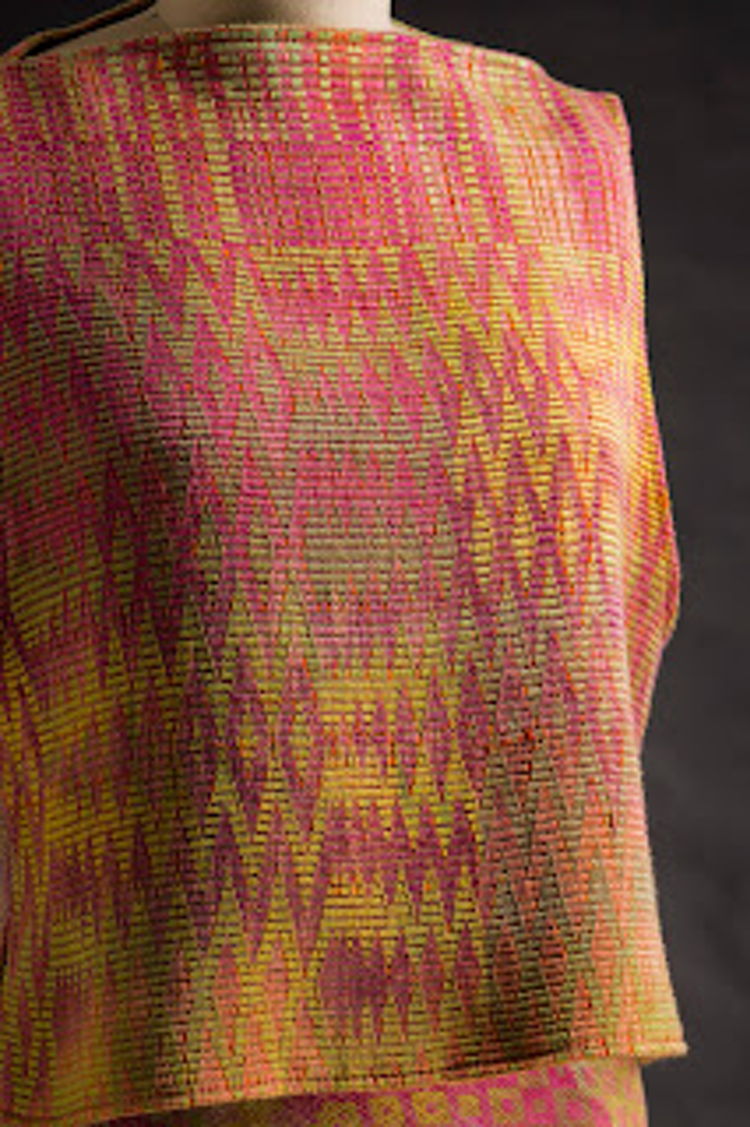 About Paint Two, Beam One: Painting Two Warps and Weaving Them as One
Learn how to hand-paint two warps in different color palettes and beam them together to weave one luminous fabric on your loom. NOTE: This class is lecture/demo format, with the dyeing, beaming of warps, and weaving taking place after class. We will cover how to wind your warps, plan your colors, prepare your dyes, paint your warps, and beam them as one on your loom. In addition to handouts, you'll receive a variety of WIFs and PDFs giving you threadings, tieups, and treadlings for patterns on 4, 6, 8, and 12 shafts. (You also have the option to work with a pattern you've chosen beforehand.) Many warp-emphasis designs -- for 4 shafts and beyond -- lend themselves well to this technique. The focus is on exploring the possibilities of color and learning new skills. Also, studio safety is detailed and emphasized.
This class is limited to 60 students.
---
Class Materials Needed
Enrolled students will receive a detailed materials list and handouts.
Age Range
Teens and Adults
When
Three 1-hour sessions on Saturday, April 29, from 10-11am, 1-2pm, and 4-5pm ET.
Enrolled students receive 30-day access to the video recording of the class.
Paint Two, Beam One: Painting Two Warps and Weaving Them as One
How It Works
Enroll above to save your spot in the class. Lessonface will send you a confirmation right away, and a Zoom link 24 hours before the class start time. You can log into your Lessonface dashboard to access class materials, communicate with your instructor, join the live Zoom session, and access the class recordings and chat transcript afterward. This class, and all lessons and classes on Lessonface, are covered by the Lessonface Guarantee.
---
A weaver since 1998, Denise Kovnat has taught at conferences and guilds across the United States, Canada and Australia with a focus on parallel threadings, collapse techniques, painted warps and deflected double weave. Her hand-dyed and handwoven garments have been juried into Convergence fashion shows since 2008 and have won awards from Complexity (Complex Weavers), the Handweavers Guild of America, the Seattle Weavers Guild, and Treenway Silks. She is most proud of working on the founding team for the Weaving and Fiber Arts Center, which opened in Rochester in 2002.
Visit Denise's website at https://www.denisekovnat.com/.
The MidAtlantic Fiber Association (MAFA) represents and supports a community of fiber arts guilds in the greater Mid-Atlantic region. Although MAFA is best known for its biennial conference - and now for virtual programs - the all-volunteer, not-for-profit organization also provides ongoing financial grants, fellowships and scholarships to promote education, development and public outreach in the fiber arts.  Find out more about MAFA at https://mafafiber.org/.
About Lessonface, PBC
Lessonface's mission is to help students achieve their goals while treating teachers equitably. Since 2012, we've hosted more than 30,000 students and 2,000 teachers for live music, language, and arts lessons and classes online.