Raga & Tala - Travel to India through Music
About Raga & Tala - Travel to India through Music
This class introduces children to the basic features of classical ragas and talas. Children will explore folk music styles of India, learn new songs and clapping games, and explore the different families of ragas and their relatives - the talas. Through listening activities, stories, songs, simple pieces (sargam) and games, children will learn the fundamentals of Indian classical music, and begin to appreciate its beauty and contemporary relevance. Music connects people and communities, and in this course children can experience this connection to their peers. As a parent, you can join your child in listening to Indian folk and classical music together, creating a musical environment at home. I wish you a joyful journey together!
This class is limited to 10 students.
Class Goals
- Learn basic musical notation and story writing
- Create new sounds and play some popular rhythms
'- Sing simple Raga and Tala on various occasions: at night before sleeping (lullaby), at celebrations, etc.
- Narrate different cultural stories from around the world
When
The class will meet for six weekly 30-min live online sessions on Wednesdays at 1:30 pm ET | 10:30 am PT | 17:30 UTC on the schedule below. The first session is on June 30.
(Convert to my time zone)
Enrolled students receive lifetime access to the video recordings of the classes.
Raga & Tala - Travel to India through Music
Raga & Tala - Travel to India through Music
Raga & Tala - Travel to India through Music
Raga & Tala - Travel to India through Music
Raga & Tala - Travel to India through Music
Raga & Tala - Travel to India through Music
How It Works
Students can connect to the online platform using a tablet or computer with reliable internet. To actively participate online students also need a webcam with microphone. The class is covered by the Lessonface Guarantee.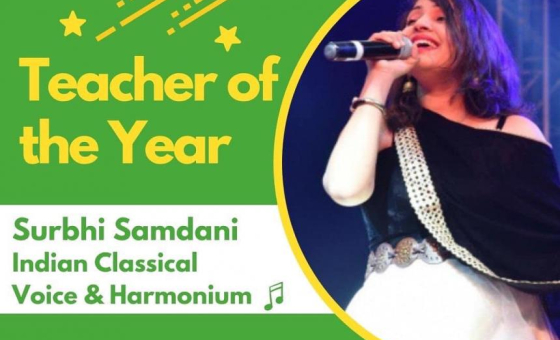 Surbhi Samdani is an Indian Musician, Composer, Playback Singer and Performer. She has been trained professionally in Indian classical vocals for 10 years under various prominent gurus such as  Pandit Raja Ram shukla , Pandit Banwarilal Rao ( Jaipur Gharana)  , Suresh wadekar . She is also a BA and MA graduated in Hindustani Classical Music at Bhatkhande Music Institute Deemed University (BMIDU) in Lucknow, Uttar Pradesh, India, institution in which she's currently attending for a PhD in Musicology. She works regularly as a performer of Classical , Semi Classical and Light Music in local festivals, private shows and local Rajasthani TV stations. Outside her native Rajasthan, she ha...
About Lessonface, PBC
Lessonface's mission is to help students achieve their goals while treating teachers equitably. Since 2013, we've hosted more than 20,000 students and 2,000 teachers for live music, language, and arts lessons and classes online.