Song Production: GarageBand 101 with Yonit Spiegelman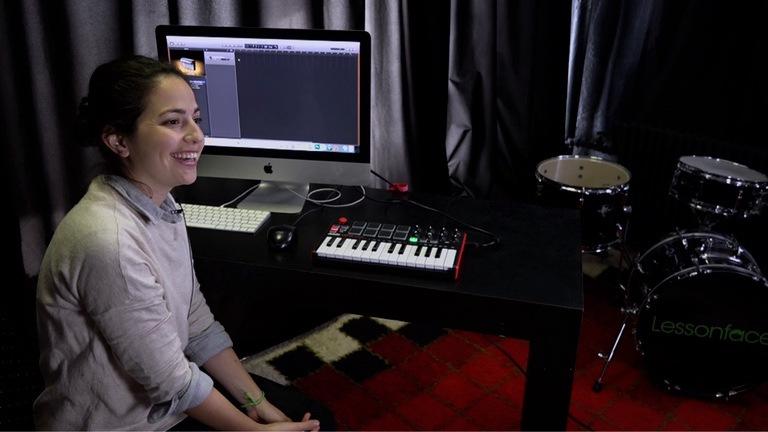 COURSE DESCRIPTION
The perfect class for vocalists and songwriters who want to take their music to the next level! Garageband is a great DAW (Digital Audio Workstation) that comes with Apple products that can be used easily to compose or enhance the creativity of artists of any age.
Using the software, Yonit (NYC-based professional bassist, producer and songwriter) will teach you how to create a track using Midi tools and how to come up with harmonic parts, drum parts, instrument solo parts, etc.
---
ABOUT YONIT SPIEGELMAN
Bassist, composer, guitarist, vocalist and producer Yonit Spiegelman has an international performance experience performing on stages in Israel, Austria, France, Belgium and the US,   sharing stage with Paul Simon and Valerie Simpson and recordings for Spanish multi Latin Grammy winner  producer Javier Limon as well as performing alongside noted prominent musicians such as Tower of Power, Asaf Amdurski, Tali Rubinstein, David Broza and the group Foreign Hues (lead by Spiegelman herself).
Graduate of Rimon School for Contemporary Music in Israel and recipient of Israel Musicians' Union Scholarship for Jazz Performance, Spiegelman received scholarship for musical excellence from Berklee College of Music and the Brian Oliver memorial scholarship to attend Berklee College of Music. After graduating Summa Cum Laude and receiving bachelors degree in arts from Berklee, Spiegelman was hired as an instructor for Berklee's acclaimed youth program "Day Sessions", teaching the next generation of outstanding performers ages 9-15.
Yonit Spiegelman has carved out an extraordinary career distinguished by superb recordings, thrilling live appearances, the great respect of her industry peers, the admiration of music critics, and the fervent loyalty of her fans. Today Spiegelman resides in Brooklyn NY, performing in NYC with her own original music group Foreign Hues and alongside noted musicians in NYC area. Spiegelman is currently teaching instrumental studies of guitar, electric bass, voice, ukulele and piano. Spiegelman's teaching has an emphasis on every instrument individually and helps students master the craft as well as revealing students to the logic and depth of music theory, assisting with performance and educational needs. Spiegelman has a large variety of students and lesson plans  - from the absolute beginner to the advanced and professional, known for successfully preparing for Berklee College of Music auditions (with 100% success rate*).  
ENROLLMENT INFORMATION
Enroll for immediate access to the 59-minute class recording.
For a limited time, we are offering a 30-day license to this course for free. No payment information necessary.
We also offer an option above to get lifetime access to the course for $5.95.
You may also learn more and save by bundling in two 30-minute private online lessons with Yonit, essentially getting the course for free.
---
WHEN
This class occurred February 2018. You can watch the class recording at your convenience. You will receive immediate access upon enrollment.
---
LEVEL
This class starts from zero! So you are welcome if you have no prior knowledge, or if you have just a bit but want to take it to the next level.
All genres are welcome.
---
HOW IT WORKS
After enrolling, you can watch this class anytime by logging in to your Lessonface account.
You are covered by the Lessonface Guarantee - let us know if you are not satisfied for any reason within two days of purchasing access to the class and we will refund your tuition in full.
---
CONTACT
If you have questions or concerns, don't hesitate to be in touch by chatting at us within 
our office hours
, calling 1-800-211-7058, or emailing
jess@lessonface.com
.
---
RELATED CLASSES AND LESSONS