Vocal Improv Jam Session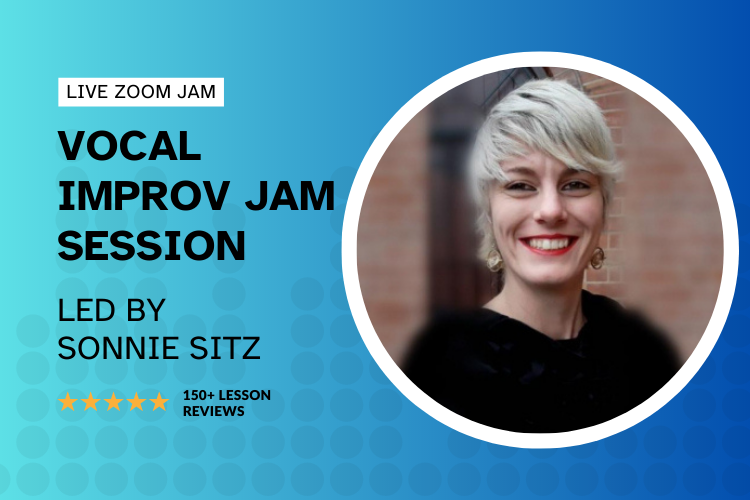 About Vocal Improv Jam Session
If you are passionate about singing and want to experience doing an improv within a fun, friendly environment then this is the place for you! Don't worry if you have never improvised before, you will learn everything you need to know during the session and you will also get a chance to improvise during the session!
About Lessonface Jams
Join the live online jam to make music together with others, live on Zoom. Using Zoom's new Live Performance Audio feature, musicians can play together online.
Skill Level
All levels

---
Contact the Teacher
Send a direct message from the teacher's profile page with any questions you might have about the jam.
---
When
Sessions every other week on Wednesdays at 5 pm ET | 2 pm PT | 22:00 UTC. See the schedule below.
Choose the session you'd like to join on the dropdown menu above.
How It Works
These jam sessions will use Zoom's new Live Performance Audio feature, free with the latest release (version 5.14 or later). Download the latest Zoom here. Live Performance Audio improves sound for making music with others on Zoom. For best results, students should use a computer rather than mobile device. Due to the full duplex sound of Live Performance Audio, participants in the jams should wear headphones. These sessions will not be recorded. Read more about this new feature.
Once enrolled, Lessonface will send you a confirmation email, and then a reminder 24 hours before the jam session, with join link to take you into the Zoom session. Join from your email or log into Lessonface and join from your dashboard. Register on Lessonface to access class materials and discussion.
Teacher Location
Buenos Aires, Argentina
The jam will be online, taking advantage of the new Zoom's Live Performance Audio feature, which minimizes latency between participants. The instructor's location is mentioned so students may opt to join a jam that's geographically close, if possible, in order to seek lower latency times. All are welcome to join.
---
Students Say

Emerson W. on August 18, 2023
Class: Vocal Improv Jam Session

This vocal jam was a breath of fresh air. Sonnie has facilitated a space where there is comfort support and productivity. I felt engaged but also not pressured. everyone was so sweet and Sonnie was prepared with some great exercises to help us connect grow and safely and comfortably access the world of music.
---
YIXI Z.
on August 17, 2023
Class:
Vocal Improv Jam Session
Fantastic class! Sonnie is such an inspiring and supportive teacher. We were having so much fu today and learning lots. Looking forward to more of this kind of classes with Sonnie!
---
Arista
on July 30, 2021
Class:
Summer Stomp Class
So cute! Loved the total interaction. Really novel idea.
---
½
Arista
on July 28, 2021
Class:
Summer Stomp Class
So much fun for the little ones- we all loved it!! Thanks Sonnie.
---
kylee
on June 2, 2021
Class:
Summer Stomp Class
amazing so much fun
Sonnie graduated from the University of Pretoria with a Bachelor degree of Music, specializing in music education, music therapy and singing. She received this degree with distinction and academic honors in 2015. In the same year she started her Master's of Musicology degree and received a bursary to study music education in Finland for six months. During this time she specialized in music education, music therapy and indigenous music. In 2016 she was part of a team that compiled music textbooks for the South African CAPS (Curriculum Assessment Policy Statements)  for grades 10-12.
Throughout her career she has performed as a soloist at various events and in 2017 she was part of th...
About Lessonface, PBC
Since 2012, Lessonface has connected more than 30,000 students with over 2,500 great teachers for live music, & language, and arts lessons online, delivering on our mission to help students achieve their goals while treating teachers equitably.