MET Orchestra Musicians Master Class Performer Application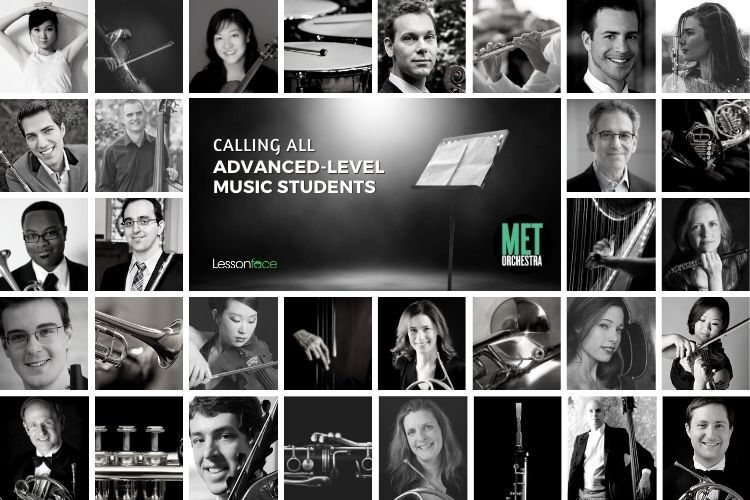 Apply to perform in the MET Orchestra Musicians Master Classes using the form below. The application form is now open. Applications will be taken until two weeks before the Master Class date, with the upcoming deadlines as follows:
English Horn: Apply by March 14
Violin: Apply by March 28
Violin - David Chan: Apply by April 1
Lessonface staff musicians and other designated experts will choose the performers for the Master Classes based on the audition video further described in the form below. MET Orchestra panelists will not participate in the selection process. View Lessonface's terms and privacy policy here.
Please note:
The Master Classes will be recorded and may be made available for viewing by Lessonface and the MET Orchestra Musicians. Performers will be required to sign a publicity release, which can be viewed here.
There is no application fee, nor is there a fee for selected performers. Likewise, audience members will be able to view these Master Classes entirely free of charge.
Successful applicants who are invited to perform in the Master Classes may perform any public domain* work from the standard repertoire, and will be asked to notify Lessonface of the work to be performed one week in advance of their scheduled performance. 
Up to four performers and alternates will be selected for each Master Class.
* Most works published before 1925. See this link from Cornell University Library for information on works in the Public Domain in the U.S. as of January 2020:
Cornell: Copyright Term and the Public Domain in the United States
Upcoming Master Classes Calendar:
Sundays, 4:00-5:30 p.m. EDT *
• March 28: ENGLISH HORN: Pedro Díaz.
• April 11: VIOLIN: Bruno Eicher, Julia Choi, Elena Barere.
• April 23: VIOLIN: David Chan, Concertmaster. *The master class with Concertmaster David Chan will take place Friday, April 23, at 8 p.m. ET. See additional repertoire requirements for this masterclass by clicking inside the form.
To enroll as an audience member and for more information about all upcoming MET Orchestra Musicians Master Classes, click here.