Native American Flute
50+ lessons
booked on Lessonface
Featured Teacher
on Lessonface
Since April 2020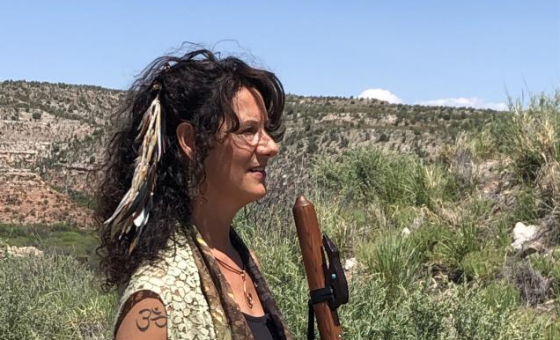 Lesson Fees
Base Fee:
$30.00 / 30 Minutes
Promotions Available
Free 15 minute trial lessons
Book 5+ lessons for 5% off
Book 10+ lessons for 10% off
Book 15+ lessons for 10% off: buy 1 get 1 free
Subscriptions discounted up to 11% off
About
A Musical Childhood
My musical career started as soon as I was big enough to crawl onto the piano bench. From the time I was 6 until I was 21 years old, I took piano lessons. They have served me well as a foundation for becoming a musical educator. But even though I had musical training, I was glued to the piece of paper on the stand. There was anxiety around playing, performing, and being judged. It was not the relaxing and freeing experience I yearned for in my musical life.
Many years later, a friend introduced me to the Native American flute. I didn't have lot of time to learn a new instrument as my family demands were very real, but this was a primitive instrument after all. I had been in love with the sound of beautiful Native American flute music for some time and decided to do something healing for myself and learn to play this intriguing instrument.
Avoiding Bad Habits
I decided to set myself up for success and get good quality instruction right up front. One thing I knew from learning an instrument before, once bad habits set in, it is hard to undo them.  If I just learned the best practices from the beginning, perhaps I could actually make some music on my flute.
I was amazed to see where I was after just 10 hours of practice. Finally, I had found an instrument that I could improvise on. I even started to be able to express my emotions in my playing. I started to bring my flute with me and have enjoyed playing little interludes in so many different places in nature.
Writing the Book and Teaching Classes
I wrote the first edition of my book and started holding group classes which were popular. Within a couple years, I was teaching three different levels of classes.  In a safe and supportive atmosphere, my students were exploring this new territory and I was thrilled to be their facilitator.
My experience deepened as I traveled to several flute schools around the country. I  brought all I learned home to my own classes and workshops and refined the courses. Next, I started to teach online quite a bit and found online learning to be a viable way to learn the flute. These and many other learning experiences along the way brought me to the creation of my book (now in its final edition), my CD, and my flagship work, my full online course.
Discover Your Heartsong
For those who have heard the calling of the flute and have a true desire to learn to play, I hope my online offerings will make it entirely possible in a way that is enjoyable, affordable, and engaging.
Truly, I am delighted to be a steward of this ancient and mystical instrument. The Native American flute has provided an outlet for my emotions, a platform from which I could share the experience with others, and a place of solace and beauty.
• Certified Music Practitioner by Music for Healing and Transitions Organization • Level 2 Music for People's leadership program • Trained facilitator of community music-making events through Flute Haven and HealthRHYTHMS • Teacher of Native American flute classes, workshops, online lessons, and flute, drums, and rattle circle facilitator. • Author of book (available on Amazon) Learn to Play the Native American Style Flute, as well as student CD, One Life. • Member of the World Flute Society and an active writer on the Health and Wellness Committee. • Healing arts practitioner (Certified Aromatherapist, Reiki Master, Yoga Instructor, T'ai Chi Chih Instructor)
Have you heard the call of the Native American flute?
If you have ever wanted to learn an instrument but never found the time…
If you have owned a Native American flute but haven't played it yet…
If you think that you are not musical and have no musical ability…
Learning to play the Native American flute is truly a beautiful journey. No musical experience necessary. Here's what the journey looks like:
Learn to Play the Native American Flute: Discover Your Heartsong
A Progressive Instructional Journey with Ami Sarasvati, CMP, Author, and NAF Teacher
Beginners: 
To fast track your learning, it is recommended that you order:
• a well-tuned Native American flute (I can give you recommendations)
• my book is published on Amazon, Learn to Play the Native American Style Flute, as well as student CD, One Life.
• and a metronome
To fastback your journey, I have created an online course that covers my book and a lot more. The best use of your money and time will be to enroll for lifetime access to the course and sign up for 30 minute lessons with my on Lessonface. Each week, I will assign a reasonable chunk of the online course will be assigned.
After completing the Beginner course (click on this link for Teachable course), your journey continues based on your goals and desires. Where to go next on the journey after the foundation is solid? Here are your choices:
1) Learn to read and write Nakai Tablature (see description below)
2) Learn to read and write Interval Tablature (see description below)
3) Repertoire Development (see description below)
4) Master improvisation with other scales and modes (see description below)
5) Learn to play your NAF to your favorite recorded songs (see description below)
1)LEARN TO READ AND WRITE NAKAI TABLATURE ON THE NATIVE AMERICAN FLUTE
Nakai tablature is a simplified system of notating music developed by R. Carlos Nakai, specifically for the Native American flute. If you want to play familiar songs and develop a repertoire on the flute, you'll need to be able to read Nakai tab which is what the vast material of NAF music already out there is written in. Nakai Tablature is easy to learn through this step-by-step method.
2) LEARN TO READ AND WRITE INTERVAL TABLATURE ON THE NATIVE AMERICAN FLUTE
If you want to improvise or accompany other musicians (or even play along to songs you like), that path leads you to Learn to Read and Write Interval Tab. Interval tab is an easy way to capture musical ideas, kind of like short hand. This can be amazingly handy when you are trying to write down ideas for your NAF. Interval Tablature is easy to learn through this step-by-step method. Students are guided through a tried and proven way to quickly learn to use the interval system of music as a notation tool for the Native American flute.
Getting Interval tab under your belt as a Native American flute player gets you ready to play with other musicians (other instruments) or recorded songs
3) REPERTOIRE DEVELOPMENT
Develop your Native American flute (NAF) repertoire. Explore modes and other scales on the online and in books. Learn practical suggestions on how to set up your music space. Access flute music resources to build your repertoire for familiar music and traditional Native American Music. Learn how to set up a binder (either with physical pages or organized on your computer or iPad) so you have a nice selection of music organized.
4) MASTER IMPROVISATION ON THE NAF WITH MULTIPLE SCALES AND MODES
Learn 10 new scales on the Native American flute as well as Modes 1, 2, and 4.  Handouts and resources will be given. Get ready for a wonderful adventure! This will be challenging and will unleash your inner Kokopelli!
5) LEARN TO PLAY ALONG TO YOUR FAVORITE RECORDED SONGS ON THE NATIVE AMERICAN FLUTE
Have you ever wanted to play in a band? Or at least know how to play your NAF along to songs you enjoy? In this webinar series, you will learn the method of using Interval Tab to identify the right notes on any flute to play along to recorded music or among other musicians. Join in the "band" with your Native American flute.  Ideally, you will have several well-tuned flutes of different keys to work with for this series.
Reviews of lessons with Ami Sarasvati