Euphonium, Trombone, Trumpet, Tuba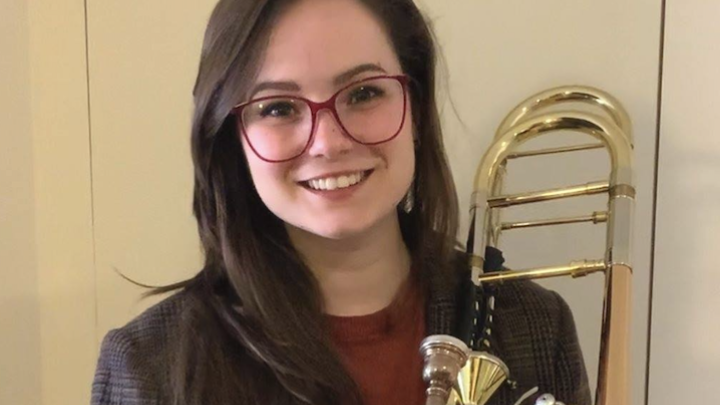 About
With over a decade of experience playing and teaching brass instruments, Katie has a passion for both music and learning that she works to impart on all her students!
Katie holds a master's degree in Trombone Performance from the Hartt School and a bachelor's degree in Instrumental Music Education from East Tennessee State University, as well as a K-12 Music Teacher Certification. She also performs regularly throughout the greater Seacoast (ME/NH/MA) area with musical groups in a variety of styles - classical, jazz, chamber music, pit orchestras, and more!
Katie works with students of all ages and abilities - from young beginners to high school students looking to pursue music in college to busy adults and everyone in between. Getting to know her students is important to her so she can create individualized lessons each week to meet students at the level they're at and help them to acheive their own ungique goals and develop their msuical abilities - all while having fun making music!
Does your student have placement auditions for band coming up soon?
Do they need help practicing their band music?
Are they already preparing for regional or all-state auditions?
Do they need help getting back into the swing of things after some time off?
Are they just looking to have fun learning a new instrument?
Katie can help! Send a message to see if you'd be a good fit :)
I plan my lessons and create my own materials to fit each student's specific needs and goals. While learning an instrument is a worthy endeavor on its own, I also work with my students to hone important life and study skills they can also apply to other aspects of their lives and education - not to mention having fun making music! Confidence, problem solving, and setting and working towards goals are just some of the skills I work to impart on my students.
MM Trombone Performance, The Hartt School - 2021
BM Instrumental Music Education, East Tennessee State University - 2019
K-12 Music Teacher Certification - 2019-present
Each lesson includes time spent working on both the fundamentals of playing the instrument (technique, tone, intonation, note reading, etc.) and making music. I belief a healthy balance of both is integral to creating well-rounded musicians who love what they do - and are good at it, too! While I believe routines provide great structure for building new skills on related ones, I also try to make sure each lesson is a little different with new and engaging music, ideas, and materials so students are never bored.