Singing, Audition Prep, Audition Prep from Boston Conservatory Alumni,
Classical Voice, Improv, Improvisation, Jazz Voice, Music Theory, Musical Theatre, Pop Voice, R&B Voice, Singing for Actors, Songwriting, Students with Special Learning Needs, Voice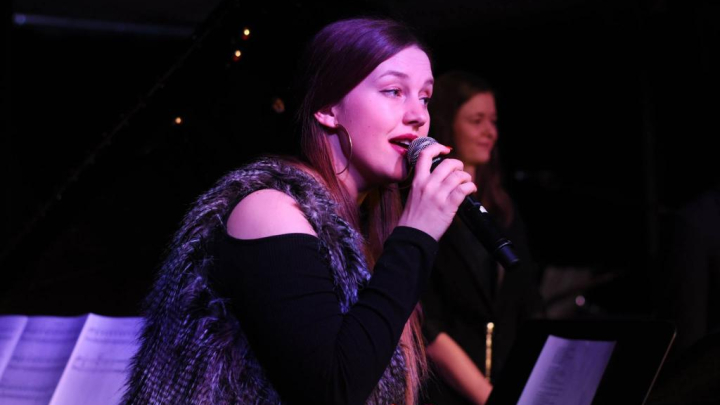 Lesson Fees
Promotions Available
Book 10+ lessons for 10% off
Book 5+ lessons for 5% off
Book 20+ lessons for 20% off
About
My name is Malwina Masternak. I am a Polish vocalist, composer and educator who specializes in Jazz and creative contemporary music, Pop, R&B. I've graduated from the prestigious Berklee Global Jazz Institute in Boston, where I was mentored by Terri Lyne Carrington, Danilo Pérez and John Patitucci among others. I made appearances across the US and Canada, China, Europe and South America. Most recently, I performed at Dizzy's Club Coca-Cola as a member of Berklee Global Jazz Ambassadors ensemble, led by John Pattitucci. I also performed at Birdland, Rockwood Music Hall, Ryles Jazz Club, Scullers Jazz Club, Regatta Bar, Cornelia St. Café and Smalls. I love teaching. Already as an undergraduate student, I founded, directed and arranged for a vocal jazz ensemble, drawing both from my jazz and classical music backgrounds. Currently, I am teaching as an assistant of the Voice Professor at the Music University in San Sebastian, Spain.
My main goal for my students is to impart to them a deeper understanding of vocal technique, and implementing that technique into any genre of singing they choose. I want to find my student's talents, musical tastes, unique voice, skills, learning style, and personality, to help them grow into complete musician. I teach my students to sing in a healthy and consistent manner. Along with these principles, I create a vocal exercises tailored to each student's needs. I focus on empowering and inspiring my students to be true to their sound and artistry; the ultimate goal is to help them find their own voice. 
Aside from wanting my students to have good vocal technique, I want them to come out with good musicianship skills. I want them to be able to count off tunes and know when to come in on the tune. I always make them count things off for me in the lessons so they'll learn to be direct with their band or their accompanist.
LECTURES, INTERVIEWS, AND OTHER PRESENTATIONS
Guest Vocal Jazz Clinician | Chile Jazz Festival, Escuela Moderna de Musica y Danza, Chile, 2018
'TED talks' Suffolk University, 2017 'Voice Master' Krakow, Poland, 2017
Jazz Clinic | Humber College, Berklee Global Jazz Institute Ambassadors, 2016
Guest Vocal Clinician | MCK Ostrowiec Świętokrzyski, Poland, 2015, 2016, 2017
Guest Lecturer/Master Class, Marie Curie Sklodowska Univeristy | Lublin, Poland, 2015
SELECTED PERFORMANCE EXPERIENCE (SIDEPERSON/BANDLEADER)
Luciana Souza and Berklee Global Jazz Institute Ambassadors, Berklee College of Music, 2019 Malwina Masternak quartet, Rockwood Music Hall, New York, 2019
John Patittuci and Berklee Global Jazz Institute Ambassadors, Dizzy's Jazz Club, New York, 2018 Jim Caruso's Cast Party, Birdland Jazz Club, New York, 2018
Marco Pignataro Quintet, Chile Jazz Festival, lead vocal, 2018
Czech Republic/Slovakia tours with Malwina Masternak Quartet, 2017
David Gilmore and the Berklee Global Jazz Institute, Toronto Jazz Festival, 2016 David Gilmore and Berklee Global Jazz Institute, Youth Jazz Showcase, 2016
Malwina Masternak Quintet, Muzyczna Owczarnia Jazz Club, Jaworki, Poland, 2017 Russia tour with Malwina Masternak Quartet, 2016
Vijay Prakash, Berklee Performance Center, Boston, 2015
Poland tour with Malwina Masternak Quintet, 2015
A. Rahman Honorary Doctorate, Symphony Hall, Boston, 2014
International Voice Festival 'Piosenki Harcerskiej', Kielce, Poland, 2010 Vocal Festival 'Fedik', Frydek- Mistek, Czech Republic, 2009
Vocal Festival 'Magyarorszagi jatekok'', Budapest, 2008