8 Views of the Blues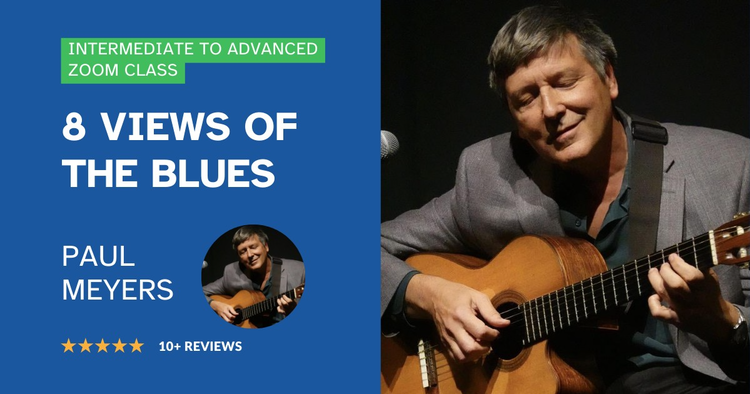 About 8 Views of the Blues
In this eight-part class, we'll look at eight different blues compositions of mine – all very different in style or mood/feeling – that I have recorded over time on six of my CDs. We will dig deep into the various types of chord structures and harmonization that make them work, along with the various kinds of melodies and rhythms too, and how it all works together. We'll also talk about different approaches to improvisation, depending on the sound and feeling of the tune. PDFs will also be given to each student of the music, chords/scales etc. There will be time for questions on all topics in each class. There is a strong focus here on solo guitar playing, but ALL of the music and the topics covered also directly apply to ensemble settings as well.
This class is limited to 25 students.
---
Class Materials Needed
Your guitar and at least a basic knowledge of blues form and jazz chord voicings.
Blues for the Millennium
Blues for Mel 
Sunset 
Blue Lantern 
Hudson Stroll
The Opener 
North Meets South 
Up At Sarah's Place 
Class Goals
To learn a much wider palette of harmonic, melodic, and rhythmic possibilities for composing, arranging, solo playing, self comping, and improvising so that the student can enrich their own musical journey.
Age Range
Teens and Adults
Skill Level
Intermediate to Advanced
---
When
The class will meet for eight weekly 55-min live online sessions at 7 pm ET | 4 pm PT | 23:00 UTC on the schedule below. The first session is on June 26th.
(Convert to my time zone)
Enrolled students receive lifetime access to the video recordings of the classes.
8 Views of the Blues - Blues for the Millenium
8 Views of the Blues - Blues for Mel
8 Views of the Blues - Sunset
8 Views of the Blues - Blue Lantern
8 Views of the Blues - Hudson Stroll
8 Views of the Blues - The Opener
8 Views of the Blues - North Meets South
8 Views of the Blues - Up at Sara's Place
How It Works
Enroll above to save your spot in the class. Lessonface will send you a confirmation right away, and a Zoom link 24 hours before each session's start time. You can log into your Lessonface dashboard to access class materials, communicate with your instructor, join the live Zoom session, and access the class recordings and chat transcript afterward. Contact us with any questions. This class, and all lessons and classes on Lessonface, are covered by the Lessonface Guarantee.
---
Students Say
⭐⭐⭐⭐⭐
Allen W. on March 20, 2021
Paul is the real thing!
---
⭐⭐⭐⭐⭐
James S.
on March 20, 2021
---
⭐⭐⭐⭐⭐
Paul I.
on March 20, 2021
---
⭐⭐⭐⭐⭐
Paul I.
on April 10, 2021
A feast for guitarists ! Paul provides great charts, demonstrates his compositions, and elaborates on all the details. This tune for me 'blue lantern' encourages a new way to hear and play over the blues.
---
⭐⭐⭐⭐½
Richard A.
on May 15, 2021
This review is for the seven classes I attended. Since there's no place to rate all seven (Lessonface should address this), I'm using this spot for the last session to rate the whole course.
---
⭐⭐⭐⭐⭐
James S.
on May 15, 2021
I took Paul Meyers' 8 Blues classes recently & thought they were excellent. Paul makes everything clear, provides useful information, demonstrates well, and has a great demeanor and manner. All in all, an excellent class. I would take any other classes he offers. (Fyi - I'm a professional guitarist with two successful CDs, and lots of career credentials).
Paul is a great instructor and, needless to say, a great artist. He provided excellent materials (charts), and went through each piece very methodically. He was open to questions as he went along. He has a very nice, welcoming, gentle demeanor, which is conducive to learning.
Personally, I got what I was looking for -- a handful of techniques which I can gradually incorporate into my own solo playing.
I would recommend Paul's lessons for any fairly advanced jazz guitarist who can read music and is, as jazz players should be, endlessly curious and explorational in their music.
Above all, the class was fun!
---
⭐⭐⭐⭐⭐
Paul I.
on June 1, 2021
I would like to say a few words about my class with Paul Meyers.
1st he is a master guitar player with a unique style always sounding spontaneous and contemporary always swinging.
Paul's sense of jazz history and vocabulary runs throughout his playing.
The structure of the class is what appealed to me - 8 pieces all approaching the 'blues' in a different way. Each tune covered a number of harmonic and rhythmic techniques as well as various forms and form extensions.
Paul has the ability to play all the parts in each tune, and analyze and talk about the chordal and melodic relationships. All times are written out and available in pdfhandouts, Most included a solo (also written out).
Paul is energetic and passionate about what he's doing. He can make an advanced piece seem approachable and is able to field questions at any time. Quite remarkable I'd say.
---
⭐⭐⭐⭐⭐
Monroe Q.
on May 15, 2021
Paul Meyers is the real deal. I highly recommend any guitarist wishing to expand their knowledge and gain a greater view of the instrument to study with Paul.
Paul Meyers
"one of the most eloquent jazz guitarists since Kenny Burrell"- James Gavin, NY Times
"Paul Meyers is a guitarist's guitarist. He displays a creative, fresh approach to harmonic and linear playing. He's a brilliant soloist andaccompanist and excels in contemporary jazz. His arranging and performances are as good as it gets."- Gene Bertoncini, solo jazz guitar master
"A virtuoso guitarist and improviser [who brings] his own voice to each and every melody and solo he performs.... his lines are delivered with a hard driving sense of groove that only helps to accentuate his melodic and harmonic vocabulary." - Matthew Warnock, Just Jazz Guitar
Professional h...
About Lessonface, PBC
Lessonface's mission is to help students achieve their goals while treating teachers equitably. Since 2012, we've hosted more than 30,000 students and 2,000 teachers for live music, language, and arts lessons and classes online.