Paint, Paper, and Play!
About Paint, Paper, and Play!
Jumpstart your creativity through play! Using simple materials such as decorative papers and acrylic paint, explore image-making that emphasizes creative expression and exploration.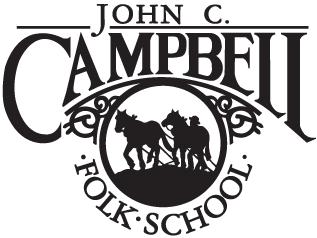 Play is the name of the game in this class, and students will learn how to approach the creative process with a spirit of adventure and joy.
This class is presented in collaboration with the John C. Campbell Folk School & is limited to 12 students. There will be an optional Orientation and Closing Ceremony hosted from the Folk School campus that students can attend online. Class enrollment may be canceled for a full refund up to five days before the class start date, with the exception of the non-refundable materials kit fee.
---
Class Materials Needed
The materials kit worth $20 is included in the class fee. A form for the student's mailing address is included on the class page after signing up.
Acrylic Paints: Titanium White, Unbleached or Buff White, Burnt Umber, Ivory or Mars Black, Cadmium Red Hue, and any other colors you may want to use.
Matt Gel Medium, 1" Flat Brush, 2-3 smaller paint brushes (round or flat), Palette knife, Disposable paper palettes or paper plates, Water cup, Paper Towels, 7-10 Individual sheets of decorative scrapbooking paper of various colors, patterns, solids, etc. (These can be purchased at most art/craft stores for about .50 - .75 cents a sheet, but you can also buy a large book of different papers for around $15 - $20.) A minimum of 5 (one for each day) canvases, canvas boards, or painting boards. I recommend around 5" x 7", 8" x 8" & 8" x 10". I suggest having a mix of sizes).
Skill Level
All levels welcome.
---
When
The class will meet for five days on the dates below. Each day starts with a 90-minute live demonstration session at 10 am ET | 7 am PT | 15:00 UTC and meets again for a 30-min check in at 6 pm ET | 3 pm PT | 23:00 UTC. The first session is on March 8.
(Convert to my time zone)
Enrolled students receive 30-day access to the video recordings of the classes.
How It Works
Students can connect to the online platform using a tablet or computer with reliable internet. To actively participate online students also need a webcam with microphone. Class enrollments may be cancelled for full refund up to five days before the class start date.
ARTIST STATEMENT
About fifteen years ago I became interested in the idea of painting as an improvised performance. I had grown dissatisfied with making work that was fully conceived at the beginning, worked out through studies and sketches, and then executed onto canvas. Something important was missing. I began to make paintings with no formulated plan. I let the images emerge slowly or quickly out of the painting process itself. I began playing with color, line, texture and shape. I embraced uncertainty as an essential element of creating.
My painting process is fluid and organic. I constantly make changes throughout the creation of a piece. I have no philosophy of paint...
About the John C. Campbell Folk School & Lessonface
For 95 years, the Folk School has transformed lives, and brought people together in a nurturing environment for experiences in learning and community life that spark self-discovery. Since 2013, Lessonface has connected more than 10,000 students with over 1800 great teachers for live music, language, and arts lessons online, delivering on our mission to help students achieve their goals while treating teachers equitably.