Ableton Live, Acoustic Guitar, Anime Music, Apple Logic Pro, Apple MainStage,
Audio Recording and Music Production, Composition, Electric Guitar, General Mixing and Mastering, Guitar, Guitar Set Up, Improvisation, Lead Guitar, Live Sound, MIDI Orchestration, MIDI Programming, Performing with Ableton Live, Reharmonization, Rhythm Training, Rock Guitar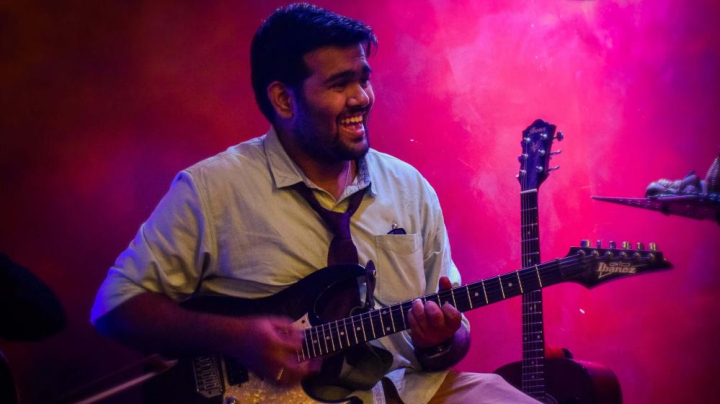 About
Abishek B R is a professionally trained Guitarist and Composer from Chennai with Carnatic Music as his roots. He is greatly influenced by artists like Guitar Prasanna, Mandolin Srinivas and many more.
His passion towards music blazed when he saw Agam The Band perform live on stage, and his dream since then, has been to reach that level.
Passionately pursuing that dream led him to pursue a career in music as a freelance musician. He is a self-taught guitarist with over 6 years of experience and is well-versed in Carnatic, Western and Film Music and strives to explore various genres of music.
Abishek has played for various bands including Resound The Band and Yaazhi - The Indian Fusion Collective.
Depending on the entry-level of the student, my style for guiding them in music will be different.
However, what remains constant, will be my dedication and patience in providing the best form of music education to every student.
My classes will include consistent practice homework and self-learning opportunities.