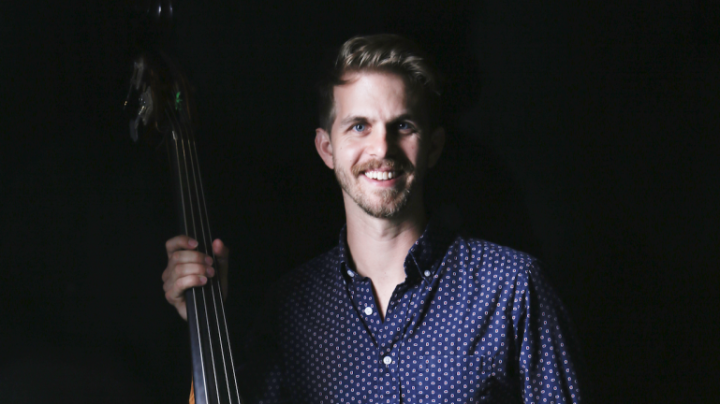 About
Bio: Rooted in the sounds of American-born music Baltimore based bassist, Alex Lacquement has crafted a unique style that is dazzling, lyrical, and transcends musical genres. Whether on stage playing jazz, old-time, bluegrass, or playing with singer song-writers his tone is unmistakable and joy for performing is obvious and infectious. In addition to being an energetic, assertive, and groovy ensemble player and imaginative soloist, he is a skilled arranger, composer, producer and educator. 





 
I have toured across North America playing at performing arts centers and festivals with the critically acclaimed acoustic roots quartet Charm City Junction, as well as the WAMMIE-awarded Bumper Jacksons,  Ken and Brad Kolodner, and Letitia VanSant. I have performed at The Kennedy Center, The Birchmere, Le Poisson Rouge, The Gordon Center, Wheeler Opera House, Mountain Stage, Philadelphia Folk Festival, Walnut Valley Festival, Grey Fox, Winter Jazz, California World Festival, Delaware Valley Bluegrass Festival, and more. 
I believe that music is about making connections wth other people. So, everything in lessons is shaped around making music with others. Learning by ear is highly prioritized, but sheet music and/or tabs are often used as well. 
I hold degrees in music education from the Eastman School of Music (M.M.) and from James Madison University (B.M.). As a music educator I focuses on teaching community-based music through aurally learned songs and tunes, and dance. When I am not on the road performing, I can be found at home teaching, writing music and cultivating Baltimore's Bluegrass scene through leading jams and facilitating live music.
There is so much we can learn while using the internet as a way to connect with other people. I've been teaching music for more than half my life and I love crafting individual plans for each student or group and getting creative in helping everyone achieve their unique goals. During distanced learning I draw on many concepts I've gained from: getting a bachelor's and masters degree in music education, teaching both elementary general music and early strings education in classrooms for years, performing around the country with Bumper Jacksons and Charm City Junction while running educational workshops, and all of my time running community jams in Baltimore. Learning online via  video conferencing services is different than being in person, but there are so many ways we can connect and create using these wonderful platforms. 

 
Reviews of lessons with Alex Lacquement