Acoustic Guitar, Arranging, Audacity, Audio Ear Training, Audio Editing,
Audio Recording, Band, Bass Guitar, Bass Guitar Set Up, Bluegrass Guitar, Blues Guitar, Blues Piano, Boogie Woogie Piano, Choral Arranging, Classical Orchestration, Classical Piano, Commercial Music, Composition, Concert Band Arranging, Contemporary Composition, Counterpoint, Country Voice, DADGAD Guitar, DAWs, Demo Production, Ear Training, Electric Guitar, Electronic Music Composition, Finale, Fingerstyle Guitar, Flamenco Piano, Flute, Gospel Piano, Guitar, Guitar for Singers, Guitar Set Up, Improv, Improvisation, Jazz Arranging, Jazz Composition, Jazz Guitar, Jazz Piano, Jazz Voice, Keyboard, Lead Guitar, Live Sound, Lyric Writing, Mandolin, Melodica, Metal Guitar, Metal Voice, MIDI Orchestration, MIDI Programming, Musescore, Music, Music History, Music Practice Personal Training, Music Theory, Music Theory for Producers, Musical Theatre, Neo Soul Guitar, New Age Piano, Noteflight, Orchestral Arranging, Orchestration, Piano, Piano Composition, Piano for Singers, Pop Arranging, Pop Piano, Pop Voice, R&B Voice, Reggae Guitar, Rhythm Training, Rock Arranging, Rock Guitar, Rock Piano, Rock Voice, Sight Reading, Singing, Songwriting, Songwriting Arrangement, Songwriting Form, Songwriting Harmony, Songwriting Melody, Students with Special Learning Needs, Transcription, Ukulele, Vocal Analysis, Vocal Arranging, Voice, Voice Diction, Worship Piano
Avg. Response Time: 1 hr, 12 mins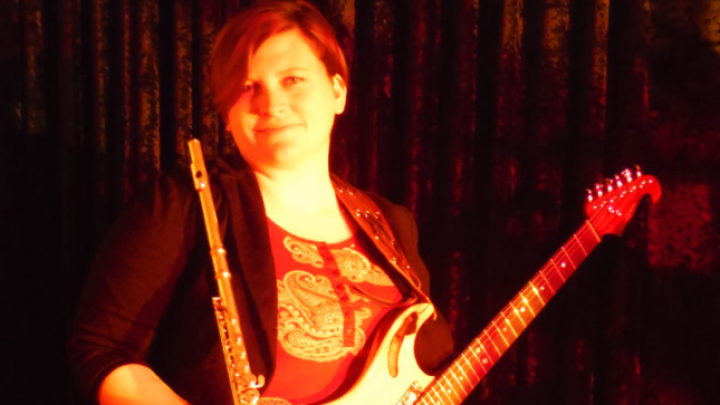 About
For over 31 years as a musician and 27 years as an educator for all grade levels and teachers alike, I have the experience of learning from my previous students and applying more efficient techniques to current and future ones. Much like my students, I work towards learning the most innovative techniques while foreseeing the trends of the future in music and education. Although I have focused a lot of my own education on equitable access to students that would otherwise not have music learning in their grasp with various nonprofit work with my Masters of Education in Curriculum & Instruction and Bachelors of Arts in Human Services (Social Work) at Ottawa University, I am an expert music theoretician that decided that a performance degree as an instrumentalist would be better utilized in the field. Nonprofits I have taught a variety of instrumental and music classes with are Education through Music Los Angeles,  Music Center LA, and Guitars in the Classroom nationally and online. As a private instructor, I have taught in-home lessons through my own lesson studio for 27 years but have also taught in music lesson studios with Alta Loma Music, Mike's Guitar World, Aimee Art Productions, and Music House. 
From national and international touring to television work, musical theater orchestra pits to concert halls, I have real-world experience with educational expertise that focuses on students being able to accomplish their goals with patient guidance. I've played in music theater orchestra pits with many different productions in Los Angeles area with the Norris Theater, Carpenter Center, Lewis Family Playhouse, and beyond on guitar, mandolin, banjo, keyboards, and bass. While touring internationally with Blue Note Swing Orchestra as a guitarist and flutist in 2001-2002, I was able to experience many areas of Japan as well as relax in Hawaii while doing hotel gigs in the Lahaina/Kaanapali area. Over the past 20 years, I have played in many different cover bands as a full-fledged member (Crash Dance, Tribute to Rush, Lucid Crew, etc) and as a reliable sub (Ozzy Osbourne tribute, Noches con Platanito TV show) on guitar, bass, piano, flute, and voice.
Check out my website to see videos, expansions on my educational experience, and my lesson methodologies.
Taking ownership of your own learning while applying previous skills to the next level of techniques is my main objective for all students. Utilizing backwards design, Gradual Release of Responsibility model, and information processing theory , collaborating with students on identifying their biggest goals and aspirations and planning out the steps for how to get there makes it much easier to achieve milestones in an abstract and patient art form like music. With my expertise in curriculum and instruction (Masters of Education from Ottawa University) and professional musician (guitar, bass, piano, flute, and voice), I am able to provide students from beginning to advanced levels with instruction tailored to their specific needs.
National Assocation for Music Education
ASCAP
Backward Design: identifying the BIG IDEA (main goal) and planning deliverable goals through engaging lessons
Gradual Release of Responsibility Model: "I do, we do, you do" takes teacher modeling into student ownership over their learning
Information Processing Theory: sensory memory, short-term memory, and long-term memory skills for optimal music learning, practice, and performance
Eclectic curricula based on student goals, needs, and abilities: from Suzuki to Kodály methods, Alfred to Mel Bay, many different resources are utilized and customized based on the overarching main goal for each student. As a curriculum specialist, I also create a customized website for feedback and resources to support practice between lessons.
Reviews of lessons with Amanda Johnson