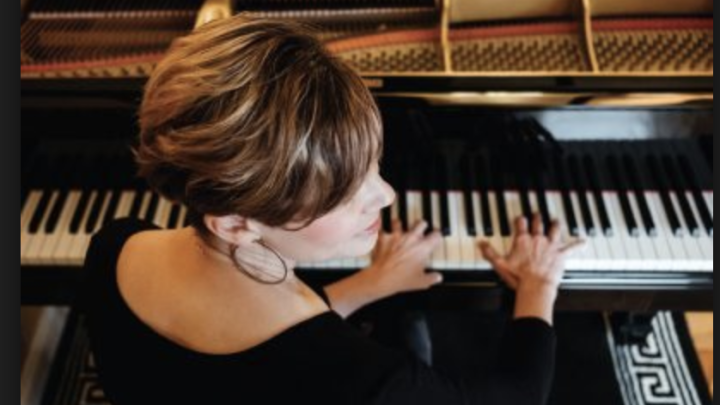 Lesson Fees
Promotions Available
Free 15 minute trial lessons
Book 5+ lessons for 5% off
Book 10+ lessons for 10% off
About
Pianist, composer and bandleader Amy Stephens  loves jazz and classical piano and is well- versed in both realms, performing and recording extensively for the past 18 years. She is particularly fond of Third Stream music, the fusion of classical form with jazz style and sensibilities. Her newest album, Becoming (2018), showcases Amy performing new Third Stream works for solo piano written by herself and others.
Amy has fronted her own jazz quartet, the Amy Stephens Group (ASG), since 1998. The three quartet's albums of Amy's original jazz compositions—My Many Moods(2005), Gold Through Fire (2001), and Amy Stephens Group (1998)–have earned acclaim and steady airplay on jazz radio around the U.S. and internet jazz radio around the world.
Amy has been privileged to study under renowned jazz educator and composer David N. Baker and pianists Lynne Arriale, Marius 'Butch' Nordal, Luke Gillespie and Evelyne Brancart. A graduate of Indiana University's world-renowned School of Music, Amy earned two Bachelor degrees and a Master degree in classical and jazz piano, as well as the coveted Performer's Certificate.   Amy has also served as pianist and worship leader at many churches throughout the Midwest and Northwest.  She is currently music director and band leader at Redemption Church in San Francisco.
Amy has been teaching private lessons for 25 years and maintains a full studio in San Francisco.  All of Amy's students receive training in reading music fluently, playing by ear, theory, composition, standard classical repertoire, jazz styles and improvisation, and pop/contemporary music. Intermediate and advanced students will also learn to read from lead-sheets and create their own arrangements.  Amy adjusts her teaching style to meet the learning style and goals of each student.
Member, Music Teachers National Association;
Member, California Association of Professional Music Teachers;
Member, Music Teacher Association of California;
Member, ASCAP;
BM Classical Piano Performance, Indiana University School of Music, 1995;
BM Jazz Piano, Indiana University School of Music, 1995;
MM Jazz Studies, Indiana Univeristy School of Music, 1998;
Performer's Certificate, Indiana University School of Music, 1998.
Reviews of lessons with Amy Stephens