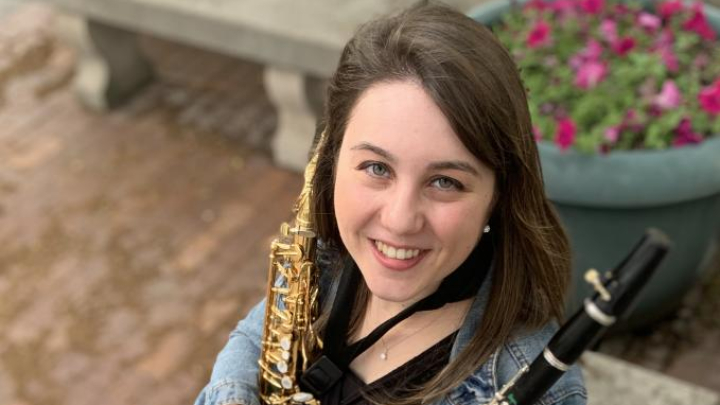 Lesson Fees
Promotions Available
Book 5+ lessons for 5% off
Book 10+ lessons for 10% off
Book 20+ lessons for 20% off
Subscriptions discounted up to 10% off
About
Welcome to my profile and I can't wait to make music together!
NOTE: My studio is full for the time being so I am not accepting new students at this time, but please reach out to get on my waitlist for the spring!
Ana is a professional multi-instrumentalist, composer, and arranger known for her  diversity in classical, jazz, and pop styles. Residing in Bloomington, IN, Ana has performed with a variety of groups and artists across the Midwest, including  Michael Spiro's "Descarga 5," the the Columbus Indiana Philharmonic, and the Buselli-Wallarab Jazz Ensemble. As a recording artist, Ana has appeared on recordings with Bootsy Collins for his remix of the "Indiana Fight Song," Indiana University Jazz Ensemble performing "Gennett Suite" recorded for WTIU TV, Liberation Music Collective's Rebel Portraiture, and releases for Oberlin Orchestra and IU New Music Ensemble. Recently, Ana co-founded the 2020 Virtual Woodwind Academy, an online educational platform for students of all ages in clarinet, saxophone, and flute.
Ana has over 7 years experience of teaching students in clarinet, saxophone, flute, composition, music theory, arranging, violin, piano, and voice for all ages and abilities.  She holds degrees from Oberlin Conservatory and Indiana University in music performance (see credentials below). Ana holds the position of Associate Instructor with the IU Soul Revue as the horn coach, arranging songs in R&B, pop, and funk genres. She previously  was the Associate Instructor with the IU Jazz Department, directing the IU All Campus Jazz Ensemble and All Campus Jazz Combo. Recently in January 2020, Ana was awarded the Earl Hines Outstanding Soloist Award presented by Wynton Marsalis at the inaugural Jack Rudin Jazz Championship in New York.
Student Testimonials:
"My daughter blossomed, gained more confidence and learned more advanced music under [Ana's] teachings!!"  -Angela, parent of student
"If you want to study with a nationally recognized instructor don't move to New York; Ana Nelson is right here. Her jazz chops were praised by Wynton Marsalis, she is the horn coach for the IU Soul Revue, and she is a doctoral student in clarinet at the IU Jacobs School of Music."  -Michael S., student
Ana's engaging and enthusiastic teaching styles allows each student to master the basics of their instrument/voice while discovering their inner creativity. Ana creates personalized lesson plans for each student that cater both to the student serious about a career in music and the casual learner. 
---
Reviews from Group Classes
⭐️⭐️⭐️⭐️⭐️
Jazz Warm-Ups Q
Michelle on February 16, 2021

Great class!
---
⭐️⭐️⭐️⭐️⭐️
Jazz Warm-Ups + Q&A With a Teacher! - Ana Nelson
Michelle
on February 23, 2021
---
⭐⭐⭐⭐½
"Positionless" Playing
Robin
on July 27, 2021
The class was very informative and fun. My only suggestion is that she needs to put her camera in a different position so when she demonstrates we are able to view the keyboard from behind her so we see the keyboard as we would if we were sitting in front to play. It was hard to see what she was playing when we were looing at her keyboard from the back side.
~D.M. Student, Indiana University Jacobs School of Music, Clarinet Performance ~M.M. Indiana University Jacobs School of Music '19 in Clarinet Performance and Jazz Studies (Saxophone) ~B.M. Oberlin Conservatory '16 in Clarinet Performance and Jazz Studies (Saxophone)
Reviews of lessons with Ana Nelson