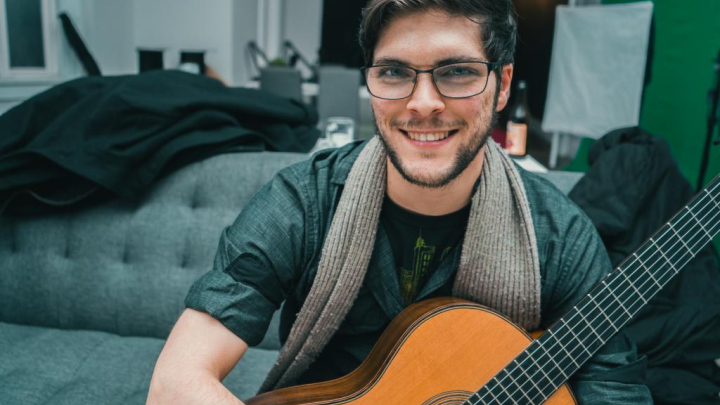 Lesson Fees
Promotions Available
Free 15 minute trial lessons
Book 10+ lessons for 10% off
Book 5+ lessons for 5% off
About
Guitarist Andrew Oswinkle was born and raised in Baltimore and recently graduated with a Masters in Classical Guitar Performance and Pedagogy at Peabody Conservatory. He placed 3rd in the 2019 Philadelphia classical Guitar Competition, 2nd in the 2022 Southern Guitar Competition, and has placed as a semi-finalist, in many other international competitions across the US. His style and technique has been shaped through study with Julian Gray and further influenced by many different master class experiences with renowned guitarists such as Manuel Barrueco, William Kanengiser, and David Russel, among others. Andrew is an avid music teacher and performer in the Baltimore/DC area and enjoys performing a variety of genres including standard classical and Spanish guitar repertoire, as well as jazz, rock, praise, and pop guitar. Recent performances include opening for the Wilmington Guitar Society Concert Series, The Maryland State Boychoir Summer Series, the Bach in Baltimore BachFest, and a number of solo recitals in the Baltimore area. Andrew is dedicated to advocacy for the classical guitar by, not only bringing his music to formal concert stages, but also by bringing high-quality music into his local community by playing for local events, schools, and non-traditional venues.
All lessons are done in HD video and audio.***
Instagram: @aoguitarclassic
Andrew is a motivated young music teacher with experience teaching piano and guitar students of all ages and backgrounds. His approach builds a strong technical base that really challenges students to play their best and allows students the freedom to express themselves musically and emotionally. He also understands that different students come in with different interests, abilities, and backgrounds and uses a variety of different approaches to reach each student, from singing games to help younger students grasp concepts like steady beat, to highly technical exercises for more advanced students. 
---
Reviews from Group Classes
⭐⭐⭐⭐⭐
The Fundamentals of Fingerstyle
Marc W. on June 29, 2021

It was a pleasure to take the Folk Guitar Meets Classical – Fundamentals of Fingerstyle Guitar with Andrew. While it would have superficially appeared to be a bit of lecture discussion about the similarities and differences between Folk, Popular, and Classical guitar, it was much more. I was surprised when suddenly Andrew reached for and played his steel string jazz guitar to do a differential explanation of some basic techniques. Yes, the various forms and the numerous tunes and exercises related to developing the underlying techniques within those songs did represent the above three genres, albeit with a liberal definition, one of the most exiting topics taught was PLANTING which I was aware of and had noticed on various videos, but it was under Andrew's topic and goal of developing hand stability and finger control. The eight sessions wized by as did each session. It was a great experience and Andrew did a magnificent job, much more than I anticipated, and far exceeded my expectations. Bravo!
Masters of Music in Guitar Performance and Pedagogy
Peabody Institute, Baltimore, MD, May 2020
Bachelor of Music Education, vocal emphasis, guitar concentration
Shepherd University, Baltimore, MD, December 2016, Graduating GPA: 3.6 / 4.0
West Virginia k-12 Music education certified 2016
Classical Guitar: Aaron Shearer Learning the Classic Guitar Part 2 (Mel Bay Publications); RCM Classical Guitar Series
Acoustic Guitar: hal leonard guitar method
Piano: Alfred's Basic Piano Prep Course (younger students); Alfred's All-In-One course for adult beginners (older students) 
Reviews of lessons with Andrew Oswinkle