Acoustic Guitar, Composition, Electric Guitar, Guitar, Jazz Arranging,
Jazz Composition, Jazz Guitar, Neo Soul Guitar, Score Preparation, Vocal Arranging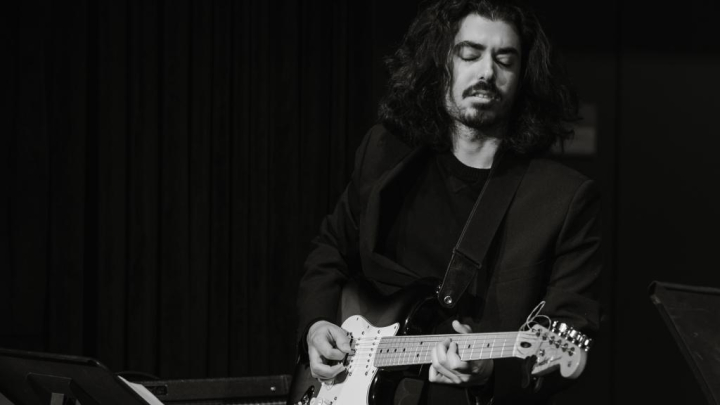 Lesson Fees
Promotions Available
Free 15 minute trial lessons
Subscriptions discounted up to 12% off
Book 4+ One-On-One lessons for 10% OFF
Book 9 + One-On-One lessons for 20% OFF
About
Born in Santo Domingo, Dominican Republic, Angel Irizarry is a composer, producer,and guitarist who started his musical life playing with local bands in Dominican Republic and as a studio musician. Influenced by the many styles like Jazz, Latin, Blues, and Rock,  Angel found his sound through experimentations and constantly exploring his music.
As a musician and producer, he has performed in various cities like Las Vegas, NYC, Boston, Lawrence, Santo Domingo, Puerto Plata  as a solo artist and alongside with artist like Sofia Carson, Danny Rivera, Miguel Bosé, La Marimba, NIKÓLA, Letón Pé, Urbanova, Irizarry & Roots, D.R. Big Band  and so on. 
After graduating from the  National Conservatory of Santo Domingo as a guitar performance, he moved on to start his musical career at Berklee College Of Music in the  summer of 2016. Mentored by Bob Pilkington, Greg Hopkins and Scott Free he polished his composition skills in the jazz world. The opportunity to study abroad opened a whole new world to him, getting more and more influences every day from classical to folk South-American music, from his Afro-Antillean/Latin roots to avant garde/contemporary jazz. Angel also got involved in multimedia production, editing audio and videos for the Berklee Youtube Channel. Angel Recently Graduated from Berklee in the Fall 2019 in Jazz Composition.
In the present time Angel is working on his career as an independent composer supplying music for film, radio, TV and new media. He's currently composing original music for the Podcast Women in the Wild.
Before the very fist class I always like to be prepared to make notes and have any tools that will help me absorb what the student needs. 
On that first meeting I make sure to ask the right questions and build a relationship based in trust. And by asking what's the student background, and interests  and goals I develop a syllabus (class plan) dedicated for this specific case. Each student is just a different individual and each one deserves their specific kind of attention.  This will guarantee me the preparation I need to achieve our class goals and get amazing results. 
After every lesson the student will the material needed to keep practicing such as
Short explanatorily videos (When Needed)
PDFs
And any follow up needed, I'm here to help and very excited to see the student grow to their maximum potential.