John C. Campbell Folk School, Fiber Arts, Quilting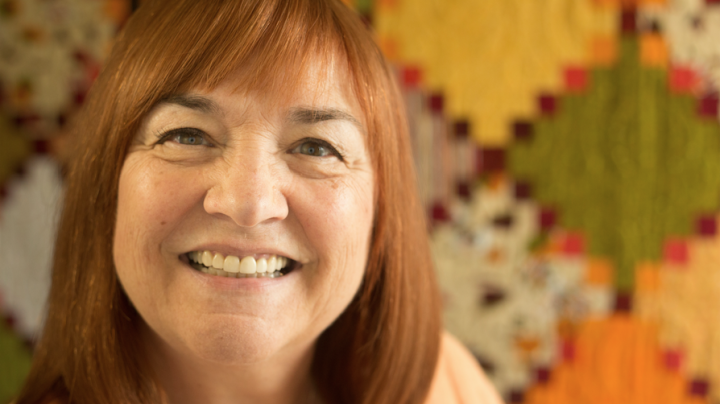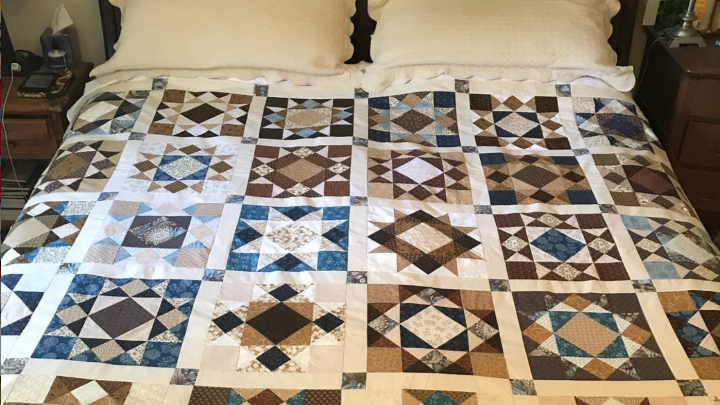 About
Annie is a fifth generation Californian, now located in Fort Worth, Texas. Her love of quilting went from hobby to profession in 1984. While working in Silicon Valley for twenty years, she honed her teaching skills on-the-job as a Customer Service Excellence instructor and teaching quilting classes at the local quilt shop. Annie has dedicated her career to full-time quilt designing and instruction since 2003. She teaches all over the United States and beyond, to quilt stores, quilt guilds, quilting venues and specialty events - usually on location and now via online resources. When Annie is at home, she enjoys spending time with her family and quilting for eight granchildren, and counting...  
I'm more than just a pretty face.
I am a Quilter.
I've been sewing since I was 8 years old and quilting since 1980. I design quilts and have my own Pattern Publishing company.
I won Best of Show at the California State Fair for Crazy Quilting.
I am a Maker and I make my own clothes (among other things).
I am a national and international Quilting Instructor – to
Guilds, Quilt Shops, Quilt show venues and Online. I teach at places like Smoky Mountain Quiltfest, Road to California/Road@Home, International Quilt Market and John C. Campbell Folk School. And, I do my own retreats.
I am a Virtual Quilt Instructor and offer Virtual Lectures and Workshops for Individuals, Quilt Guilds, Quilt Groups or Mini-Groups and Quilt Shops.
I am a Podcasting Quilter. I created the first podcast for Quilters in 2005 – Quilting Stash. I've done more than a few podcasts. And, I'm still going.
I am a Bernina Artisan Ambassador.  
I am an Aurifilosopher. 
I am the Quilt Police (aka: Quilt Judge).
I am a C&T Author. 
I'm an iQuilt instructor,  an Aurifil Aurifilosopher and an  Annie's Craft Store Instructor
I've been featured in Quilter's Home magazine, Quilter's Newsletter and American Quilter magazines.   
I am an Alex Anderson and Ricky Tims' QuiltShow.com alumni. (And, I'll be featured in an upcoming season, too!)
Episode #209.
 I have been an:
Artist in Residence at Empty Spools Seminars in Asilomar, CA
Artist in Residence at Elly Sienkiewicz's Applique Academy
Aurifil Designer of the Month
An Instructor at John C. Campbell Folk School
My expertise is Machine Applique and the Art of Color/Fabric Selection.
The West of Baltimore quilt is my best known quilt. It has been around the world, curated for Elly Sienkiewicz's Baltimore Revival II exhibit at Houston Quilt Festival, and featured in the Keepsake Quilting catalog for 2 1/2 years as a block of the month kit.
I know a thing or two about Quilting.
---
Upcoming Online Group Classes with Annie Smithh4>
Creating Garment Patterns That Really Fit
Starts January 16 - Learn more and sign up
---
All Sorts of Handwork: Slowstitching
Starts February 28 - Learn more and sign up
---
Reviews from Group Classes
⭐⭐⭐⭐⭐
Color Sense for Quilting
Patricia M. on March 29, 2021
Excellent
---
⭐⭐⭐⭐⭐
Quilters Palette - Sampler of Techniques
Deborah K.
on March 29, 2021
It was informative, educational, and very encouraging. The class content was exactly what I had hoped it would be.
---
⭐⭐⭐⭐½
Quilters Palette - Sampler of Techniques
Deanne B.
on April 1, 2021
The class was every bit as good as being there in person. The instruction was excellent with individual teaching and help being readily available. The demonstrations were actually more easily observed through Zoom (because the speaker could be highlighted) than trying to gather 12 people around a sewing machine. The class members were not able to have the same mingling and closeness as would be in person. But in general the class was excellent and very worth the money. Our instructor was available the entire length of the class each day (10-6:30). We were able to take breaks but that made it feel very much like we were in the classroom setting at Campbell. It was great! Without that continuity and accessibility of the instructor, it would have been a very different class. There was also an advantage in that we didn't have to lug our sewing machines to class (from home). Also, we had our own fabric stashes to work with since we were in our own homes. That was a real plus!
---
⭐⭐⭐⭐⭐
Quilters Palette - Sampler of Techniques
Sherri H.
on March 29, 2021
Amazing! Annie has infectious enthusiasm, and a kindness and patience that is beyond anything I've experienced before. She certainly exemplifies the idea of teacher as servant of her students' needs.
---
⭐⭐⭐⭐½
Quilters Palette - Sampler of Techniques
Kathy T.
on March 29, 2021
I enjoyed it! As we discussed during the class, there are some advantages to the online version: you have access to your complete sewing studio and fabric stash, and with Annie's multiple cameras, EVERYONE could see what see was demonstrating. With saved videos, you could go back and revisit something you missed. She is an excellent online instructor; she has figured out how to teach quilting effectively online!
---
⭐⭐⭐⭐⭐
Quilters Palette - Sampler of Techniques
Janice B.
on March 29, 2021
Excellent - the teaching was wonderful, and by the end one felt one was in an actual classroom setting!
---
⭐⭐⭐⭐⭐
Quilters Palette - Sampler of Techniques
Ali W.
on March 29, 2021
So awesome! Annie is a lovely instructor and let everyone come and go as they pleased. The material was super fun, and everyone was so supportive of each other's work. It really felt like being at the folk school.
---
⭐⭐⭐⭐½
Quilters Palette - Sampler of Techniques
Chris T.
on March 29, 2021
Very well organized. Annie Smith worked hard to build community in an online setting and to encourage creativity.