Mixing Techniques - Artist & Group, General Mixing and Mastering,
Electronic Music Production, Ableton Live, Audio Editing, Audio Recording, Audio Recording and Music Production, Collaborative Production, Demo Production, Drum Programming, Electronic Music Arrangement, Electronic Music Composition, Genre-based Production, Instrument/FX Programming, Mastering Techniques, MIDI Programming, Mixing Techniques - Electronic, Music Theory for Producers, Performing with Ableton Live, Pop Arranging, Production Workflow, Remixing, Songwriting, Songwriting Arrangement, Songwriting Form, Songwriting Harmony, Songwriting Melody, Sound Design, Vocal Arranging, VST/AU Plugins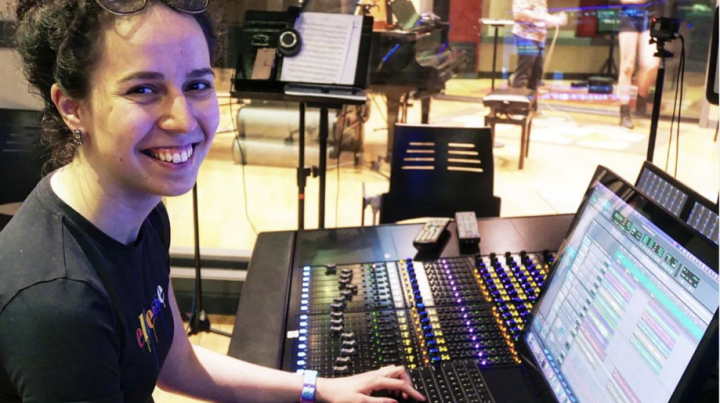 Lesson Fees
Promotions Available
Book 5+ lessons for 5% off
Book 10+ lessons for 10% off
Book 20+ lessons for 20% off
About
Arina Korenyu is a music producer, audio engineer & artist. Graduated as master in Music Production, Technology and Innovation from Berklee College of Music in 2023, she has overall 20+ years of music education, which also includes another master in Sound Studies from Berlin University of Arts. While being at Berklee she studied music production & sound design with Simone Tanda (Portishead, Massive Attack), recording & mixing with Dani Castelar (R.E.M, Snow Patrol) and mastering with Conor Dalton (Daft Punk, Jeff Mills). She as well engineered the sessions with world-renowned producers Patrice Rushen ("Forget me Nots"), Susan Rogers (Prince), Salome Limon (Paco de Lucia) and Phelan Kane (Radiohead, Depeche Mode). Besides that, as the president of the Audio Engineering Society student section at Berklee she organized and moderated interviews with Grammy winning mixing engineer Tony Maserati and tech-heavy music performer Chagall. 
Her experience at Ableton spans more than 10 years and she uses it for both production & performance purposes. Her primary focus lies in genres of art pop, trip-hop and alternative electronics. However, thanks to her broad music education, including classical piano performance and musicology, and working experience in many different genres, like pop, jazz, traditional music, indie rock, contemporary and experimental music, she can easily explain how to produce in any music genre. 
- An in-depth look and hands-on experience at Ableton for both beginners and advanced users 
- An interdisciplinary approach that includes not only the technical skills needed to master the program, but also the creative and music-theoretical skills needed to make music
- Individualized approach to each student. Are you a complete beginner with DAW (Digital Audio Workstation), who wants to learn how to record and produce their first track; a musician, who wants to use Ableton to perform (live electronic music, looping, real time effects control etc.); or a more advanced producer, who wants to make your compositions more original and take them to the next level (arrangement, sound design techniques, mixing & mastering etc.)? I'm happy to help everyone in achieving their goals. Send me a message and I'm ready to discuss how to structure classes best for you. 
Master of Music in Music Production, Technology and Innovation from Berklee College of Music, Valencia 
September 2022 — July 2023
Training as Sound Assistant, Deutsche Pop, Berlin 
October 2021 — March 2022
Master of Arts in Sound Studies, Berlin University of the Arts (UdK), Berlin
April 2016 — March 2018
Master of Arts in Music Criticism (incomplete), Saint-Petersburg State University, Saint-Petersburg
September 2015 — April 2016 
Bachelor of Arts with Distinction in Music, Bard College and Saint-Petersburg State University, Annandale-on-Hudson (USA) and Saint-Petersburg
September 2011 — June 2015 
Classical piano at Liceum of Arts, Saint-Petersburg 
2002 — 2010 
Ableton Live 11 Suite is the most recommended software version to have, since it offers the biggest amount of software instruments, sound packs, effects, allowing you to create straight away. However, we can also work with Intro and Standard versions. 
You can try three months trial version of Ableton Live Suite in order to decide, wether you want to purchase it further. Also, If you're studying at or employed by an educational institution, you can save 40% on Live Intro, Standard or Suite. Check, the Ableton website. 
Having a midi-controller is very highly recommended, since it will make your process of production much easier, but not necessary.

If you would like to record your music, having an audio interface and a microphone, would be a big plus as well. 
Reviews of lessons with Arina Korenyu