Ableton Live, Acoustic Guitar, Apple Logic Pro,
Audio Recording and Music Production, Avid Pro Tools, Blues Guitar, College Audition Prep, Composition, DAWs, Electric Guitar, Fingerstyle Guitar, General Mixing and Mastering, Improvisation, Jazz Guitar, Lead Guitar, Music Theory, Pop Piano, Rock Guitar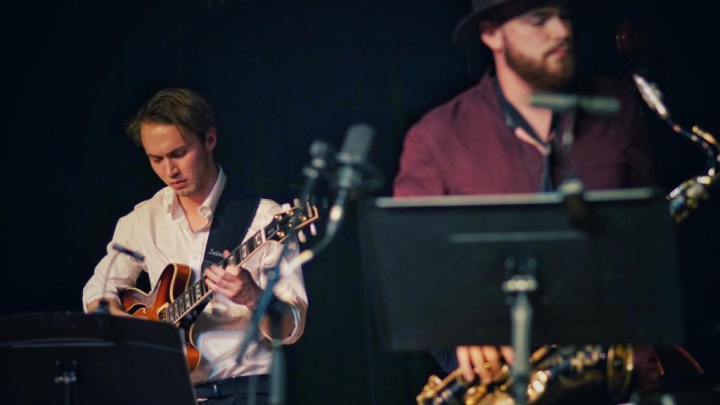 About
Norwegian musician Axel Borgmo is a versatile guitarist and producer who cut his teeth on blues-rock, R&B and jazz at a young age. Having been a part of the music scene in both Norway and New York, studied with Gilad Hekselman, Todd Reynolds and Chris Sholar and worked at Platinum Sound Recording Studios, gives him a broad musical range and versatility as a musician and producer. His current projects are influenced by a wide range of musical legends including Herbie Hancock, Stevie Ray Vaughan and Michael Jackson. 
In his formative years, Axel played pop and rock shows in his hometown of Asker, Norway. He received his formal music training at Rud High School, Toneheim Folk Highschool and NTNU. Continuing to pursue his career, Axel set out to New York City to study at the prestigious New School of Jazz & Contemporary Music where he received a sizable scholarship. Here he developed his craft and refined his blues-inspired, accurate and lyrical sound. He has performed at various venues in New York, such as Bowery Electric, Williamsburg Music Center, Muchmore's, The Seaman's church. In 2017, he recorded guitar on the album "Syng min sorg, gråt min glede" by Bjørn Hermundstad, a Norwegian songwriter and musician. This was a collaboration with a handful of prominent Norwegian musicians such as Svein Dag Hauge and Per Sveinson. 
Axel is currently working on his original music for upcoming performances in New York with his own band, Castle Hill. His music can be described as blues-inspired with singable melodies and rich jazz harmonies, incorporating live instruments with electronic sequencers and synthesizers. Axel also works as a producer and collaborates with artists from all genres. 
I believe that the environment and the way you teach and handle children has a great influence on what kind of people they become when they grow up. I believe that children learn best by copying adults and that it is therefore very important to not only say the right things, but to be a good role model.
I also think that a teacher should be able to explain fundamentals in a simple way, but at the same time being able to make it fun.
A flexible teacher is able to use different approaches to teaching. A teacher should be able to recognize whenever the students are not following a subject or are having trouble understanding, and the teacher should then change hers/his method. Sometimes a theoretical is better, and other times more practical. I think the main focus should be on keeping the students interested and motivated to learn.
I stand out because I am very versatile. I have experience playing jazz in a conservatory in Manhattan and professionally, but I also have lots of experience playing pop, rock. On top of that, I also produce music for film/TV, and I make anything from folk to EDM.
A strategy I think works well is to focus on finding the balance of giving the student a "feeling of mastery (that they are able to do something)" and giving them something that they need to strive for. In order to find this balance, you need to learn about the student to see what makes them comfortable.  
Most of my management strategies in group comes from being band leader of my own band, where I think it is important to check in on each individual to make sure they are following and that they are feeling good.