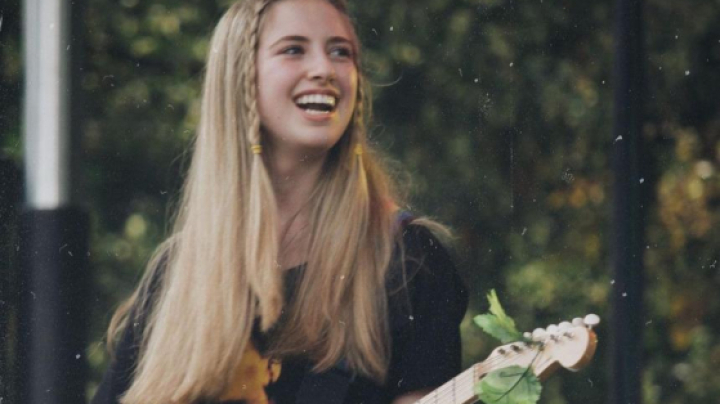 Lesson Fees
Promotions Available
Book 5+ lessons for 5% off
Book 10+ lessons for 10% off
Subscriptions discounted up to 10% off
About
Not currently accepting students! Born in 2001, Ayla has been deeply passionate about music since even before she played any instruments or wrote songs. Having grown up in a family where the music of the Gipsy Kings, Buena Vista Social Club, and the Beatles were always playing, she began singing at an early age. Ayla started her musical journey at age 8 with the cello, picked up the bass at 10, and then delved into the world of electric guitar at 12, never once showing signs of turning back.
She has since attended numerous programs at the Berklee College of Music in Boston and the Musician's Institute in Los Angeles and has been humbled by the many scholarships she has received. Ayla has toured internationally, playing at clubs, theatres and festivals across North America and Europe. She has appeared on the Jimmy Kimmel Show and KEXP with her former band, Calpurnia, and is currently part of art-pop, jazz, funk, and soul trio Ludic. In recent months, Ludic has been given the opportunity to share the stage with artists such as Snarky Puppy, Catfish and The Bottlemen, and Brittany Howard (of Alabama Shakes). Ludic's producer, Ryan Worsley, was recently nominated for the 2020 Juno for Recording Engineer of the Year with their song, 2 Myself.
Her influences include Stevie Wonder, the Jimi Hendrix Experience, David Bowie, Steely Dan, the Beatles, John Coltrane, Miles Davis, Charlie Parker, Brittany Howard, Hiatus Kiayote and numerous other amazing musicians, with Jimi Hendrix, BB King, Derek Trucks, Santana, Joe Pass, and Wes Montgomery being the guitarists she most often looks to for inspiration.
Ayla records, films, and edits all of the videos that she posts online, and has accumulated a following of over 500,000 people across all of her social media platforms, as well as received the praise of many acclaimed online music publications. She has collaborated with various online musical education platforms, as well as taught one-on-one private lessons over the years. Ayla is a Fender, Ernie Ball, and Ernie Ball Music Man artist.
Driven by a deep and true passion for music and creativity, Ayla has developed into a professional guitarist, vocalist, multi-instrumentalist and composer, garnering millions of views on her YouTube and Instagram videos from people all over the world. She will use her extensive background and professional experience to help guide you to becoming a better musician. Whether it's learning how to improvise, play the guitar in a rhythm section or write songs, Ayla aims to help each of her students find their own way to achieve their musical goals. Having worked with many amazing teachers over the years, Ayla wishes to pass on all of the knowledge and musical wisdom she has been so lucky to have had imparted to her. She primarily teaches and plays by ear, and depending on the student's ability and interest will use theory as a means to understand and analyze great music. Chord charts and other visual educational tools may be supplied at the student's request.
Reviews of lessons with Ayla Tesler-Mabe