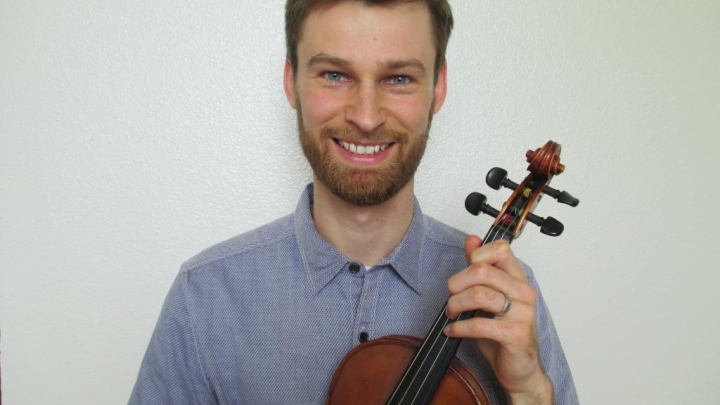 Lesson Fees
Promotions Available
Free 15 minute trial lessons
Book 5+ lessons for 5% off
Subscriptions discounted up to 3% off
About
I am a professional music educator who loves the excitement and satisfaction that comes from helping students of all ages develop skills on their instrument.  I have over ten years experience teaching private students and seven years of experience leading school orchestra programs in Iowa and Texas. I have also taught violin and viola at Luther College's Dorian Summer Music Camps and directed the Friends of Ames Strings Summer Camp in Iowa. 
As a performer, I have played with several community and regional orchestras, including with the Central Iowa Symphony as assistant concertmaster. Even though I was classically trained, I have always loved experimenting with pop, folk, bluegrass, and gypsy jazz. Recently I started amplifying my violin with a pickup and have been having a blast exploring the possibilities of looping. Watch my videos to see what I've been up to!
Fundamentals: I help students to understand exactly how their body works and how to use it most efficiently. I work with students to help them relax so that it is easy to develop technical skills and practicing becomes enjoyable. We build on top of those good physical fundamentals with scales and other exercises to develop the basic building blocks of any music you could ever want to play!
Ear Training: The mind is just as important as the body if you want to progress quickly without frustration. Ear training is the quickest way to activate and develop the mind. My students engage in regular listening activities to train the mind to think beautifully. When your mind thinks beautifully and your body works efficiently, then any level of music will be quickly within your reach!
Repertoire: It is important to me to help students choose music that is the right challenge level for them. While classical music is often perfect for developing skills, I make it a point to expose my students to all sorts of playing styles. 
Improvisation: When you learn a language, you first speak words, then repeat sentences you've heard, and then create your own sentences. Music is just as much of a language as any other, so why stop with just repeating music that others have created? We will engage in improvisation often, starting simply and building confidence until you can produce original music on the spot!
Practice: Everything in this life that is worthwhile requires some hard work. I expect students to practice daily, whether it is the beginner practicing 15 minutes every day or the high school student preparing for college auditions practicing hours every day. We will work together to develop good practice habits so that your practice is productive and enjoyable.
Bachelor of Arts in Music Education from Luther College in Decorah, IA Texas EC-12 Music Educator Certification Iowa K-12 Music Educator Certification
The music and exercises that we will study are highly dependent on your individual needs and interests.  We will work together to choose literature that is right for you.
Reviews of lessons with Benjamin Henson