Electric Guitar, Improvisation, Acoustic Guitar, College Audition Prep,
Jazz Guitar, Music Theory, Audition Prep, Rock Guitar, ABRSM Exam Prep, Artist Development, Audio Recording and Music Production, Blues Guitar, Composition, Fingerstyle Guitar, Guitar Set Up, Lead Guitar, Metal Guitar, Neo Soul Guitar, Slide Guitar, Songwriting
75+ lessons
booked on Lessonface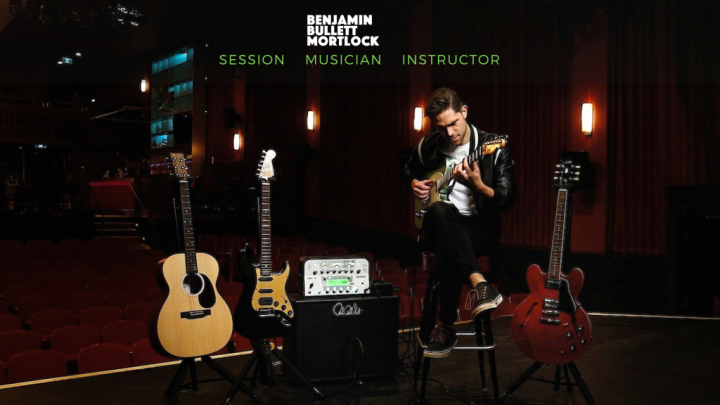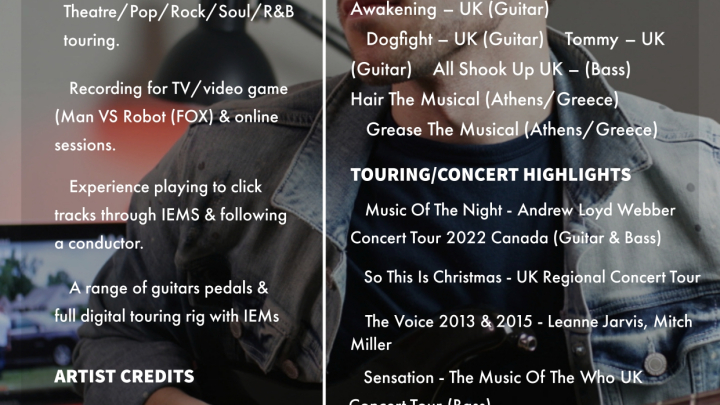 Lesson Fees
Promotions Available
Book 10+ lessons for 10% off
Book 5+ lessons for 5% off
Book 20+ lessons for 20% off
About
Welcome. My names Ben Bullett Mortlock and I'm a professional educator of guitar, bass & music theory and perform as a session musician and musical director.
With over 14 years of international performances and tours in a wide range of genres such as pop (Kavana, Leanne Jarvis), rock (The Treatment), Vilivant, indie, metal, R&B, soul, jazz, and musical theatre (Cats, Rock of Ages, Tommy, Sister Act, Spring Awakening, Hair, Grease, Dogfight) he has developed a solid professional standard as a touring guitarist & bassist. As a member of musicians clients serving private and corporate contracted events, Ben has worked for the following agencies, St Royal, Blue Lion Band, DK Music/Warble Entertainment  As a recording guitarist, Ben has contributed to TV soundtrack and video game recordings (Man VS Robot (FOX), Playstation) and online recording sessions. Overall he has developed a diverse resume and history of work.
As an educator, having taught privately for years I have taught for musical establishments in the UK (The Academy of Contemporary Music), Canada & Greece (The Fakanas Art School), I also work as a content writer for various guitar & musical education books & publications and in 2021 was commissioned to write, film and deliver 2 interactive, streamable guitar courses for beginner and intermediate levels with a syllabus totaling to 1 year of study for the music education company Tonara. 
Some say 'we were all learners once' however I believe that 'We never stop learning'.  No matter how good you are at something or for how long you have been doing it,  there is always room to improve, progress and learn more.
TEACHING EXPERIENCE:
- 14 years of teaching music and guitar
- Former Lecturer at The Academy of Contemporary Music/Fakas Art School/DK Music Academy
- 7 years of online guitar teaching
- 9 years of guitar teaching on YouTube
The Academy of Contemporary Music (UK) / Fakas Art School (Greece) /DK Music Academy (UK) / Guitar Mastery Method (Online) / Tonara (Guitar course designer)
----
Bmus(hons) Degree in Guitar Performance
LEVEL 3 NATIONAL BTEC - Music Practice
Grade 5 Music Theory
----
TESTIMONALS
"Benjamin is a fantastic guitarist and has been a pleasure to work with at the ACM. Benjamin is certainly a guitarist to look out for in the future"
Toby Drummond Professional Drummer ACM Drum Tutor
(Shaun Ryder, Seahorses, Ray Davies - West End Productions of Wicked, Billy Elliot, Chicago, Jersey Boys Lion King).
------
Ben has been providing guitar tuition sessions to me with consistently high quality. He is an open-minded and highly skilled professional, who is capable of bringing music theory knowledge and a wealth of practical experience in a natural and comfortable way, adapting the pace of his lessons' and discussing material for the student's level. Ben is very flexible in the way that his sessions are planned and conducted, making tuition interactive and educational. I would recommend getting in touch with Ben and considering him for tuition, should you want to improve your theoretical knowledge, learn new techniques, rectify or sharpen your guitar playing skills. For me being a non-professional guitar player, but a person who is passionate about learning how to play the guitar, Ben brought me to another level of knowledge and educated with tips and hints on how to improve my technique, improving and correcting and existing mistakes, as well as highlighting any areas that needed special attention. Having such a positive experience as Ben's student, I think beginners, skilled and even professional guitar players will also find collaboration with Ben being fruitful and advantageous.
Vadim Klimov
Online Guitar Student
Having taught students from ages 6 - 60, I am aware that everyone learns differently. I have a strong understanding that it is far easier to get the results you want when learning if you particularly enjoy doing so. Therefore I believe I must be positive and encouraging at all times. I like to demonstrate skills first to get students excited about learning.
I have an entire list of self-made reading material that I've acquired over the past 14 years of teaching guitar. I use this with my students in order for them to get the most out of their musical journey and maximize their learning potential. Including my own Ebook designed to help intermediate guitarists playing and learning jazz, take their playing to the next level.
Reviews of lessons with Benjamin Mortlock