Acoustic Guitar, Blues Guitar, DADGAD Guitar, Electric Guitar,
Fingerstyle Guitar, Guitar, Improvisation, Jazz Guitar, Jazz Improvisation, Lead Guitar, Metal Guitar, Neo Soul Guitar, Reggae Guitar, Rock Guitar, Slide Guitar, Songwriting, Songwriting Arrangement, Songwriting Form, Songwriting Harmony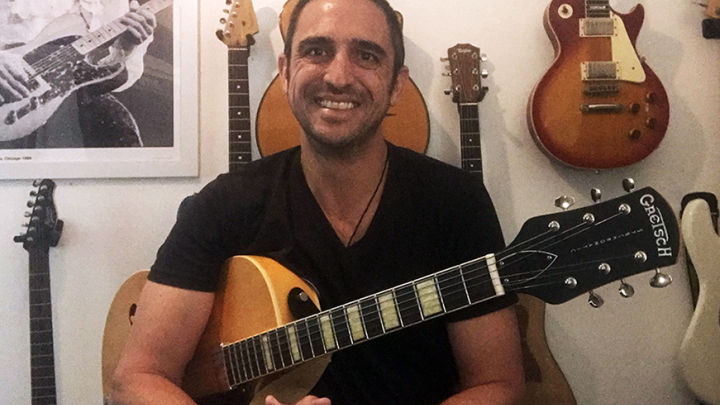 About
We live in a fast paced world. Any guitarist, anywhere in the world has access to an enormous never ending stream of information at their fingertips. So why is it then that more and more guitar players are struggling to feel like they are making significant progress on their instrument despite having all the information needed to become an expert available to them? The problem isn't too little information but too much! The internet is littered with guitar teachers and courses that bombard you with shapes, patterns and abstract concepts. It's easy to feel overwhelmed. Most people do.  My job is to help you curate all of this information in a way that is engaging, relevant and exciting to you and is paced in such a way that you avoid the overwhelm and start enjoying your playing right away.
As any musician knows, there is a huge gap between first learning something and  it naturally 'coming out' in your playing. Deep learning of the task is required in order to add this new information to your vocabulary. A thorough understanding is required, first conceptually (I understand what I'm trying to achieve) , then contextually ( I understand where this fits with my other knowledge) , then physically (I slowly repeat the physical task required). It is only once we have understood these that we can really start adding the essential elements of 'feel', dynamism and musicality into our playing. 
Often guitar players get stuck in this idea of 'practice' being a torturous and arduous experience. All great players understand that there is no 'practice' for a future event. There is only playing in the present. Most of our real gains as a musician don't happen by desperately trying to shove more information into our brain, but by bringing more presence, listening and touch to our playing.
I am a University graduate in Music and have more than 20 years experience teaching guitar to all levels both face to face and online. I'm a passionate teacher and love seeing my students refind their love for guitar and enjoy the process.
Free first 15 minute meetup where I take you through a questionarre to see where you're at, where you want to go and how we'll get you there!
B.A Music Degree - (University of Western Sydney)
Managed 'Intuition' Guitar School. - (Bondi, Sydney)
Music Tutor - (JMC Academy, Melbourne)
20+ years teaching experience
International touring musician