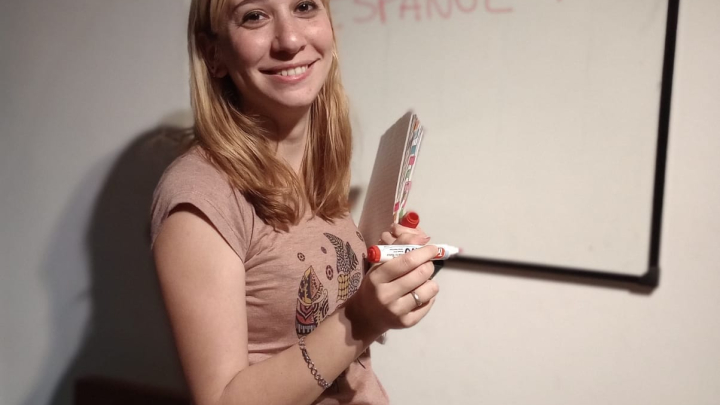 Lesson Fees
Promotions Available
Free 15 minute trial lessons
Book 5+ lessons for 5% off
Book 10+ lessons for 10% off
About
*Spanish Teacher of the year 2022*
¡Hola! My name is Carolina and I am a teacher of English in Buenos Aires, Argentina. I also hold a BA in Linguistics and a Diploma in Spanish as a Second or Foreign Language (ELE). As I am a Spanish native speaker, I offer Spanish conversation lessons about different up-to-date topics. If you are interested in learning Spanish grammar structures, of course, we can work on that too. Please, feel free to write to me if you have any questions or you want to schedule a free 15-minute trial! :)
¡Hola!
My name is Carolina, I am a certified teacher and I am here to help you on this path of learning a new language. I like to offer students the opportunity to go through this process together, providing support through various learning strategies. I think it is important to create a relaxed atmosphere and build trust for a comprehensive development of language learning. I have 8 years of experience working in schools and language institutions for adults.
Lessons are developed around the needs and interests of each individual student. Based on the objectives of each of them, lessons are planned that are not only helpful, but also dynamic and entertaining. The main objective of these (whether in workshops, in groups, or individually) is that each student can acquire linguistic competence in a meaningful way, which allows them to apply what they have learned to everyday life situations. For this, the planning will be adapted to the requirements of each student. During the lessons, I use a traditional board as well as a digital  one.
All the students have access to a Drive in which I upload material, such as Spanish sayings, important grammar points, books, videos, presentations and extra worksheets for those who want to have more practice.
---
Group Classes Now Enrolling
In addition to the private lessons that can be booked from this page, Carolina Amoruso is offering three group class on Lessonface:
• Beginner Spanish for Adults - Mondays - Learn more
• Beginner Spanish for Adults - Tuesdays - Learn more
• Intermediate Spanish for Adults - Learn more

---
Reviews from Group Classes

Catherine C. on September 19, 2023
Class: Beginner Spanish for Adults

excellent; helpful to have power point ahead of time to review & translate words on my ipad.
---
Vishala R.
on September 18, 2023
Class:
Beginner Spanish for Adults
Excellent
---
Phara
on June 20, 2022
Class:
Beginner Spanish for Adults
Carolina is a great teacher. Her classes are very interesting and interactives. She is patient and takes the time to answer all our questions. For all who wants to learn Spanish, I highly recommend her classes.
---
Barry K.
on June 4, 2022
Class:
Beginner Spanish for Adults
Carolina Amoroso emanates a love for life, a passion for language and communication with people. Our class is focused largely on vocabulary within a grammatical context, but it is through all her supplemental informative and humorous engagement with our very quirky, spirited group that has made this class a special place to gather. Lessons and supplemental material are always well prepared. I highly recommend her as a teacher.
STUDIES TEACHER TRAINING COLLEGE Teacher of English Higher Institute of Teacher Training N ° 88 "Paulo Freire" (Buenos Aires, Argentina) English Teacher for First and Second Cycle Higher Institute of Teacher Training N ° 88 "Paulo Freire" (Buenos Aires, Argentina) TRAININGS AND COURSES • Spanish Spelling Course, dictated by the Universidad del Salvador, April 2018 • Portuguese language course at Universidad Nacional de La Matanza (Buenos Aires, Argentina) • Course How to persuade: Playing with images, words and numbers, dictated by the Autonomous University of Barcelona, April 2018 • Course Towards a constructivist practice in the classroom, dictated by the Pontificia Universidad Católica de Chile, May 2018 • Reading comprehension workshop in English, April 2019 - November 2019 • Academic Reading and Writing Course, dictated by INFoD, duration 8 weeks, May 2020 • Course Teaching in socio-educational programs: School trajectories and educational trajectories, dictated by INFoD, duration 12 weeks, May 2020 • Course Fundamentals of writing, dictated by Tecnológico de Monterrey, April 2020 • Course Learning to learn: Powerful mental tools with which you can master difficult subjects, dictated by Mcmaster University & University of California, April 2020 • Grammar and Punctuation course, given by University of California, Irvine, September 2020 • Course Getting Started with Essay Writing, given by University of California, Irvine, September 2020 • Express Yourself Course: Pronunciation, given by Georgia Institute of Technology, September 2020 • Organize Your Pitch Course, dictated by Georgia Institute of Technology, September 2020 • Course Introduction to the different modes and environments of virtual education, dictated by Federal Plan Juana Manso, Educar, September 2020 • Course Design and plan virtual teaching and learning environments I, dictated by Federal Plan Juana Manso, Educar, September 2020
Reviews of lessons with Carolina Amoruso