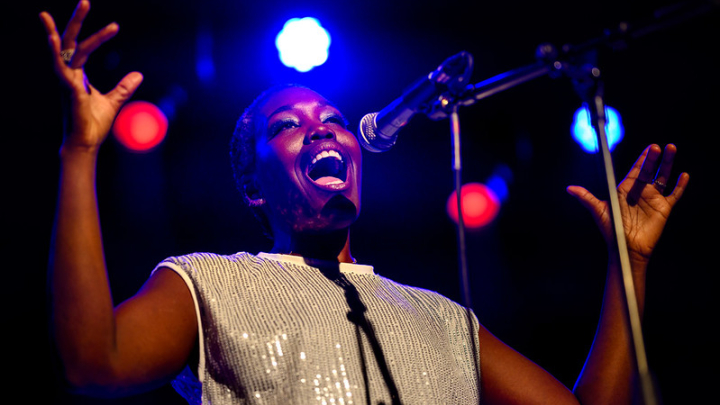 Lesson Fees
Promotions Available
Book 5+ lessons for 5% off
Book 10+ lessons for 10% off
Outreach Academy Student Discount
NYCMusikMarathon Student Discount
About
"Her powerful voice is characterized by superb diction...heartfelt intonation...and often aching beauty."  - All About Jazz
With feet rooted in gospel, a heart filled with soul, and a voice touched with jazz, singer and songwriter Chanda Rule has been weaving stories through song, humming melodies, and bending words since her childhood. Gracefully mesmerizing audiences nationally and internationally, Chanda's genre-defying voice has been featured in a variety of musical projects: from her latest album "Sapphire Dreams" recorded with the legendary pianist Kirk Lightsey, "Feeling Good: A Tribute to Nina Simone" where she sang along side sax powerhouse Donny McCaslin, to appearing as a featured vocalist on ARTE Concert, Ö1 Jazznacht, ORF's Dancing Stars, and sharing her song and sound with digital performance art projects and folkloric dance companies. Featured in Cicily Janus' "The New Face of Jazz" (Billboard Books), Chanda has also performed as an opening act for India.Arie, Kamasi Washington, Amel Larrieux, Angela Bofill, Regina Belle & The Whispers.
RECORDINGS
Like|Water (2005), I Too Speak of a River (2007), LIVE in Schwaz (2009), Rise Up (2010), Surrender (2010), Feelin' Good: A Tribute to Nina Simone (2011), Homebound (2013) Sapphire Dreams (2018), Better Place (Martin Reiter, 2018), Hold On (2020)
LOCATION / TEACHING TIMES
I am currently living in Vienna, Austria. My time zone is Central European Time (CET) and I teach Tuesday through Thursday, morning to late afternoon. Please message me to schedule. I look forward to meeting you!
Many believe that our eyes are the windows to the soul. I say it's the voice. Our individual sound is like an invisible fingerprint and I love working with the unique twists and turns, highs and lows of this human instrument. My teaching experience is a compilation of vocal studies and trainings; working with the body and breath as a yoga practitioner and life-long meditator and spirit-seeker; my journey with the soul of music and research on how our emotions and spirit affect our sound; as well as nearly 25 years of stage performance. And, I love the art of learning though playfulness and finding joy wherever possible.
​I have coached students from all over the world who want nothing more than to share their truest voice, from those who sing on stages to those who want to share their ideas more courageously at work. My teaching is soul-focused, breath-centered, catered to each student, and supports mind and body awareness and a healthy, long-lasting voice.
I am looking forward to meeting you! Please email me to schedule.
Currently teaching privately and have also taught voice at Mozarteum University of Salzburg in Innsbruck, JAM Music Lab & University and Vienna Music Institute. Have led vocal and choral workshops at Notre Dame University, with Outreach Music Academy, NYC MusikMarathon and with Music That Makes Community. Certificates/Affiliations: Contemporary Voice Teacher Academy; Estill I & II
Reviews of lessons with Chanda Rule