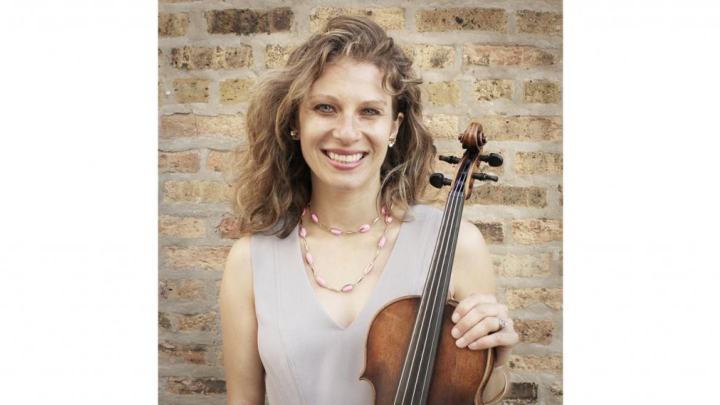 Lesson Fees
Promotions Available
Book 5+ lessons for 5% off
Book 10+ lessons for 10% off
Book 20+ lessons for 20% off
Subscriptions discounted up to 16% off
About
Mrs. Christine Albarran is Suzuki-trained violin teacher.  She received her undergraduate degree in music performance from Columbia College, and a business management degree from Rockford College.  In 2015, Christine earned her master's degree in teaching with an endorsement in music. She currently teaches elementary music in Texas. 
She has played with a variety of groups ranging from symphony orchestras to rock and folk bands. Christine is also fond of original music and has taken great interest in writing on the ukulele and piano.  She's recorded on numerous albums and in 2018 released her own album, Songs for My Daughter, on Spotify. 
What do you want to impart to your students through your teaching? As Suzuki said, "beautiful tone, beautiful heart." I desire my students to become fine musicians with discipline, awareness and sensitivity to their violin. But more importantly, my goal is to help them develop into noble human beings with beautiful spirits and hearts.
What do you enjoy most about teaching? I love experiencing the sense of wonder and awe with each child as they start to believe in themselves as a violinist.
Are there specific methods or techniques that you use in your teaching that may be important to share with prospective students? I truly believe in the Suzuki method. Being a Suzuki student myself, it's something that stays with you for a lifetime. When I did my Suzuki teacher training as an adult, tears were brought to my eyes from the sound of children playing Twinkle. It's dear to me and has made me who I am today.
Suzuki book training: Books 1-6, 9-10
Briefly describe your musical pursuits outside of teaching:  I joined the  New Texas Symphony Orchestra in 2018 and have loved my experience playing with such a talented group of musicians.  With a toddler and baby on the way, I also enjoy singing children's songs around the house and in the car. 
What is your earliest musical experience or best musical memory? I remember playing at a local retirement home when I was around 5 years old. One older gentlemen threw in some change and told me to "keep it up." I guess I took his advice.
Please describe one of your favorite teachers or mentors. I have had so many wonderful teachers that have guided me along the way. I specifically remember my musicianship/sight-singing professor at Columbia College Chicago. She was so passionate about music and life, in general. She was an incredibly strong woman who encouraged me to keep going, even when I got discouraged.
Who is your favorite composer or what is your favorite musical period? I have always been fascinated by Bartok. His Romanian Folk Dances are so much fun to play. Also on my top list is Duke Ellington.
Texas Educator Certificate, K-12 Music. 2017. Registered Suzuki Violin Teacher, 2008. Texas Music Educators Association, 2017.
I use a wide range of curriculum based on the goals of my students. Here a few ressouces my students are currently using:
Suzuki Method Books
Essential Elements Method Books
Barbara Barber's Scales for Advanced/Young Violinists
Sevcik School of Violin Techniques
Sevcik Shifting the Position
Mazas Melodious and Progressive Studies 
Kreutzer Violin Studies 
Reviews of lessons with Christine Albarran