Euphonium, Trombone, Trumpet, Tuba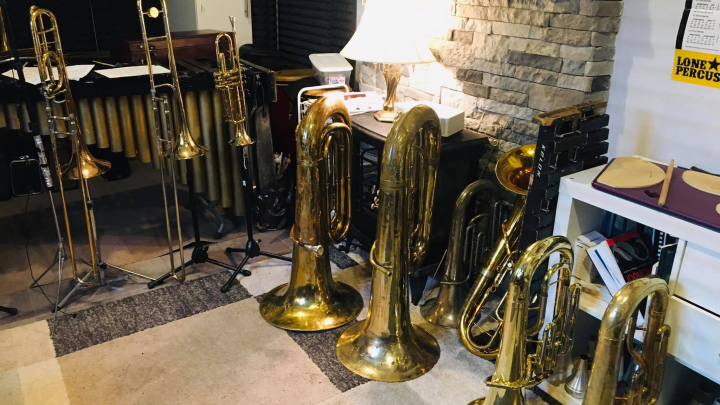 Lesson Fees
Promotions Available
Book 5+ lessons for 5% off
Book 10+ lessons for 10% off
Book 20+ lessons for 20% off
About
About Mr. Wachholz
Mr. Wachholz currently serves as the proprietor of WachholzMusic L.L.C. after retiring from full time high school teaching in the spring of 2019.  2021 will be Clayton Wachholz's sixth season with the Phantom Regiment brass staff.  Prior to retirement Mr. Wachholz taught at Cedarburg High School for eight years. Before his position at  Cedarburg Mr. Wachholz held positions at Plymouth-Canton Educational Park in Canton, Michigan and the International School of Belgium in Brussels, Belgium.
Clayton Wachholz has degrees from the University of Wisconsin-Madison (BA) and the University of Michigan (MM). An active guest conductor and educator, he has given clinics to varied groups in England, Holland, Belgium, Japan, Brazil and Argentina. He has been the featured brass clinician at the British Youth Band Association Annual Band Camp in London, England and has twice been a clinician at the University of Wisconsin-Madison Summer Music Clinic where he led concert and jazz bands. Clayton Wachholz has served as the music director for the Lakeshore Symphonic Band, a semi-professional wind ensemble based in southeastern Wisconsin and the Shorewood Summer Concert Band.
Mr. Wachholz has been involved in the drum and bugle corps activity as a performer and teacher since 1979. As a baritone player he marched with the Thunderbolts (1979), Pioneer (1980-1984), and Madison Scouts (1985-1989). He went on to teach the Madison Scouts for many years (1991-1997, 2001) and taught the Phantom Regiment Drum and Bugle Corps brass from 2005-2007 and 2016-2017.  In 2018 and 2019 Mr. Wachholz served as an educator with the Santa Clara Vanguard brass teaching staff.
Clayton Wachholz has been an active performer on trombone and euphonium for over thirty-two years.  In the drum and
bugle corps activity his awards include 1986 DCM I&E High Brass Score (scholarship), 1988 DCI Baritone Champion and 1985, 1986, 1987, 1988 DCI Brass Ensemble Champion. As a Euphonium player Mr. Wachholz was a member of the Wisconsin
Tuba Quartet that was selected as the first group of its kind as a Semi-Finalist for the Fischoff International Chamber Music Competition. He was a Semi-Finalist for the Falcone International Euphonium competition and was 1st chair in the 1991 T.U.B.A
International All-Star Tuba/Euphonium Ensemble. As a Trombonist Clayton Wachholz has performed with the American Wind Symphony, Madison Symphony Orchestra, Racine Symphony Orchestra, Kenosha Symphony Orchestra, Madison Brass, Madison
Jazz Orchestra, Milwaukee Brass Band, Knightwind Ensemble, Kettle Morainne Symphony Orchestra and numerous freelance groups.
In leadership positions Mr. Wachholz has served on the board of directors for the University of Wisconsin-Milwaukee Youth Wind Ensembles, the National Band Association Northern Diversion and was an elected committee member representing all 3A
marching bands for the Wisconsin School Music Association. For two summers Mr. Wachholz served as Brass Coach for the Wisconsin State Honors Orchestra.  He was a 2011 Herb Kohl Educational Foundation Fellowship Award Recipient (Wisconsin Teacher of the Year Program).
​
My former teachers include Gary Greenhoe and Bob Rusk who are former members of the Milwaukee Symphony.  While at the University of Wisconsin I studied with John Stevens and Bill Richardson.  Much of my pedogogy has evolved from my drum and bugle corps brass teaching with the Santa Clara Vanguard, Phantom Regiment and Madison Scouts.  Here is my resume which details many of my playing and teaching accompishments.
EDUCATION
MM, Music Education, UNIVERSITY OF MICHIGAN, ANN ARBOR, MI (2005) BA,
Music Education, UNIVERSITY OF WISCONSIN, Madison, WI (1995)
HIGH SCHOOL TEACHING EXPERIENCE
Director of Bands, CEDARBURG HIGH SCHOOL, CEDARBURG, WI (2007 – 2016)
Taught Competitive Marching Band, Two Concert Bands, Pit Orchestra, Jazz Studies and Music Theory    
Led marching band to top three finishes at state championships the four years
Jazz ensemble selected to perform at two state music educator conferences in the past four years
Solo Ensemble participants among the highest in the state of Wisconsin
Cedarburg schools selected as being one of the best in the nation for music education these past two years by NAMM
Implemented Weekly Student Leadership Curriculum: Classic Leadership by Tim Lautsenheizer
Initiated and sustained highly successful private lesson program and chamber music series
Commissioned two new works for wind band and jazz ensemble
Successfully wrote grants for the purpose of guest performing artists, Brazilian Samba instruments and iPad technology
Instrumental Music Teacher, THE INTERNATIONAL SCHOOL OF BRUSSELS, Brussels, BE (2006 - 2007)
Taught all band classes from grades five through twelve
Taught grade four general music class
Started Jazz program for middle school students with a membership of over forty students and growing
Led the band program to the highest levels ever for participation at Solo and Ensemble Festival
Instrumental Music Teacher, PLYMOUTH-CANTON EDUCATIONAL PARK, Canton, MI (2001 – 2003)
Taught five classes with approximately 65 students in each class. Classes included Concert Band; Varsity Band; Symphonic Band; Wind Ensemble, and Music Theory. Also, directed the Plymouth-Canton Educational Park Marching Band consisting of 185 students.
Led marching band to Michigan state championship both years. Band placed in 9th and 3rd respectively at the Bands of America Championship.
Initiated the jazz ensemble program featuring two full Big Bands.
Worked with students in independent studies, planning recitals and improving their musical performance.
Created a music technology lab with ten computer stations for students to work on composing and arranging.
Reorganized the curriculum of the music theory course to include computer technology.
COLLEGE TEACHING EXPERIENCE
GRADUATE STUDENT INSTRUCTOR (MUSIC EDUCATION), UNIVERSITY OF MICHIGAN, Ann Arbor             
Responsible for the coordination and observation for the instrumental music education student teachers • SERVED AS ASSISTANT CONDUCTOR FOR THE CAMPUS BAND, A NON-MUSIC MAJOR PROGRAM
GRADUATE STUDENT INSTRUCTOR (CONDUCTING), UNIVERSITY OF WISCONSIN-MADISON, Madison
SERVED AS PRINCIPAL CONDUCTOR FOR THE UNIVERSITY BAND, A NON-MUSIC MAJOR PROGRAM
 
ADULT COMMUNITY BAND CONDUCTING EXPERIENCE
Music Director, Lakeshore Symphonic Band, Milwaukee, Wisconsin (2011 - 2015)
Music Director, Shorewood Concert Band, Shorewood, Wisconsin (2014 – 2015)
GUEST CONDUCTING EXPERIENCE
Lakeshore Symphonic Band, Ozaukee County, WI 2010
Farmington Community Band, Farmington, MI 2003
Western Wisconsin Honors Band, La Crosse, WI 2001
UW-Madison Summer Music Clinic Senior Session, Madison, WI 2000
UW-Madison Summer Music Clinic Junior Session, Madison, WI 1998
INTERNATIONAL TEACHING EXPERIENCE
British Youth Band Association, London, England 2007
Buenos Aires Honor Band, Buenos Aires, ARG 2005
Southern Cross School, Buenos Aires, ARG 2005
Lincoln International School, Fine Arts Day, Buenos Aires, ARG 2005
Brass Clinics in SAO PAULO, TALBATE AND CUBATAO, BR 2005
Colegio St. Nicholas "History of the Wind Band" Buenos Aires, ARG 2005
Colegio Progresso,, Sao Paulo, BR 2005
DRUM AND BUGLE CORPS TEACHING EXPERIENCE
Phantom Regiment Drum and Bugle Corps, Rockford, IL 2005-2007
Madison Scouts Drum and Bugle Corps, Madison, WI 2001                                                    
Madison Scouts Drum and Bugle Corps, Madison, WI 1991-1997
HONORS AND AWARDS
Recipient - 2011 Herb Kohl Teaching Fellowship
Recipient - 2002 Plymouth-Canton Educational Park Staff Member of the Year
Recipient - Milwaukee Music Association Outstanding Talent Award
Recipient - Worthington Schools "Above and Beyond Award" for exceptional commitment to integrating students with disabilities into the mainstream band program
Recipient - Don and Deborah Grey Scholarship given to the outstanding music education student in his or her final year at the University of Wisconsin-Madison
Semi-Finalist - Falconi International Solo Euphonium Contest
Drum Corps International Solo Baritone Champion, Brass Ensemble Champion four times
Member - McDonald's All-American High School Band
LEADERSHIP
Educational Outreach Director - Forward Performing Arts (Madison Scouts Drum and Bugle Corps)
Advisory Board Member Board Member - University of Wisconsin - Milwaukee Youth Wind Ensembles
Class AAA Rep - Wisconsin School Music Association Marching Band Committee
Board Member - National Band Association (Wisconsin Chapter)
Curriculum Council Rep - Cedarburg Public Schools
I come from the Arnold Jacobs school of "Song and Wind" teaching that focuses on relaxed tone production performed in a singing style