Alto Sax, Baritone Sax, Saxophone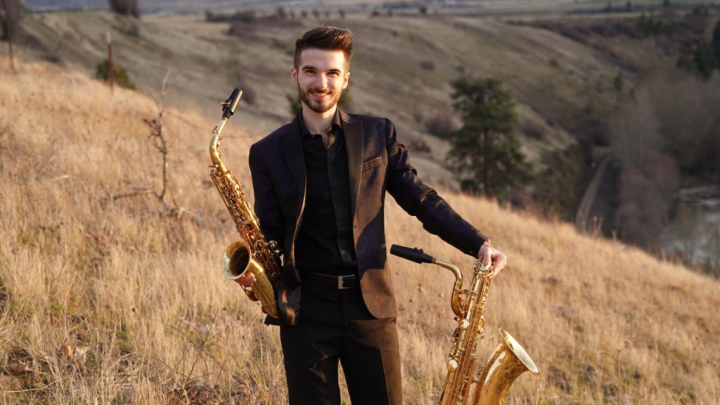 About
Cole Van Gerpen is a woodwind player specializing in saxophone in his final year at Central Washington University as a music education major. He's been playing saxophone for 12 years in both classical and jazz styles. In that time he has performed at the Essentially Ellington Jazz Band Competition in New York (2014-2016), Starbucks Hot Java Cool Jazz (2015-2016), and toured Europe with the Washington Ambassadors of Music (2016). In his college career, he has performed with the Central Washington University (CWU) Wind Ensemble under the direction of Lewis Norfleet and with the CWU Symphonic Winds under the direction of Paul Bain. 
While at CWU he has studied saxophone repertoire heavily and has arranged many works for saxophone quartet and saxophone choir.
Hello! First and foremost thank you for looking at my profile! Here's everything you need to know about me!
Pronouns
I go by he/him/his!
How I Teach
"Meet the student where they are, and build from there". My approach is individualized for every student. At our first meeting, I like to get to know where a student is in their learning, any specifics they're interested in, how they work best, and what methods of teaching tend to work well for them. From there, we will build an individualized approach to learning that will work well for both of us! Music is fun! Lessons should be too!
Practice is essential, and it's essential to practice in an effective way for you!
It's true what they say, there is no substitute for good daily practice! I've been playing music for a long time, and I've experienced first hand how much of a difference picking your instrument up every day makes. 
In lessons, we'll talk about developing a method of practice that works for the student. I've found that just setting a minimum amount of time per day doesn't work for everyone. We'll break it up with specific sections and create a guide specific to you and how you practice best! That said I do expect my students to play their instrument at least once per day, five days a week.
My Teaching Philosophy
Teaching philosophy isn't something that we hear very often in a public school setting, but being someone who is majoring in education, I hear and talk about it a lot, and I'd like to share mine with you!
A person is able to learn when they feel safe and comfortable with their teacher and the space they're in. Usually, that space would be a classroom, but a virtual room works too! The point is that I value trust and safety above all else. Trust is the foundation that we build learning on. To build and maintain that trust, I believe in positive reinforcement and open communication between myself and my students. Furthermore, a student should never be scared to come to a lesson (even if they didn't practice that week). 
I look forward to working with you! Please shoot me an email or give me a call if you have any questions!
Past Teachers include Tobi Stone, Matthew Wenman and Dr. Adam Pelandini.
Method books are dependent on if the student is interested in classical, jazz, or both. I'll let you know which books I'd like you to work out of once we've met and determined where you are, and where you'd like to go with our lessons!