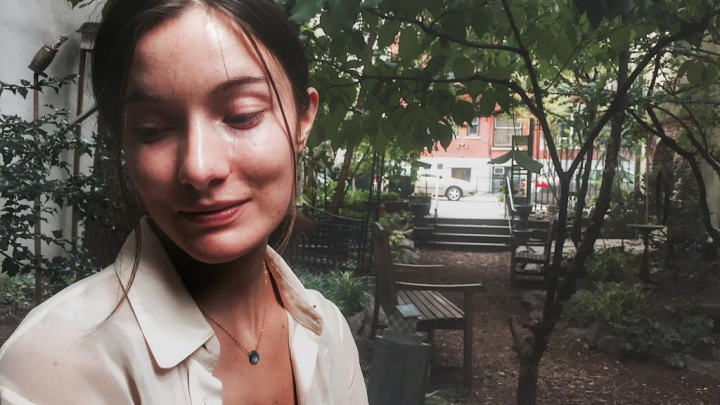 Lesson Fees
Promotions Available
Book 5+ lessons for 5% off
Book 10+ lessons for 10% off
Book 20+ lessons for 20% off
About
Crystal Rose Speros is singer, educator, and songwriter whose recent musical explorations have been rooted in the idea of branching out and expanding in subject and sound. Crystal Rose will give tribute to freedom in music in her next EP, through exploring her various musical and personal expressions and inspirations (planning to release in the springtime of 2020). In a world where there is so much you can be yet cannot really be (due to class, luck, what have you...), Crystal Rose works to give space for musing on these realities and aspirations.


In regards to the people she collaborates with she says, "I just want everyone to have a good time. The more comfortable, the more honest. Truth of feeling is what music and art is about."


In her role as an educator, she aspires to always provide the tools necessary to help her students grow. She has learned the value of support and guidance through her education with musicians such as Nick Hakim, Jamie Leonhart, LaTanya Hall, Claudia Acuña, Scott Kettner, Kevyn Lettau, Glen Fisher among others, and during her time earning her BFA in Jazz and Contemporary Music from the New School. Crystal Rose currently has private students in voice, songwriting, and guitar.
Crystal Rose started singing with her mom in Filipino karaoke restaurants and in the church. When she reached junior high school, she met bassist Glen Fisher. Through a scholarship with Fisher's First Friday Music Club, Crystal Rose was able to take guitar and voice lessons, as well as perform in many venues and events around San Diego, CA. She grew up learning the ropes of performing in "Revolt-age", a rock and roll/soul cover band which consisted of her friends and FFMC students including Jake Nuffer. She moved to NYC in 2015 and has performed in various venues around the city in jazz, singer/songwriter, and R&B settings.
Crystal Rose released her EP "Summer Shoes" in February 2019, and plans to release another EP in 2020. She was able to be a supporting and featured vocalist on Kevyn Lettau's most recent tour in Manila, Philippines during September 2018. In January 2020 she visited an elementary school in Pardes Hanna, Israel, where she was a guest speaker. The class performed their class songs for her, and she shared her love of singing and songwriting with them. Crystal Rose has been a 3 time visiting guest artist at her alma matter high school in San Diego, CA, where she explored songwriting exercises with classes, shared her process, and spoke about the importance of creative writing and music as an outlet. She has been performing actively in various venues since 12 years old, and has performed in Jazz, Pop, and Indie settings in NYC.
"A song is un-sculpted time; it's your chance to say what you want to say"- Crystal Rose 
HerCampus NYU interviewed by, Hannah Song, 2016.
Teachers in my life have been extremely important to my development as both a person and musician. I have had the privilege of working with students from ages 5-50, and I continually strive to be an adaptive, supportive, quick-thinking, and constructive teacher. It's important to me that my students feel comfortable, as singing and playing music can be a vulnerable experience. I have worked with different teaching companies in New York, have traveled to teach music lessons, and also have extensive experience as a nanny.  I love being able to be a music teacher! My students are my priority and I work to help them find their individual voice, grow in their musical confidence, develop technique, and a deeper understanding of theory and ear training. My style specialties include Jazz, Folk, R&B, Pop, and original music.
BFA with honors from The New School for Jazz and Contemporary Music (Voice)
I teach Voice from the perspective of finding a balance between breath, body, and voice, developing strength and flexibility, releasing tension, and finding one's unique expression! I teach Guitar as well, and love helping songwriters develop their own music.
Reviews of lessons with Crystal Speros