Audition Prep, Audition Prep from UNT College of Music Alumni, Cimbasso,
College Audition Prep, Cornet, Euphonium, Flugelhorn, Improvisation, Jazz Improvisation, Trombone, Trumpet, Tuba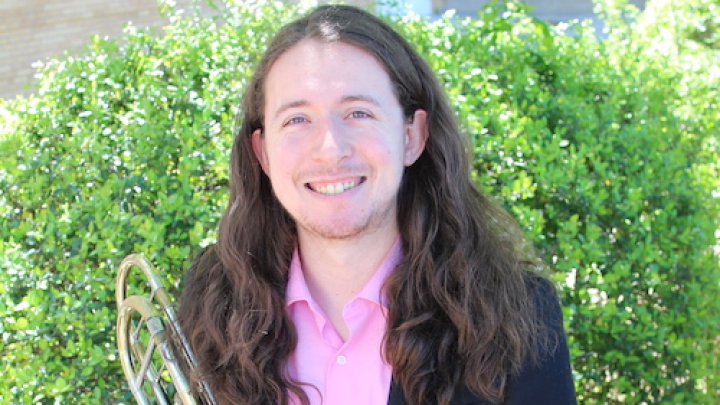 Lesson Fees
Promotions Available
Book 5+ lessons for 5% off
Book 10+ lessons for 10% off
Book 20+ lessons for 20% off
About
Described as a multi-talented artist with a keen imagination and a vibrant passion, Daniel J. Cosio has been performing in the wonderful world of music since 2009. As a performer, Cosio has played on a wide array of instruments, including alto trombone, bass guitar, and voice, in a multitude of contrasting styles. Cosio has been invited to sing with such highly acclaimed vocal ensembles as the Dallas Chamber Choir and the Denton Bach Society; in years prior, Cosio has worked with numerous local combos, big bands, orchestras, and other ensembles, including the Pecos River Brass Big Band, the University of North Texas Wind Orchestra, and even the Kyle Gordon/Drew Zaremba Silent Film Orchestra in 2017. His musical career with his father and musical partner, Steve Cosio, reached a 10-year milestone of performing in and around the DFW Metroplex in 2020.
As a composer/arranger, Cosio's style has been described as "a unique blend of different genres and colors." Since he began experimenting with composition in 2012, Cosio's very first completed piece, "Endings & Beginnings," was selected as the runner-up in the State level of the Reflections competition in 2014. Following this award, his first public release of his musical writings was a trombone choir arrangement of "Minor Alterations," David Lovrien's medley of classic Christmas tunes shifted into minor keys, full overdubbed by Cosio himself and released on Soundcloud in 2018. Cosio considers his crowning compositional achievement to be the debut of his arrangement of "Turbo Scramjet," performed by the University of North Texas Trombone Consortium in 2020. His current long-term arranging project involves taking the works of progressive metal band Periphery, and re-arranging them in a jazz style for trombone octet and rhythm section.
As an educator, Cosio has had a multitude of select students across the DFW Metroplex. Students under Cosio's tutelage have won numerous impressive achievements, including acceptance into the Texas A&M Commerce School of Music and the 42R Army Band Music Program. Cosio continues to teach around Dallas/Fort Worth, and is incredibly proud of all of the progress that each of his students has made. 
Specific Employment: 
Music Place Mansfield- 2017
Mansfield ISD- 2017-2018
Self, Independent Lesson Contractor- 2015-2020
University of North Texas- BM in Trombone Performance
Teaching Method: For younger students or beginners, I typically start lessons off with some sort of a basic warmup, whether it be long tones or lip slurs, etc. For more advanced students, I tend to start lessons with either previously assigned scales/warmups, or sightreading a duet (for live lessons), as I expect students of that experience level to come to lessons warmed up and ready to begin. In terms of student texts, I have a very wide variety of method books, etude books, and solos; I understand that each of them can play a different role in a student's growth, as each is geared towards a specific ability or player. As a result, I do not prescribe one specific set of texts for all of my students. In fact, part of my daily practice involves etudes from eight different texts. For more specific recommendations for your student, please contact me directly to schedule a lesson.