Apple GarageBand, Apple Logic Pro, Arranging, Composition, Conducting,
Ear Training, Music, Music History, Music Theory, Music Theory for Producers, Notion, Orchestration, Piano, Piano Composition, Songwriting, Songwriting Arrangement, Songwriting Form, Songwriting Harmony, Songwriting Melody, Viola, Violin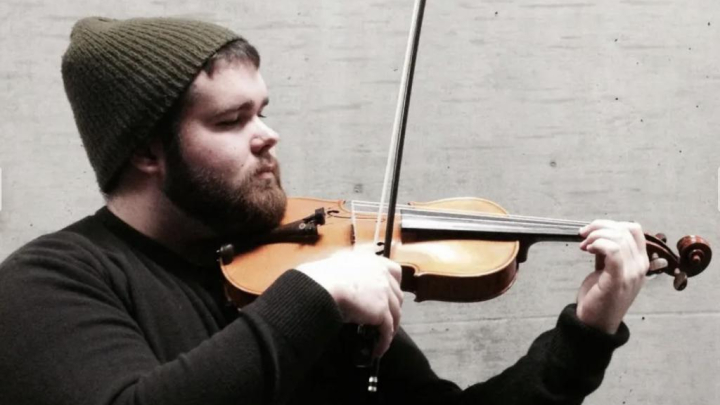 About
Violinist/Violist,  Composer/Songwriter, and proficiently skilled in Notion and Logic Pro X/GarageBand.
Graduate from CSU East Bay in Composition and Violin Performance.
Born and raised in California's Bay Area; my musical journey at the age of 11 in my middle school concert band. I took joy in the accomplishment of collaborating and creating music in an ensemble. While attending private instruction for violin and piano, I was studying music theory and composition independently.
After graduating high school in 2010, my first songwriting experience was when I co-started a punk band, "SLUT BOMB!" taking inspiration from bands from British punk from the early '80s, the Riot grrrl movement, and modern retro/beach rock.  "SLUT BOMB!" amicably disbanded in 2013, but Montgomery continued to write music under the stage name "Dans Preludes."
Proficient in violin and viola; confident in piano, bass, guitar, and trombone. He has performed in orchestras such as the Livermore-Amador Symphony and the Rainbow Symphony in San Francisco. He has also performed musical performances from community theater companies like The Contra Costa Civic Theater, playing violin, Brentwood Under the Stars, as a violinist and conductor.
My passion is to create music for young musicians, involving creative, unconventional, and accessible means of accompaniment for solo repertoire with unique instruments and technologies. My current project, Lullaby Suite for Solo
Violin and Music Box, features varying violin exercises and techniques accompanied by music box to be played with parents/guardians or siblings for parental involvement to encourage and enhance the student's music education experience.
My diverse classical/instrumental composition inspirations range from western classical composers, such as Tchaikovsky and Ravel, to film composers, like John Williams and John Powell.
I am inspired by the entertainment industry that involves other passionate musicians, artists, and creative minds. I intend to continue teaching up and coming musicians while continuing solo and collaborative projects to explore further the boundaries of music, instrumentation/ technology, song form, and beautiful melodies that are easily accessible to musicians and anyone who shares a love for humanity's most incredible creation.
I have been teaching music for over ten years, individually and in small groups. I currently teaches at DANDAN Performing Arts Center, in San Leandro, CA, teaching violin, viola, piano, music theory and songwriting.
I teach every student differently to provide the best creative results. Though I was classically trained I believe diverse  methods and approaches, wether it is song choice or techniques, is the best way to unlock comprehension; both kinetically and musically.
Music should be fun and creative; that is how I approach every lesson.
I am excited to be working with music education seekers who share an interest growing their skill.
I require my students to have their own instruments/software, a notebook/notepaper and 3 ring binder.
Violin/Viola/Piano:
(Beginning violin students ages 4-8) The Violin Fun Book, by Larry Newman
(Beginning piano students 4-8) John Thompson Modern Course for the Piano: First Grade Book.
(all other) Suzuki Book, volumes TBD
Composition/Songwriting:
Must have staff paper and audible keyboard
Other PDF Documents will be provided.