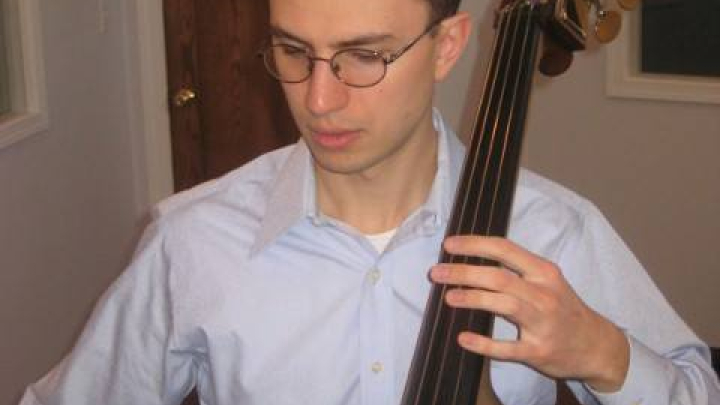 About
Hello! I have been teaching private lessons since the fall of 2006, and it's a true joy for me.
I am a a multi-faceted bassist, active in a mixture of genres and ensembles. I have experience playing in orchestras, jazz ensembles, rock, funk, and blues bands, and am active as a composer and conductor as well.
I began my musical journey on the drums, which quickly led me to the guitar and bass guitar as well, all three of which I studied with Matt Thompson in Frederick, MD. In high school, I ended up gravitating towards the bass, and a growing interest in jazz caused me to add the upright bass to my collection of instruments. Little did I know that this would become an even bigger obsession of mine!
Once I started lessons on the upright bass, originally with the intention of playing jazz, I soon fell in love with classical bass playing, and this became my primary focus during college. My major teachers have included Lynn Fleming, Jeff Weisner of the National Symphony Orchestra, and Laura Ruas of the Baltimore Chamber Orchestra. I am currently studying with Jeremy McCoy of the Metropolitan Opera orchestra.
I have been fortunate to gain experience with all age groups and skill levels. I teach to each student's style of learning and thinking, and approach my job from a place of respect for the students. The most fundamental quality of my teaching style is my desire to make everything I teach relevant and personal for the students, so that they truly connect to what is being taught, rather than simply learning facts and assimilating information.
As a multi-instrumentalist, I'm able to give my students a real context for their instrument by accompanying them. My students learn how to make music with others, and how to work in an ensemble. I love to push my students to the edge of their ability, both technically and creatively. I love music with all my heart, and there is little else more rewarding than imparting this joy and passion to students.
I have experience with all levels and age groups, from 6 years old to 76, from complete beginner to aspiring professional. I've had college-bound high school students go on to study at the Berklee Institute, University of Maryland school of music, Shenandoah Conservatory, and the University of Denver school of music.
B.A. - Hood College, Music History, 2010
M.A. - in progress, Manhattan School of Music, double bass performance
Reviews of lessons with David Lester