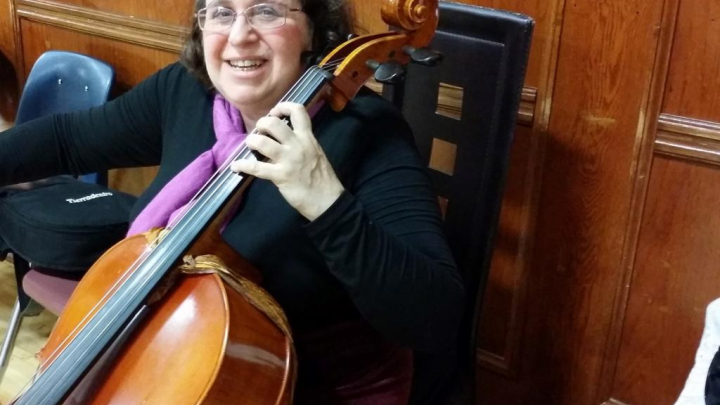 Lesson Fees
Promotions Available
Free 15 minute trial lessons
Book 5+ lessons for 5% off
Book 10+ lessons for 10% off
Book 20+ lessons for 20% off
Discounts for Lrsson Subscriptions
About
I have been playing the cello for 25 years. I am willing to teach beginning students of any age that have the will and motivation to study and perform on the cello.
I am interested in fostering a sense of accomplishment in my students, no matter their age or skill level.  All cello students are individuals at different levels with different needs. I would formulate lesson plans that are tailored to each student
I have had 23 years of ensemble and orchestral experience. I am strong in orchestral experience.
I am a graduate of the former High School of Performing Arts in New York City. I have studied Cello Performance and Music Theory at the New England Conservatory in Boston.
I have studied with many teachers in New York City. I do not currently employ the Suzuki method. I was trained with earlier, conventional styles. I am not adverse to using Suzuki Method books. I am convinced that sight reading music is an important skill set for any student to acquire. I will provide sightreading materials for my students, and any other educational materials they may require.
I have been the assistant cello section leader of the New York Session Symphony orchestra, member from 2015-2020. 
I am the cello section leader with the ACMA Orchestra  in New York City.
My previous studies were with Ms. Katinka Kleijn, member of the Chicago Symphony orchestra and teacher on Lessonface.
Recent studies were with Ms.  Amy Kim. Ms. Kim is a graduate of the Juilliard School where she studied with Channing Robbins and Harvey Shapiro. She is on the faculty of the Lucy Moses School and the Mannes School of Music in  New York City.
 I performed the Hindemith Solo Cello Sonata Op. 25, No. 3 at  Lessonface's Open Mic platform  on April 25, 2022.
First and foremost, the cello size must be appropriate for a student's height.  This is especially important for children, and also individuals for which a full size cello would hinder their advancement. 
For beginning students, I  recommend the Rick Mooney Cello and Cassie Harvey Cello Method series books. Mr. Mooney's books are good for teaching the different positions on the cello. Ms. Harvey's books are a good preparation for learning standard cello repertoire, such as the Bach Suites.
I concentrate on proper right and left hand posture; learning to shift from one position to another; good intonation and musicality.
I am a patient teacher, and if one approach is not yielding results for a beginner, I will be glad to try another. I am interested in each student's individual goals, and strive to help the student achieve those goals.
For intermediate students, I recommend Dotzauer, Feuillard (good for shifting practice), Sevcik (good for bowing practice), Schroeder, Klengel, and the Popper High School of Cello Playing. 
I will supply supplemental educational materials whenever necessary. 
Reviews of lessons with Debra Aponte