Loog Certified Guitar, Acoustic Guitar, Bass Guitar, Electric Guitar,
Classical Guitar, Rock Guitar, Songwriting, Blues Guitar, Mandolin, Small Group, Lead Guitar, Music Theory, College Audition Prep, Audition Prep, Jazz Guitar
1800+ lessons
booked on Lessonface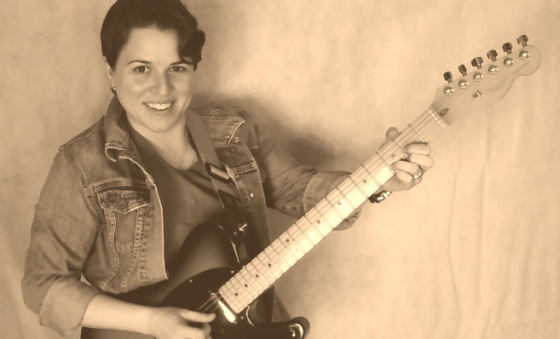 Lesson Fees
Base Fee:
$35.00 / 30 Minutes
Promotions Available
Free 15 minute trial lessons
Book 5+ lessons for 5% off
Book 10+ lessons for 10% off
About
** AGES 6 AND UP ONLY, PLEASE.**
Lessonface Loog Guitar Teacher of the Year for 2020; Lessonface Teacher of the Month for May 2019;  Lessonface Rock Guitar Teacher of the Year for 2019.  College music graduate, 13+ years teaching experience, active session musician, performer, songwriter, and recording artist.  Effective music instruction that's tailored to each student.  College audition prep available. 
Hi, I'm Emily.  Since 2002, I've played music professionally as a solo artist, band member, composer, session musician, and hired touring musician in many genres including rock, blues, country, r&b, folk, and metal. While obtaining my Bachelor's Degree and my Associate's Degree, I studied jazz and classical music. It is my pleasure to bring what I've learned from these experiences to my students.  Visit www.emzimmermusic.com.
I've been teaching awesome students like you since 2008. I love to help students of all skill levels develop their style, musicianship, and creativity. Whether you're a seasoned picker just brushing up, or you're a total beginner, let's get you started on your musical journey. 
My passion for teaching the art, skill, and language of music helps students play the music they love!
My students learn to balance the challenges of learning good musicianship with the enjoyment of creativity. 
Every student is different, and every student can be great!  I work with each student to develop their individual learning path toward the skills that make them great musicians
---
Reviews from Group Classes
⭐️⭐️⭐️⭐️⭐️
Loog Guitar Free Group Class
Katie M. on February 20, 2021

Miss Emily was wonderful!! My son loved it!
---
⭐️⭐️⭐️⭐️⭐️
Loog Valentine
Verified Student
on February 13, 2021
This was our first class and it was fantastic! Thanks Emily!
---
⭐️⭐️⭐️⭐️⭐️
Loog Guitar Free Group Class
Shep B.
on February 13, 2021
Shep had a great time, and wants more!
"
---
⭐️⭐️⭐️⭐️⭐️
Loog Guitar Free Group Class
Yoav F.
on January 16, 2021
Emily has clearly done this before.
It was a first class for dozens of kids and she managed it very well.
Can't wait for more!
"
---
⭐️⭐️⭐️⭐️⭐️
Loog Guitar Free Group Lesson
Lori P.
on January 16, 2021
Emily Zimmer was wonderful. My 7-year old grandson really enjoyed her intro class. I'm interested in signing him up for the Winter Warm Up Group Class she mentioned she is currently teaching.
---
⭐️⭐️⭐️⭐️⭐️
Loog Guitar Winter Warmup
Peter H.
on January 9, 2021
---
⭐⭐⭐⭐⭐
Loog Father's Day Rockstar Class
Waylon D.
on April 24, 2021
-Bachelor's Degree from Carroll University 2014 - Subjects studied: classical guitar under Dr. Lawrence McDonald, and music business. -Associate's Degree from Milwaukee Area Technical College 2011- Subjects studied: jazz, classical, and other popular styles, as well as music theory, performance, analysis, composition, pedagogy, ear training, and more -I am the founder and owner of guitar educational website www.fretplanet.net -I have been teaching private lessons and ensembles since 2008 -I have been recording and performing music internationally since 2002 -I am an active session musician for www.tunedly.com and independently -I am a composer, songwriter, and instrumentalist-for-hire
*scroll down for scheduling and cancellation policy
**scroll down for college audition prep requirements
Music makes people feel great.  That's why my students start by playing music they love, then we incorporate the skills necessary for them to become well-rounded musicians with a wide variety of abilities:
- Playing the music that makes them feel great!
- Empowering students with the building blocks of music (scales, chords, rhythm, melody, harmony, etc.)
- Establishing excellent physical technique
- Using effective practice strategies to improve
- Reading various forms of musical notation
- Setting specific goals and achieving them
- Empowering students with music theory basics (or advanced, if it applies)
- Establishing good listening skills and music analysis
- Regular evaluations of progress and abilities
- Using creativity to enrich their lives and enhance all forms of learning
- Left and right-handed students are welcome!
*Scheduling and Cancellation policy - Lessons canceled with at least 24 hours notice will be rescheduled or refunded.  LESSONS CANCELLED WITHOUT AT LEAST 24 HOURS NOTICE CAN NOT BE RESCHEDULED OR REFUNDED.  THIS POLICY STANDS EVEN IN THE CASE OF ILLNESS.
**College Audition Prep Requirements:
-Required minimum for college audition preparation is 8  1-hour-long lessons (preferably over the duration of 8 weeks)
-Student must be ready and willing to put in hard work in their individual practicing time, not just during each lesson. 
-Each college's requirements will vary.  Requirements for the student's intended school will largely guide the lessons.
-Remember - admittance into the student's college of choice can not be 100% guaranteed.  However, if the student is ready and willing to put in the work and follows the teacher's instructions and the school's audition requirements, they will do well.  If the student does not follow instructions and requirements, they may not be ready to take on a college program.   As a successful music college graduate, I am happy to provide the knowledge and skill that I know it takes to succeed in a college music program.  Let's talk about starting your journey to success today.
Reviews of lessons with Emily Zimmer