Trombone, Euphonium, Ear Training, Jazz Improvisation, Music Theory, Tuba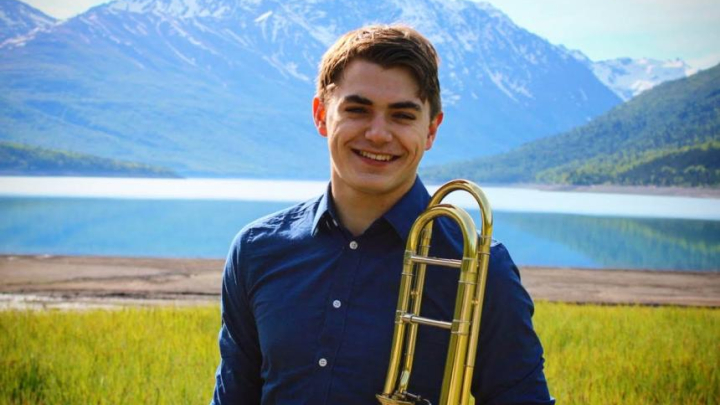 Lesson Fees
Promotions Available
Free 15 minute trial lessons
About
I am a tenor trombonist based in Chicago with a Bachelor's Degree from Indiana University Jacobs School of Music. I also studied piano and guitar for 12 and 8 years, respectively. 
I have extensive professional orchestral experience, including substitute work with orchestras across the country and am on the substitute musician list for many other professional orchestras. Along with my classical experience, I have studied Jazz Trombone and Improvisation with Wayne Wallace (seven-time Grammy nominee) and have performed alongside jazz figures like Greg Ward, Matt Ulery, and John Raymond, among others. I have also been an active performer of new music, premiering new works for solo trombone, trombone quartet, brass quintet, and orchestra. 
My most recent accolades include receiving the Ray Cramer Scholarship (award for most outstanding undergraduate member of the Indiana University Wind Ensemble), winning the Orchestral Excerpts Competition for the Georgia Trombone Summit in 2021, adjudicated by the Boston Symphony low brass and being selected semi-finalist for the Orchestral Excerpts Competition for the Southeast Trombone Symposium in 2020. Before graduating from Lakota East High School, I was awarded the Eastman Award (top junior class band award) and the John Philip Sousa Award. 
Along with my extensive performance career, I also teach privately in-person and online. I have also taught as a part of the Indiana University Classical Connections' community outreach, teaching at various Bloomington elementary and junior high schools as well as the Aspen Music Festival's P.A.L.S. program.
Through my years of training and education, I have learned that every student has strengths and weaknesses, and I intend to help students gain their confidence through their strengths while also improving upon their weaknesses as a player. The trombone, euphonium, and tuba are all exciting and beautiful instruments, and I hope lessons with me will inspire students on their musical journey as well as their own personal journey of hard work and dedication in any facet of their life. I love teaching music that my student is passionate about, and I have the knowledge and background to teach a wide variety of music. I have experience teaching classical and jazz, including in-depth improvisation lessons, as well as tenor trombone, bass trombone, and euphonium. I enjoy using metaphors when I teach, but I truly enjoy responding to students mostly. If a student has a preferred method of learning, I tend to learn it quickly and adapt to their preferences.
B.M., Indiana University Jacobs School of Music Current M.M. student, DePaul University Teacher at Indiana University Classical Connections
For complete beginners, I start with Essential Elements books for band. I like to introduce students to trombone technique using Sigmund Hering's 40 Progressive Etudes and the Arban's Method Book. For phrasing and musical studies, I enjoy using Jaroslav Cimera's 55 Phrasing Studies and the Bordogni (arr. Rochut) Melodious Etudes for Trombone. My main focus when teaching is to study repertoire that the students find interesting and inspiring.