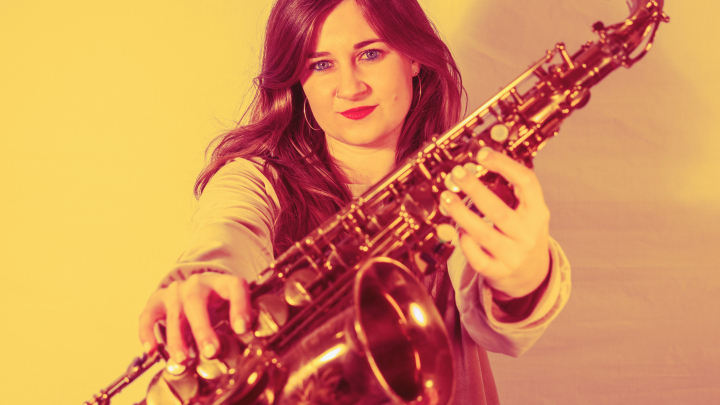 About
2021/2020 TENOR SAX LESSONFACE TEACHER OF THE YEAR!
Erika Friedman holds education and performance degrees from Ithaca College (B.M. in Music Education and Saxophone Performance) and New Jersey City University (M.M. in Multiple Woodwind Performance). She has taught private music lessons to beginner and advanced students for over 15 years. Erika meets her students wherever they're at on the musical journey while emphasizing important fundamentals such as embouchure, breath support, tone, intonation, articulation and finger technique. 
Erika is the current Reed 2 player on the 1st National Broadway Tour of The Prom. From 2015-2019 she has had the pleasure of touring as the Reed player for other National/International Broadway shows including Kinky Boots, The Bodyguard, Annie and The Producers. Her travels have brought her to 49 US states, 7 Canadian Provinces and parts of Southeast Asia! Non- touring performance venues remain in the tri-state area, including Off-Broadway in New York City.  Her woodwind specialties include flutes, clarinets, saxophones and EWI.
Erika has taught private and group lessons for over fifteen years. Her teaching experiences range from introducing young children to music, helping adults rediscover their love for music, and everything in between. Erika's passion for music is evident when she teaches, as she aims to make each lesson fun and exciting for everyone. It is important to Erika that she builds a strong rapport with her students. She gets to know her students personally, takes time to discuss short and long term goals, identifies musical strengths and addresses musical weaknesses. This allows her to cater every lesson specifically to the student. 
---
Erika caters each lesson to the age and ability of each student, therefore method books vary. Her personal music library ranges from beginner to advance exercises, etudes and repertoire in all instruments, which is shared online via Dropbox, with any student who books lessons through Lessonface.
Reviews of lessons with Erika Friedman