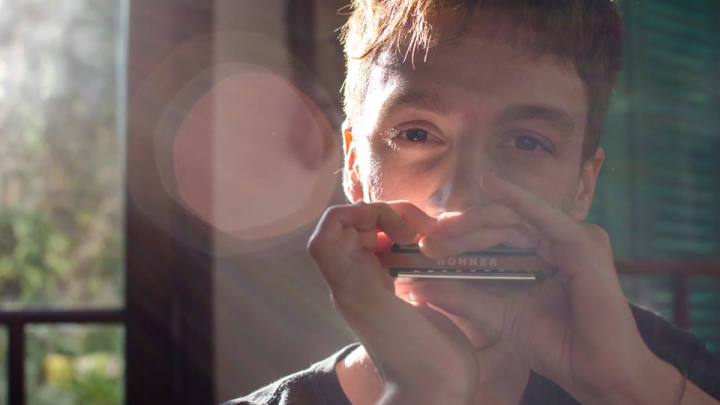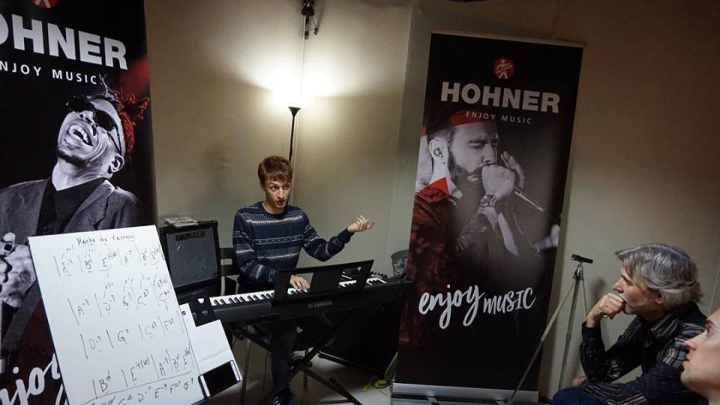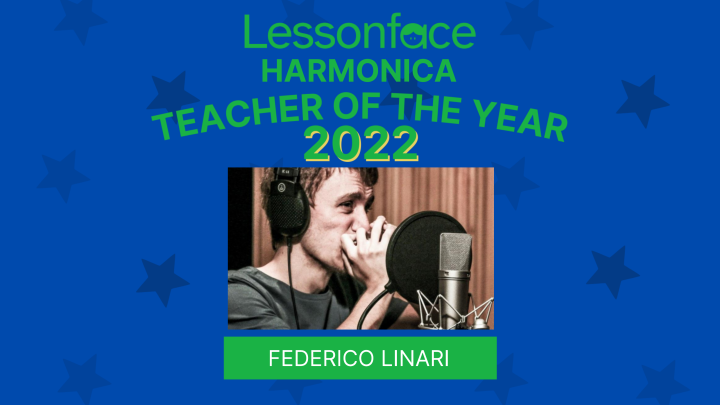 Lesson Fees
Promotions Available
Free 15 minute trial lessons
Book 5+ lessons for 5% off
Book 10+ lessons for 10% off
Book 20+ lessons for 20% off
About
Harmonica Teacher of the Year 2022 & 2021. Immerse yourself in the captivating world of harmonica music with Federico Linari, a renowned professional player, teacher, and producer with a remarkable international career. He took center stage at prestigious harmonica festivals like the World Harmonica Festival, the Asia Pacific Harmonica Festival, and the Seoul International Harmonica Festival, where his performances as a main artist have left audiences in awe.
With a wealth of experience as a harmonica teacher, Federico Linari passionately imparts his expertise to aspiring harmonica enthusiasts worldwide. Whether you're a beginner or an advanced player, Federico offers personalized online lessons that cater to your skill level and musical aspirations. Embark on a transformative learning journey from the comfort of your own home, as Federico guides you through the intricacies of harmonica playing. Join his global community of students spanning over 10 countries and unlock the full potential of this enchanting instrument under his expert tutelage.
What sets Federico apart is his mastery of the technique of overbending. This remarkable skill unlocks a world of possibilities, allowing him to effortlessly navigate and blend various music genres including Blues, Jazz, Rock, Country, Tango, and Folkloric Music. In 2015, he introduced his groundbreaking solo album, "Federico Linari Grupo," an enchanting fusion of jazz with vibrant flavors of Argentinian music. Since then, Federico has continued to leave an indelible mark in the music industry, recording captivating songs as a soloist and session musician. Notably, he also serves as the producer of the mesmerizing musical saga, "Harmonicas Of The World," an exceptional compilation that showcases the talents of some of the most revered harmonica players on the global stage.
Federico Linari is also proudly recognized as a HOHNER harmonicas endorsee artist, further cementing his position among the harmonica elite. To witness the captivating harmonica virtuoso in action, explore his official HOHNER artist page at https://www.hohner.de/en/federico-linari  Embark on a harmonious journey and unlock the secrets of this enchanting instrument under the guidance of Federico Linari.
I really enjoy  giving lessons for all  levels! In the last years I have taught hundreds of harmonica students around the world. 
It´s not necessary that you know how to read music: we will work with a very simple tab system and you´ll be able to play songs and melodys from #1 Lesson. The idea is to learn the different techniques of the instrument (clean sound, tone, bendings, vibratos, overblows, tongue blocking, etc.) trough working with songs and some exercises, always focusing on the styles of music that you want to play.
My goal is to give you some tools that you can use to develop your own sound and style of playing. 
If you have any questions please write me a private message and I´ll be happy to answer.
---
Harmonica Bending Seminar
In addition to the private lessons that can be booked from this page, Federico Linari is offering a seminar in September 2023 on bending for intermediate level players.
• Harmonica Bending Seminar - Learn more
---
Reviews from Group Classes
⭐⭐⭐⭐⭐
Harmonica For Beginners
Chris R. on June 15, 2022
Frederico did a great job teaching and encouraging students. Good use of my time.
---
⭐⭐⭐⭐⭐
Harmonica For Beginners
Verified Student
on June 15, 2022
It was a really good class. I learned a lot! Thanks so much!
---
⭐⭐⭐⭐⭐
Harmonica For Beginners
Verified Student
on June 15, 2022
Much better than I expected. It was great
Studies:
-Harmonica with: Nico Smoljan (2006-07), Mariano Massolo (2007-09), Howard Levy (2013).
-Jazz Language and Improvisation with: Juan Cruz de Urquiza (2011-15).
-Piano and Harmony with: Guillermo Romero (2009-10)
Professional Activities:
-World Harmonica Festival: In November 2017 he took part at the WHF, the most important harmonica festival in the world, held in Trossingen (Germany) every four years. He was invited to, among other activities, give a concert at the Deutsche Harmonica Museum and be a judge for the Jazz competition. 
-Asia Pacific Harmonica Festival: In August 2016 he was invited to the APHF, held in Hsinchu (Taiwan). He performed in one of the Gala Concerts, and was a judge for the diatonic harmonica categories. 
-Seoul International Harmonica Festival: Federico was invited four times to the SIHF in Seoul (South Korea) in 2014, 2015 ,2016 and 2018. He performed at the Gala Concerts and was a member for the jury in different categories. He also have a seminar regarding jazz improvisation on diatonic harmonica. 
-Tokyo Harmonica Summit: In Feb. 2017 he gave a seminar and a concert in Tokyo (Japan) together with the harmonica player Koei Tanaka.
-Hohner Breakfast Concerts: In Jan. 2016 Federico visited the Hohner factory in Trossingen, and gave a concert for the employees.
-Buenos Aires International Jazz Festival: In 2013 Federico was selected to integrate an ensemble led by the world known trumpet player Juan Cruz de Urquiza in BA Jazz Festival.
-Congreso Pedagógico de la EMPA: In 2018  he was called to give a lecture on diatonic harmonica at EMPA, one of the most important popular music schools in Latin America. 
-Masterclasses: Federico gave Harmonica Masterclasses in Tokyo, Seoul, Madrid, Mexico City, Montevideo and Buenos Aires.
Reviews of lessons with Federico Linari