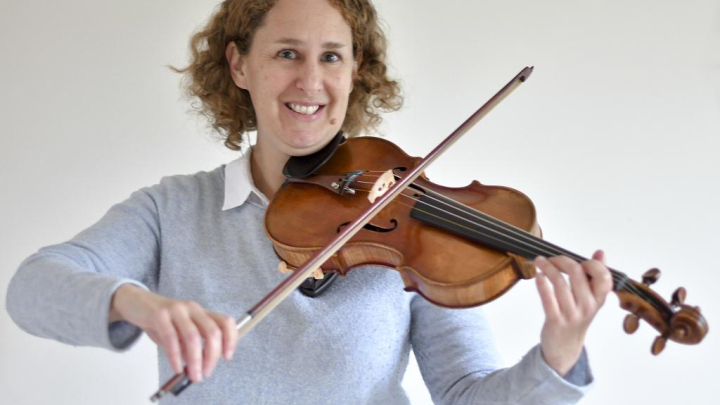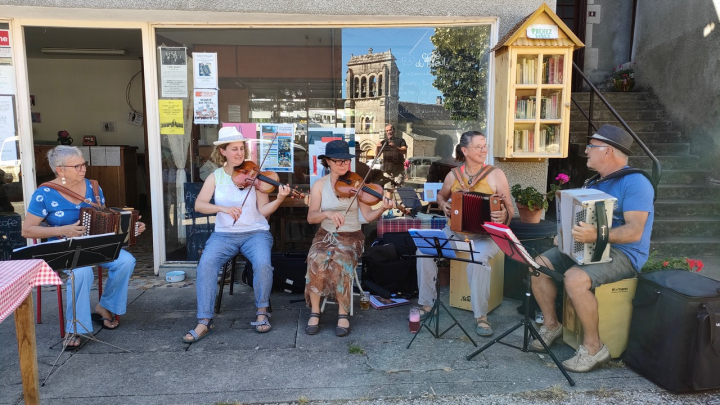 Lesson Fees
Promotions Available
Free 15 minute trial lessons
Book 5+ lessons for 5% off
Book 10+ lessons for 10% off
About
I am a enthusiastic and energetic teacher with more than 20 years experience of sharing my love and knowledge of music and violin/viola playing with students of all ages. I come from the UK where I gained my BA degree in Music from the University of Southampton and a Postgraduate Diploma in Performance from Trinity College of Music, London. Having moved to rural France in 2020, I now work with many students online from all over the world as well as teaching violin, viola, theory, early years music and directing an Irish folk music ensemble at the 'École Théadamuse' in Ussel. I was inspired to teach by some of the wonderful teachers I had as a student.
Alongside my violin and viola teaching for some of the best UK music services and schools, I have performed professionally in many different settings; with orchestras, chamber music ensembles and more recently with an Indian Bhangra/folk/pop band. I have played all over Europe, at venues such as the Royal Albert Hall, the Royal Festival Hall in London, including for Prince William.
I enjoy playing and teaching music in both classical and folk styles and my teaching reflects my flexibility and love of learning about new styles of music from all over the world. I play and teach folk tunes in the aural tradition, including Celtic, Scandinavian, French and American fiddle music. I regularly perform French traditional music with the group 'SolEnDo' and Celtic music with 'Celt Triskelion'.
I will be as flexible as possible to accommodate you at a time which is convenient.
Students are welcome from 6 - adult. These are some of the things that matter most to me as a teacher:
~ A flexible and encouraging approach  - The most rewarding thing for me is to find the best path for each student so that you can gain confidence in playing and achieve your true potential. You can learn through notation, by ear or a mixture.
~ A fun and light-hearted atmosphere - I enjoy getting to know my students and my aim is always to put you at ease. This is how I find my students learn best!
~ Nurturing imagination - lots of creative activities, especially for younger students
~ Solid technical and music foundations - I like to nurture these skills at a pace that suits each individual student so you can develop confidence and be satisfied with your progress.
~ Support and follow-up for students and parents -  I supplement all my lessons with my own material; lesson notes, helpful technical exercises, video demonstrations, recordings and sheet music if necessary. For younger children I use colourful practice sheets and reward charts and simple tunes with colourful illustrations. I encourage pupils to perform in my own online concerts or in Lessonface concerts.
~ Physical comfort with the violin/viola and developing good habits - I am trained as an Alexander Technique teacher which has helped me to play with the minimum tension and anxiety. I empathise with students with similar issues and aim to help you to do the same.
Testimonials:
Not only has she taught them about the instrument and music theory, but she has also inspired awareness and interest in different musical styles from around the world. Fiona goes above and beyond to get the most out of my daughters in their lessons, her professionalism and patience are boundless . Fiona always manages to make the lessons fun and keep them focused on the music. I highly recommend Fiona to other parents.  (mother of 2 pupils, aged 10 and 8)
Fiona is a very experienced teacher and a talented violinist. She is super patient and delivers lessons in a relaxed and friendly way. Her flexible approach and realistic goals have resulted in both the boys making excellent progress. She has been an amazing teacher and they both really enjoy playing. A highly recommended music professional. (mother of 2 pupils aged 10 and 15) 
Fiona has been an amazing teacher and over the 5 years she has taught me I have learned so much. I will never forget the skills and techniques she has taught me.  (Pupil, aged 11)
Fiona taught my daughter, Aadya from a very young age. She normally takes time to engage with new teachers, however Fiona was able to create a special bond with her straight away - she has given Aadya confidence and has worked beautifully with her on the basics. (mother of pupil aged 10)
PG Diploma in Performance - Trinity College of Music, London BA (Hons) in Music - University of Southampton MSTAT in Alexander Technique
I have an excellent knowledge of repertoire and techniques, from beginner to advanced, and of classical and folk styles. I use an extensive range of teaching material in different styles to accommodate the needs and musical tastes of each student and am open to exploring any music that my students might choose themselves. I use the ABRSM repertoire as a very loose framework and have successfully prepared many pupils for these exams.
Reviews of lessons with Fiona Richards