Audition Prep, Classical Guitar, College Audition Prep, Music Theory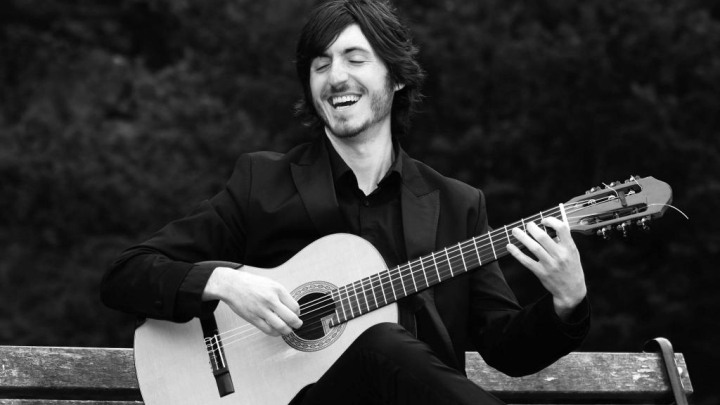 Lesson Fees
Promotions Available
Free 15 minute trial lessons
About
Award winning guitarist Francesco Barone has performed throughout the United States as a soloist and chamber musician. He has been presented at guitar festivals and societies including The Hartt School Guitar Festival, the Connecticut Guitar Society, and the New England Guitar Society.  Francesco was also included on a La Bella Strings sponsored concert in 2011 in which he was a featured artist. His performances have been broadcasted on National Public Radio.   



​In addition to traditional venues, Francesco interacts with local communities and regularly performs outreach concerts at town libraries throughout New England.  He also connects with younger audiences by giving house concerts nationally through the classical music startup Groupmuse.



​Francesco is an avid perform of, and has contributed scholarship to the music of Nikita Koshkin.  His doctoral essay, A Structural Analysis of the Second Movement of Nikita Koshkin's Sonata for Flute and Guitar was the first to analyze Koshkin's music and discuss one of the composer's chamber works.  In 2015 Francesco presented, Nikita Koshkin: Three Compositional Styles for Flute and Guitar That are Unique Yet All Intrinsically Russian, a lecture recital that explored the varied styles of Koshkin's chamber music. 

 

Francesco received a Doctorate of Musical Arts and Master of Music from The Hartt School, University of Hartford where he studied with Professor Emeritus of Guitar Richard Provost.  At Hartt Francesco was awarded the Graduate Teaching Fellowship in Guitar, and performed with the prestigious 20/20 honors chamber ensemble.  In addition, he holds a Bachelor of Music from Temple University where he studied with guitarist/composer Allen Krantz.  While at Temple, Francesco performed with the Temple University Opera in the award-winning production of Verdi's Falstaff, and was a prizewinner in the Philadelphia Classical Guitar Society Guitar Competition.

 

Francesco has performed in numerous masterclasses with some of the world's leading guitarists including Manuel Barrueco, Jason Vieaux, Oscar Ghiglia, Scott Tennant, Antigoni Goni, Andrew York and Elena Papandreou. 

 

As a dedicated teacher, he has taught at Columbia University, The Hartt School and Capital Community College.  Francesco currently teaches at the Community Music School of Essex. 

 

Francesco plays a 2018 Alan Chapman guitar.
As a guitar instructor my primary goal is to instill a love for music in all my students.  I achieve this by giving them the ability to communicate their musical ideas while raising their level of playing.  In order to achieve this, I equip them with the necessary tools (technique), helping them foster and mature their musical expression (musicianship) and give them an outlet to express themselves (performance).    
            The study of scales, arpeggios and etudes as well as other exercises addressing various techniques are critical for guitar and music study.  However, their function is to help the player execute his or her musical ideas in the most economical and ergonomical way possible.  I teach my students techniques as they arise in the repertoire they are studying.  For instance, I will prepare a student who will be playing a piece with demanding scale passages by first teaching the scale technique necessary to play that piece.  My approach to technique also develops the student's awareness of releasing excessive tension and to utilize large muscle groups when playing.  In time working in this way will cultivate the student's understanding of technique and mechanical awareness which will allow them to develop an idiosyncratic technique that addresses their own body.
            The basis of musicianship is to understand the dynamic and expressive indications on the page of a given score.  To deepen this understanding as well as provide a foundation for an informed interpretation, I instruct students to listen to the best quality recordings of the music they are learning.  I begin by exposing students to quality guitar recordings and for advanced students expand this to other vocal and instrumental recordings when applicable.  I teach students to count and sing their music on letter name while learning pieces.  This helps them learn the notes and rhythms as well as facilitates memorization.  In time however, the practice of singing and counting will help the student musically mature by developing a vocally conceived vibrato, arriving at interpretations that are rooted in the structure of the music and visualizing the score.
            In addition to preparing my students with the technique and musicianship necessary for a successful performance, I address issues such as how to submit program information, properly bow, how to enter and exit the stage and proper attire for performance.  Although these items may seem remedial, they are the first to be forgotten amidst the anxiety of a looming performance.  I also ensure that my student have many opportunities to perform in order to grow in their comfort and confidence in sharing music with others.  In addition to semester recitals, I hold weekly group classes and informal group class recitals (play ins) for my Suzuki students and monthly informal studio classes for my adult students.  After these performances I always give positive and encouraging yet constructive feedback to help my students improve and make progress.    
            My goal is to enrich the lives of my students by helping them express themselves through music.  It is my job as a guitar instructor to help them reach their musical goals and professional (or amateur) aspirations by holding them to an excellent standard of technique, musicianship and performance.
Education:
DMA in Classical Guitar (Hartt School of Music)
MM in Classical Guitar (Hartt School of Music
BM in Classical Guitar (Temple University)
Suzuki Certifications:
Guitar Unit 3
Guitar Unit 2
Guitar Unit 1
Every Child Can