Classical Guitar, Acoustic Guitar, Guitar, Rock Guitar, Electric Guitar,
Apple Logic Pro, Songwriting, Audition Prep, Composition, Improvisation, Italian, Lead Guitar, Lyric Writing, Pop Arranging, Rock Arranging, Sight Reading, Songwriting Arrangement, Songwriting Harmony, Songwriting Melody
100+ lessons
booked on Lessonface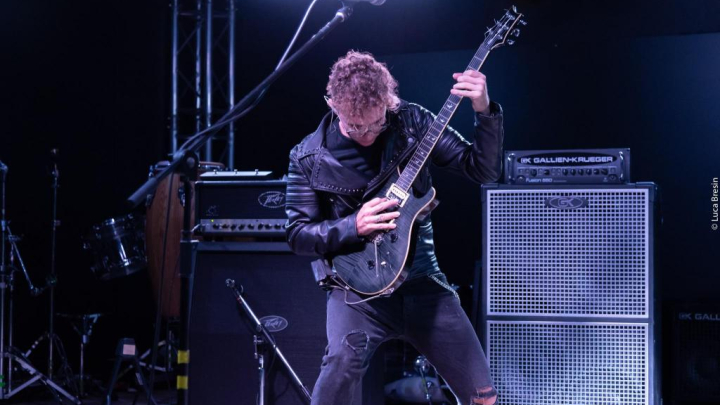 Lesson Fees
Promotions Available
Free 15 minute trial lessons
Book 5+ lessons for 5% off
Book 10+ lessons for 10% off
Book 20+ lessons for 20% off
About
I'm a musician and teacher specialized in Pop/Rock Guitar, Classical Guitar, Rock/Pop Songwriting and Arranging Music.
I graduated with a Trinity LTCL degree (level 6 QCF diploma) in Classical Guitar at the Giuseppe Verdi Music Academy (Venice), there I also achieved Rock & Pop Guitar Grade 8, Vocals Grade 8 and Music Theory Grade 8. At the academy I also studied Harmony, Solfeggio, Songwriting and History of Music. I currently teach guitar in the same academy.
I have accumulated a lot of experience in my 13 years of studying guitar, vocals and music in general, playing live (probably more than 300 shows in total), writing original songs and arranging them (mainly for "Rolling Carpets", my rock band). 
In the years I took part to many classical guitar masterclasses, including one with incredible guitarists such as Marco Tamayo, Massimo delle Cese and Giulio Tampalini. I also achieved many first and second prizes at classical guitars competitions.
I studied with many different teachers*, this allowed me to widen my perspective and to really try to learn the best teachings from each one.
I also record music for my band (2 EPs at the moment and 1 album) and for other bands/artists. In Rolling Carpets's studio works I  recorded guitars, vocals, composed, arranged and did the audio editing. I also played with many different bands and musical projects (I have always been playing and studying both cover songs and original songs), but mainly in the rock/pop or classical genres (a classical guitar trio for example, called Venetian Strings Trio). 
I've been using a little bit of Garage Band but mainly Logic X for many years so I can also teach how to use it to record, write and arrange songs.
*Guitar: Michele Costantini, Giovanni Cenci, Enrico Scussat, Livio Nicola and more
Vocals: Elisabetta Sfriso, Floriana Fornelli,  Susan Proctor, Danila Satragno
Music Theory, Harmony, Solfeggio, Songwriting and more: Vincenzo Caggiula, Michele Costantini, Alvise Stiffoni, Davide Sibilla
DAWs and recording: Michele Bon
Hello! I'm Francesco and my goal is to transfer my passion about the guitar and the music to all the people that attend my lessons. With my teachings I always try to constantly improve the musical skills of my students in the most constructive and fun way possible. I teach electric, acoustic and classical guitar (also baritone g.).
My method (depending on the type of guitar and genre chosen by the student) focuses on technique,  learn to play solos and write you own ones, rhythmic parts and how chords are constructed, improvisation, reading the score and tabs, improve your sounds and learn from the world's greatest guitarists, and much more. 
I would like to strenghten each guitarist's musical weaknesses and to fuel his/hers aptitudes, aiming to create a personal and unique style of playing and making music.
Trinity LTCL degree in Classical Guitar - level 6 QCF diploma
Trinity Rock & Pop Guitar Grade 8 and grade 5
Trinity Vocals Grade 8, grade 6 and 3
Trinity Music Theory of Music Grade 8, grade 6 and 4
Reviews of lessons with Francesco Bresin