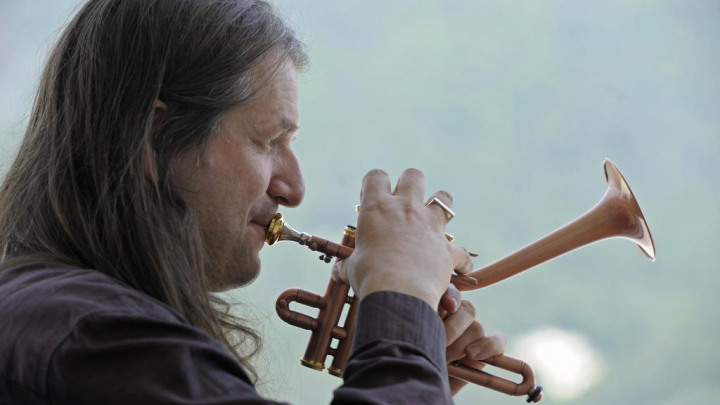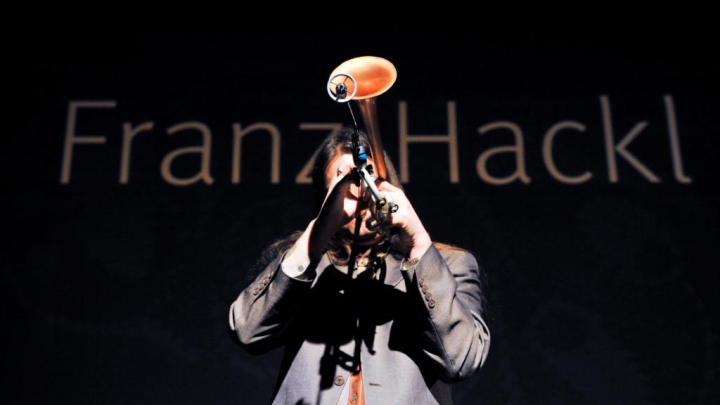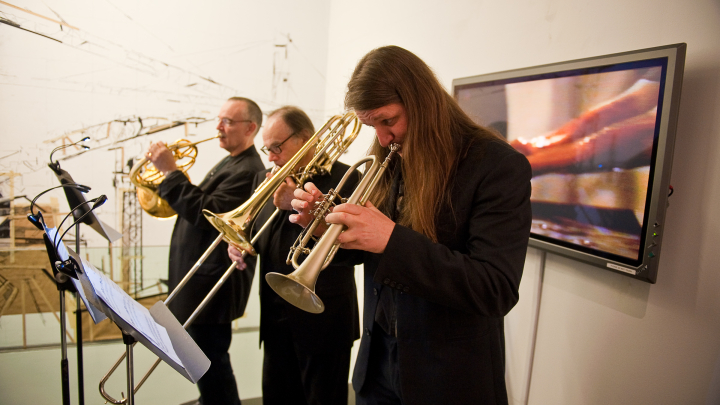 Lesson Fees
Promotions Available
Free 15 minute trial lessons
Subscriptions discounted up to 14% off
About
Franz Hackl's wide variety of expertise as a trumpeter, composer,  producer, clinician, and brass instrument maker ultimately defines him as an ever-evolving artist. 
Franz grew up in the Tyrolean region of Austria and followed in his father's footsteps as a featured trumpet soloist with traditional Austrian Brass bands. Besides being his first and most important trumpet teacher, his father also masterfully taught him how to make high-end brass instruments in their family business. 
Franz is an alumnus of the Conservatory of the City of Vienna and received a Masters Degree in Jazz from the Manhattan School of Music. He studied with trumpet legend Lew Soloff, and Lew was the reason Franz moved to New York City. 
Franz leads or co-leads ensembles including his IDO Quartet, the Outreach Orchestra, the Brass Trio B3+ (with Dave Taylor on bass trombone and John Clark on french horn) and duo projects with the legendary percussionist Mino Cinelu & pianist Michael Wolff.   
IDO means "dialect for everybody", and combines Tyrolean Folk tunes, the music he grew up with, with the unifying and expanding language of Jazz. 
1993 Franz established the internationally acclaimed OUTREACH Music Festival & Academy in his hometown of Schwaz in Austria. 
Outreach Music is a worldwide trendsetting festival & academy, which inspires musicians on all levels to expand their artistic visions. 
For more than 25 years now, this creative platform has given audiences and students the opportunity to witness what happens when critically acclaimed virtuosos work together with outstanding young talent in a new artistic context.
After frequent collaborations with leading international artists in the jazz and classical fields, Franz is now focusing more and more on composition and leading his own projects. 
His stylistic versatility has grown to include works for full orchestra, chamber groups, choral works and multi-media events. He was commissioned to write original music for the "Year of the Mountains" launch event at the United Nations, Trialog @ Hangar 7 in Salzburg (Red Bull), the opening of the Austrian Cultural Forum in New York, as well as composing for numerous international festivals and ensembles.  His works for large ensembles have been premiered and performed at world-renowned performance spaces like the 'Theater an der Wien'  in Vienna. 
As a trumpet player, Franz has performed in many of the top NYC Jazz Clubs. For 30 years he has been touring the international festival circuit and concert halls, including performances in Portugal, France, Austria, Germany, Italy, Indonesia, Tunisia, Brazil, USA, Denmark, Romania, Poland, Switzerland, Finland & Estonia.
In addition to his own projects, Franz is a frequent collaborator (with Gene Pritsker and Tobias Moretti among others)  in crossover projects combining jazz, contemporary classical and baroque music styles. His feed-forward approach is a great fit for this genre-bending work. 
As a producer and engineer, Franz has worked on CD productions for labels such as PAO Records, Composers Concordance/Naxos, Col Legno, Intuition and Tzadik.
As an educator, Franz has developed his own trumpet playing technique, combining his more than 30 years of knowledge as a brass instrument maker & professional trumpet player. He has had great success with brass players at all levels. 
 
Being a professional trumpet player & maker my teaching is based on an all-embracing approach. My goal is to help every student playing the instrument the most efficient way, performing your chosen music style with the proper phrasing and finding and/or strengthening your own musical voice. 
I achieve that by developing a customized practice routine for each of my students. I read the body language and 'prescribe'  excercises to overcome the individual technical problems or play 'difficult/ music with greater ease. 
As a result over the past 26 years I created step by step my own technique and teaching methodology. In the curriculum below I will explain my technique and areas I'm teaching in more detail.
I'm very pleased that I have great success with players of all levels and all age groups. I did learn so much by covering all these different needs. It's a constant learning process and changing challenges keep it fresh. 
I offer many flexible options and many of my students opt for a combination of traditional and online lessons. 
I treat each exercise as if it is a great piece of music. How you practice something is of equal importance than what you practice. For some exercises it took me many years to understand the essence of it. 
I find it very rewarding helping to build up the embouchure, technique, improvisational skills , phrasing and musical understanding. 
I find it very exciting developing the best individual practice methods for each trumpet player based on his/her experience, talent, style of music, practice time available & short and long term goals. 
It's all about the music and the more efficient you play the horn the more you can focus on the music. I enjoy  being a part of your journey becoming the best musician you can be. 
Outreach Music Academy & Outreach Music Festival
Founder, Director - Aug 1993 - Present
international music academy with all-star faculty: Dave Taylor, John Clark, Craig Harris, Gene Pritsker, Adam Holzman, Jane Getter, Craig Blundell, Mark Egan, Mino Cinelu etc.
Hacklmusic Custom Brassinstruments
Owner & Brassinstrument Maker
family business established 1965
bandleader:
IDO Quartet ( Adam Holzman -keys, Mark Egan-bass, Tommy Campbell - drums)
Outreach Orchestra
co-led ensembles:
B3+ Brasstrio with Dave Taylor (basstrombone) & John Clark (french horn)
Duos with Mino Cinelu (percussion) & Michael Wolff (piano)
Education:
Manhattan School of Music
Master of Music Degree / Jazz
Aug 1990 - May 1993
Konservatorium der Stadt Wien / Austria
Konzertdiplom
Sep 1987 - May 1990
teaching:
Since 1990 I taught internationally (USA, Austria, Germany, Poland, Tunisia) many masterclasses at conservatories, music academies, brass clinics, trade shows & special clinics with brass bands
I cover all aspects of trumpet playing ( technique, breathing, posture, embochoure, equipment, phrasing, sight reading, improvisation, high range, endurance, sound quality, repertoire etc.)
Since I customize the exercises for each of my students each curriculum will vary per student, but I can outline the general areas. 
1) understanding how a brass instrument works and how to make it work for you: The lip is the sound source which creates a standing airwave within the instrument and the trumpet functions as a filter and amplifier. The standing airwave gives energy back and helps the lip to vibrate. By taken advantage of that you can play with much less effort as you think. 
2) building up fast the muscles needed for brass playing & keeping in shape with timesaving practice methods.
3) Special tongue technique - tongue acts more like a valve.
My tongue technique requires less movement when phrasing notes ( single, double and triple tongue) and therefore is faster, requires less effort, is very versatile, usable in any style of music and is much more accurate in hitting the notes. You will be able to phrase every single note and a have a wide spectrum of different attacks all with the same positions and movement , just the timing is different. 
Note for 2 & 3 : If you understand these two aspects and are able to implement them you perform better with practicing less. Building up your muscles to the next level will take at least 3 months and to master a new technique about a year. 
4) Jazz Improvisation: 
If you're interested in improvisation I developed my own method as well. Basically we have 3 different note qualities in any given chord. Chord notes, tensions and avoid notes. You can play any  note in any chord with the exceptions that ou can't start or and at a downbeat with an avoid note.  To practice this and get up to speed fast I created 15 exercises how to play around a chord/scale and simultaneously  develop   your ear , understanding of theory, fingering , muscle memory and embouchure. It will give you all the tools to play very fluid and give you  a deep understanding of the basics of improvisation. 
5) technology as practicing aid 
I'm a tech geek and can incorporate, if you wish apps & software as teaching aids, which will speed up the  learning process . 
6) optimizing your setup
I'm a brass instrument maker as well and have a deep understanding of how the trumpet works and how to optimize your setup. I also enjoy very much advising and custom fitting the perfect equipment setup so it works perfectly with your playing style. 
I developed a special tongue technique which will enable you to phrase and shape every single note which is key in classical music but also for commercial & Jazz styles. This will enable you to correctly phrase in style and more importantly tell a musical story. You will have a wide spectrum of attacks available from super smooth to percussive with everything else in between. 
I'm teaching in an acoustically calibrated trumpet studio & offer professional recording services to my students. This is a great teaching and career tool for listening back and putting demos together. 
I love it that my system works very well for all levels and age groups. 
Reviews of lessons with Franz Hackl