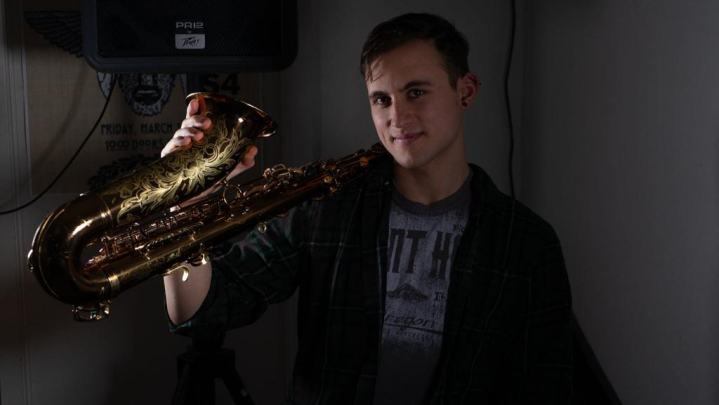 Lesson Fees
Promotions Available
Book 5+ lessons for 5% off
Book 10+ lessons for 10% off
About
Gage Schmitt a graduate of the University of Northern Iowa with a BM Music Performance degree, as well as The Institute of Production and Recording with a degree in Audio Production and Live Sound. Gage has been a clinician for All-State honor band workshops, an adjudicator for honor bands, participated in competitions, won the MTNA State Chamber Music Competition in Iowa and placed alternate in the MTNA Division Chamber Music Competitions in 2018-2019, performed in large and small jazz, classical, and pop ensembles in the United States and Northern Italy, participated in masterclasses, and performed with many accomplished musicians. 
As an audio engineer, he has worked with musicians and bands from Minneapolis, Minnesota and South Dakota. While he was at the Institute of Production and Recording he has worked on projects of various styles of music and experience working with live recordings and studio recordings. He was also rewarded with Valedictorian and the ICON award when graduated from IPR. He has worked with artist such as Delicate Friends, Clayton Ryan the Singing Mountain, Psylo, and jazz artists. 
As a live sound engineer, Gage has worked at various venues large and small in Minnesota. Some bands he has worked with are Dr. Mambos Combo, RFactor, The Good The Bad and The Funky, Stereo Kitchen, The Foxgloves, Alex Rossi, and Dylan Salfur. Sound boards he has worked with include Midas analog and digital consoles, Yamaha digital and analog consoles, Soundcraft analog and digital consoles, Avid sc48, and Digico. 
His availability is currently on Tuesdays.
Gage has taught lessons and has been a clinician since his senior year of high school. He also adjudicated seating placements for honor bands. He focuses on the needs and the goals of the student and molds his lesson plans around them, as well as having fun playing music. He also stresses the importance of good technique and fundamentals, and he also does his best to put it into a way that makes a student look forward to playing their instrument and getting the instrument to feel natural. Gage also puts some focus on performing and ensemble playing, and he likes to encourage students to perform through contest, jam sessions, concerts, recitals, etc. Along with learning how to play the instrument, Gage will also teach a bit of music theory along with the repertoire to help the student understand the music, and to express their music as clearly and easily as possible. He teaches all levels of students who study Saxophones, Guitar, Flutes, Clarinets, Akai EWI, and Music Theory.
He also teach Avid Protools and how to record the music with clear and clean signal, mixing techniques, mastering, routing, session management, file organization, and troubleshooting.
When it comes to teaching live sound, he will teach how to build connections in your community, basic routing, setting up a system, sound boards you may come across, types of systems you will run across, how to deal with last minute changes (aka "Oh by the way" moments), setting up monitors whether they are wedges or in ears, wireless microphones recording, setting up microphones, cable management, mixing techniques, recording a live show, and troubleshooting. 
Reviews of lessons with Gage Schmitt