Jazz Arranging, Saxophone, Apple Logic Pro, Audacity, Breathing and Sound,
Choral Arranging, Classical Composition, College Audition Prep, Commercial Music, Composition, Counterpoint, Electronic Music Composition, Film & TV Scoring, Improvisation, Jazz Composition, Jazz Improvisation, Jazz Piano, Music Directing, Music History, Music Theory, Orchestral Arranging, Piano, Piano Composition, Sibelius, Small Group, Songwriting, Songwriting Harmony, Transcription, Vocal Arranging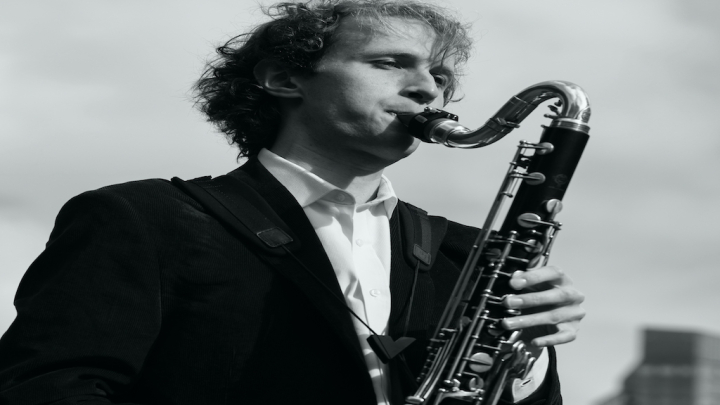 Lesson Fees
Promotions Available
Book 5+ lessons for 5% off
Book 10+ lessons for 10% off
Book 10+ lessons for 10% off
About
Griffin Woodard is a composer, bass clarinetist, and bandleader who believes in the transformative power of music.
Woodard's pieces have been performed by a variety of esteemed ensembles and soloists, including the NEC Jazz Composers' Workshop Orchestra, the Bach Festival Orchestra of Bethlehem, the Allentown Symphony Orchestra, concert pianist Michelle Cann, and organist Stephen Williams. 
The Griffin Woodard Group releases their full-length debut album, Completion, on October 14th, 2022. The band's magnetic sound thrives from the unique voices of Hugh Kline on drums, Miles Gilbert on bass, Abe Gold on piano, Coleman Rose on soprano and tenor saxophones, Georgia Heers and Deenen Jones on voice, and Woodard on bass clarinet.
As an instrumentalist, Woodard's primary focus is playing the bass clarinet in a jazz context. He has dedicated years of study to acquiring an in-depth understanding of the rich historical lineage of jazz clarinetists and bass clarinetists from Johnny Dodds to Eric Dolphy.
He hopes to honor the profound contributions of the masters by pushing his instrument to new frontiers of personal expression.
Woodard graduated from Oberlin Conservatory in 2020 with a B.M. in Jazz Studies with a Composition Concentration and earned the equivalent of a minor in Africana Studies from Oberlin College. He studied with illustrious artists and highly esteemed instructors Gary Bartz, Jay Ashby, Robin Eubanks, Dan Wall, Meeko Israel, Fredara Hadley, Johnny Coleman, Caroline Jackson Smith, and Dr. Willis Okech Oyugi. 
He earned his M.M. in Jazz Composition at the New England Conservatory in May, 2022. During the past two years at NEC, he has had the honor to study with acclaimed artists such as Bert Seager, Brian Levy, Jason Moran, Jerry Bergonzi, Mal Barsamian, and Frank Carlberg.
Griffin is filled with profound gratitude for the privilege of learning from such inspirational mentors.                                                                                             
Please visit griffinwoodard.com for more info.
As a teacher, I aim to provide students with a firm foundation in all aspects of music so they have the tools they need to develop into the unique creative artist they are meant to be. I love helping students understand music and discover their own voice. I feel that as an educator, the best thing I can do is arm them with all the fundamentals so they can find their own expression.
I currently teach introductory piano at the Allentown Community Music School in Allentown, PA. I teach students from ages 5-18.
While earning my Master of Music degree at the New England Conservatory (graduated in 2022), I worked as a Teaching Assistant in both the Music History and Music Theory departments. In addition to giving an occasional lecture, I held individual tutoring sessions with undergraduate music theory students in topics including voice-leading in SATB and keyboard style, roman numeral analysis, Sibelius notation skills, and functional harmony.
I also volunteered as Musical Enrichment Specialist at Mastery Charter Harrity Elementary School in Philadelphia, PA from 2015-2019. For grades K-8, I gave classroom concerts and Q&A's on clarinet and guitar, performing styles from baroque to modern jazz. I focused on the historic contributions of Black American cultural innovators such as John Coltrane, Mary Lou Williams, Duke Ellington, and Thelonious Monk. I also assistant taught K-5 general music classes and gave advised middle schoolers  on how to be successful and balanced throughout high school and college.
I consider it a great honor to work with students of all ages. When I was a young musician, I was blessed with several great teachers who guided, inspired, and pushed me to become a better a musician and scholar. As a teacher, I hope to do the same for the next generation of burgeoning musicians. 
New England Conservatory, Boston, MA, Master of Music in Jazz Composition · Oberlin College and Conservatory, Oberlin, OH, Bachelor of Music in Jazz Studies with Composition Concentration, May 2020 · Yeworkwha Belachew Center for Dialogue, Oberlin College, Certification in Social Justice Mediation and Facilitation, January 2017 · Lehigh Valley Charter High School for the Arts, Bethlehem, PA, H.S. Diploma, Instrumental Music Major, June 2016 · Member of American Society of Composers, Authors, and Publishers (ASCAP)
CLARINET TEXTS:
"Celebrated Method for the Clarinet" by H. Klose (Revised by Simeon Bellison), "Rubank Elementary Method" by N.W. Hovey              
COMPOSITION TEXTS:
"The Study of Counterpoint" by Johann Joseph Fux (Translated in English by Alfred Mann), "The Well-Tempered Clavier Books I and II, Complete" by Johann Sebastian Bach (Score by Dover Publications)
Reviews of lessons with Griffin Woodard