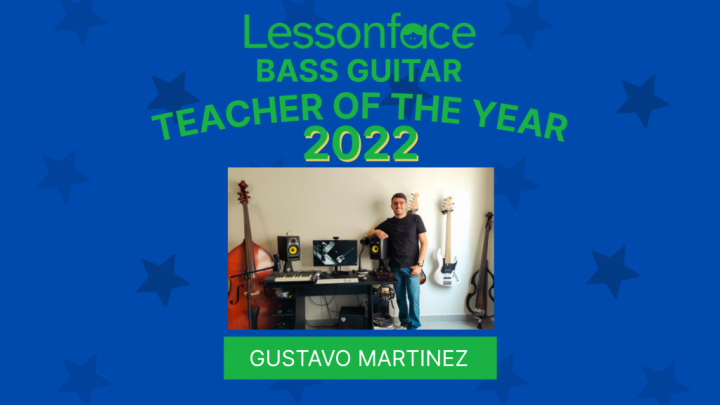 Lesson Fees
Promotions Available
Free 15 minute trial lessons
Book 5+ lessons for 5% off
About
Bass player with more than 10 years of experience as a performer. I always like to share with my students everything I've learned though my career as musician, and like to approach every lesson in the best possible way. 
Lessonface teacher since April 2020.
Through all these years of music career I've worked playing different styles of music: pop, rock, latin jazz, bossa nova, jazz, salsa, Brazilian music, funk.
I play electric and upright bass and will be happy to help you in your learning process to improve your bass lines, as well as your knowledge in music theory.
Bass / music lessons can be in english, spanish and portuguese.
There are many ways to approach learning, however I believe the best way to learn about any topic is by having contact with someone who is better than you, no matter the subject. When you have the opportunity to ask any question to a mentor, teacher or tutor, you have the opportunity to get knowledge faster than if you do it by your own, besides having someone that can correct you if you are doing any mistake. I've personally passed trough this learning process as a student, teacher and as a professional performer musician.
I like to combine theory and practice while teaching, I believe that both subjects are equally important in music. The most important thing for a musician is been able to listen, understand and react to anything you listen. Therefore, I teach theory and show musical examples to understand how something is used and applied in a real musical context.
The electric bass, upright bass or baby bass lesson consists of: technical exercises, reading exercises, rhythm exercises, playing and creating your own bass lines. The focus of the lesson depends on what each student wants to learn (salsa, latin jazz, Afro-cuban, bossa nova, samba, Brazilian music, jazz, rock, pop, funk). I want to share my knowledge of all the different styles of music I've been playing , with anyone who is interested in improving their way of playing. One of my advantages is been able to teach in English, Spanish and Portuguese.
Bass books
The True Cuban Bass - Carlos del Puerto and Silvio Vergara
The Latin Bass Book - Oscar Stagnaro & Chuck Sher
The John Benitez Bass Method (Volume 1 - Freedom in the Clave) - Ian Stewart with John Benitez
Advanced Techniques for Bass in Brazilian Music - Gilberto de Syllos
Bass Solo (Segredos da Improvisação) - Nico Assumpção
Reviews of lessons with Gustavo Martinez